Every family needs a reading nook. It's a comfy place that we can read our favorite books whenever we like. This lovely corner may be also a retreat from the hustle and bustle of city life. We will get relaxed and entertained when staying here. My reading nook is even my favorite place to take a nap and work from home. No one disturbs me.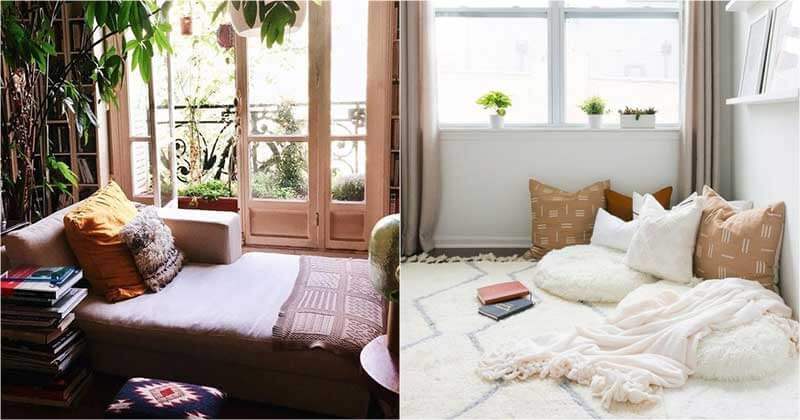 And here are 25 amazing ideas for a comfy reading nook at home. If you haven't got your cool reading corner yet, these are right up your street. You may build it right in your bedroom (near the window), in the living room, or on the balcony. It really depends. The point here is you find it pleasant when staying there and get enough light when reading. And, don't forget to decorate this corner to make it more comfortable and eye-catching. Let's get started!
1. Awesome Reading Nook inside the House
2. DIY Cozy Reading Nook
3. Reading Nook for Kids
4. A Pretty Cool Reading Corner, Right?
5. Simple Reading Nook Near the Window
6. Such a Cozy Reading Nook!
7. A Reading Corner Escape
8. Reading Nook and Zen Den
9. A Simple Reading Nook in Bohemian Style
10. A Perfect Place To Spend Friday Night with, Right?
11. Upcycle a Dry Bar into a Reading Nook
12. Reading Corner on the Small Balcony
13. Rustic Indoor Reading Corner
14. Basic Reading Nook Near the Window
15. Reading Nook with a Porthole to the Texas Woods
16. A Perfectly Cozy Reading Nook
17. Another Pretty Cool Reading Nook on the Balcony
18. Simple, Cozy Reading Corner
19. Vintage Reading Nook
20. Closet Reading Nook
21. Cozy Reading Area for Kids
22. Delightful Reading Nook with Hanging Chair
23. More Than Just a Reading Corner
24. Your Girls will Love this Reading Nook
25. Another Perfect Reading Nook for Kids