There is nothing better than immersing yourself in a cool pool or hot tub after a hard long day. It is so great when this place is located outdoors, it's a double pleasure because you can also enjoy the fresh air and feeling the beauty of landscaping around your garden. That's why today we are so glad to share 25 awesome backyard hot tub ideas. A hot tub may be organized as a part of a pond or a pool, it may be made natural-looking with the help of natural landscaping.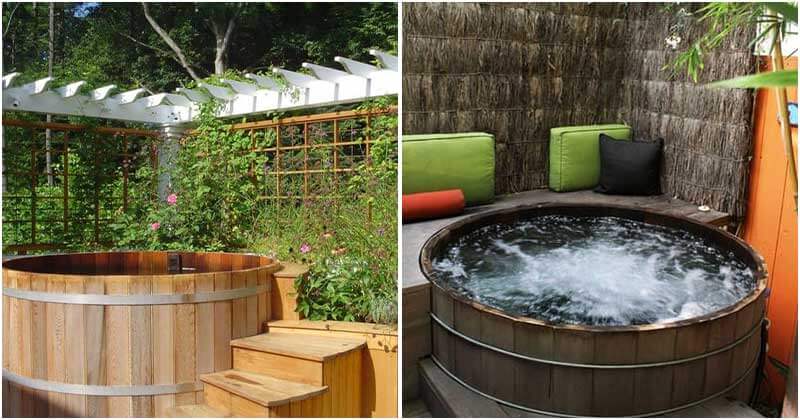 There are many various styles from rustic to ancient and made from different materials such as wood, concrete, metal, and stones that you can find easily. We believe that these ideas here can inspire you to make one that you love most. What is more, you are finding a place for the next date, a hot tub is an amazing place for a romantic place for this special occasion.
#1 Large Planters By The Tub Is A Great Way To Decorate The Surrounding Area.
#2 A Wooden Two-storey Hot Tub On A Deck Is The Best Choice If You Want To Enjoy Surrounding Views
#3 On-ground Hot Spring Tub Is The Most Easy To Install And It Looks Great.
#4 Beautiful In-ground Natural-looking Stone Hot Tub Surrounded By Pebbles
#5 An Amazing Patio By The River Should Definitely Feature An In-deck Hot Tub
#6 An Outdoor Spa Is One Of Those Things That Could Make Your Backyard Special
#7 Nesting A Tub Into Flagstone Patio Would Make It Blend It Well
#8 Simple Wooden Tub Is The Perfect Thing To Enjoy The Scenery
#9 This Rustic Deck Is A Great Example Of How Well A Stone Wall Match A Redwood Hot Tub Tucked Among The Tree
#10 A Hot Spring Spa Surrounded Covered Natural Stone Is A Beautiful Addition To Your Outdoor Space