Bedrooms are the paradise and private oasis of the kids. They sleep, play, study, and read books with their siblings and friends here. A beautiful bedroom decorated to their hobby and style is then an irresistible appeal to them. The children can spend their whole day here. They just find it so good to stay here and can't get enough of it.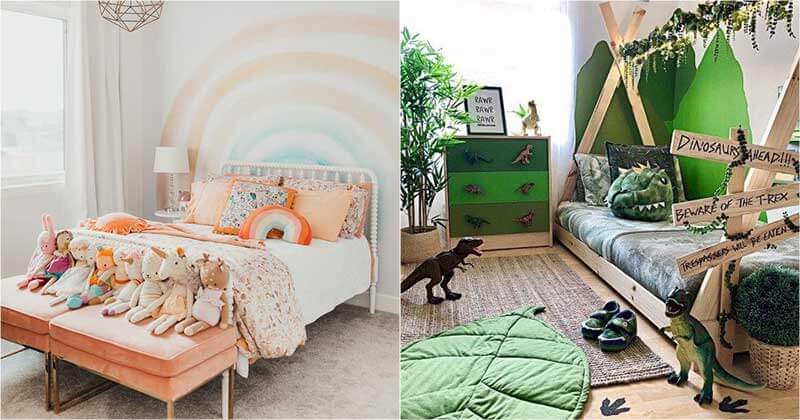 Here are 25 awesome bedroom decor ideas for the kids we would like to share today. If you want to "renovate" your kid's bedroom, just give these a look. They are great suggestions, suitable for both boys and girls. You can definitely pick out designs that your kids love and fit their bedroom. Just imagine how excited your children are when seeing their new bedroom. Let's check them out!
1. Perfect Bedroom for Your Daughter, Right?
2. Bedroom with Dinosaur Toys for Boys
3. Boy's Bedroom on a Budget
4. Stylish New Seabury Getaway Bedroom
5. Rainbow Themed Bedroom
6. Pretty Cool Bunk Bed for Kids
7. Twin Size Bed with Natural Linen Cover and Window
8. Dreamy Beach House Getaway Bedroom
9. Clever Storage and Beautiful Bedroom for Boys and Girls
10. Girly Bunk Beds
11. Simple Modern Bunk Beds
12. Castle-Shaped Cabin Bed Complete with Storage Turrets and a Sweeping Staircase
13. Tent-Shaped Bed with String Lights for Girls
14. IKEA Bunk Bed Hacks
15. Cool Loft Bed Design
16. Airplane Bedroom for Boys
17. Lovely Bedroom for Sisters
18. Magical Bunk Beds
19. Scandinavian Style Bedroom
20. Girl's Dreamy Bedroom
21. Cool Bedroom
22. Perfect Bedroom with Cool Two-Tone Walls and House-Shaped Bed
23. Kid's Bedroom and Playhouse
24. Cool Boy's Room
25. Another Beautiful Dreamy Beach House Getaway