If you have more than one kid, bunk beds will be a perfect choice for them. It does not only save space for their bedroom but also enables siblings to stay together. They have private space, one bed for each, but still find it easy to interact with each other. That's why they often chat until midnight.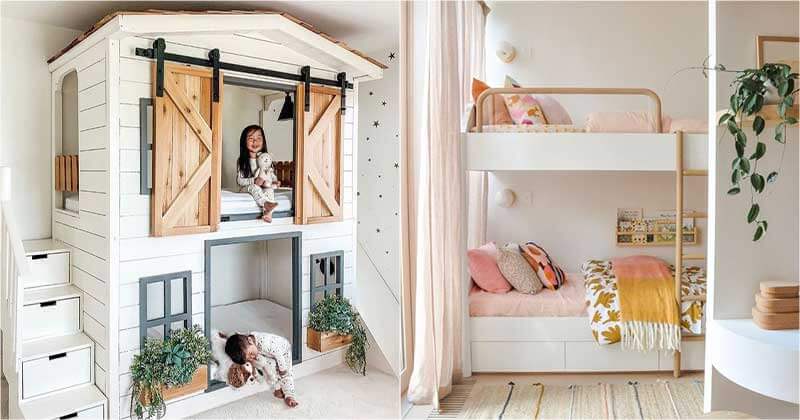 Here are 25 awesome bunk bed ideas for your kids. They come in a variety of styles, colors, and prices but all incredibly cute. You can definitely pick out one that fits your budget and children's bedroom. Some are even easy enough to add to DIY projects. If you can do it yourself, just give it a try. Your kids would go crazy for what you do for them!
1. Girl's dormitory house!
2. Colorful bedroom for sisters!
3. DIY Sliding Barn Door Loft Bed
4. Creative bunk bed!
5. Bedroom with tons of space for playing, sleepovers, and hangouts with friends
6. Adventure awaits bedroom!
7. Boys would go crazy for this airport bedroom!
8. Love this bunk bed?
9. Simple, adorable bunk beds for siblings!
10. DIY storage beds
11. Modern bunk beds for siblings!
12. Close to nature bedroom!
13. Cozy bedroom for sisters!
14. Bunk bed and playhouse!
15. Girls will fall in love with this dollhouse, right?
16. Truck bed for boys!
17. A small indoor playhouse!
18. If your girls love pink, she will fall for this bed immediately.
19. High treehouse feature bed with a rope ladder
20. Do you wish to stay on these bunk beds when you were small?
21. Bunk beds for brothers!
22. Cosy autumn bedroom for girls!
23. If your kids love a blue hue, this bunk bed is a perfect choice
24. A white modern bunk bed!
25. Kids' sleepaway camp room