Bar carts make an excellent choice for storage. You know the reason, right? These carts are shoppable. You can even repurpose the old ones instead of letting them go to waste. If you have enough skills, you may also try making a wooden bar cart on your own. These mini, open "closets" will save you a lot of space and make your room more organized. Who doesn't want these for their home?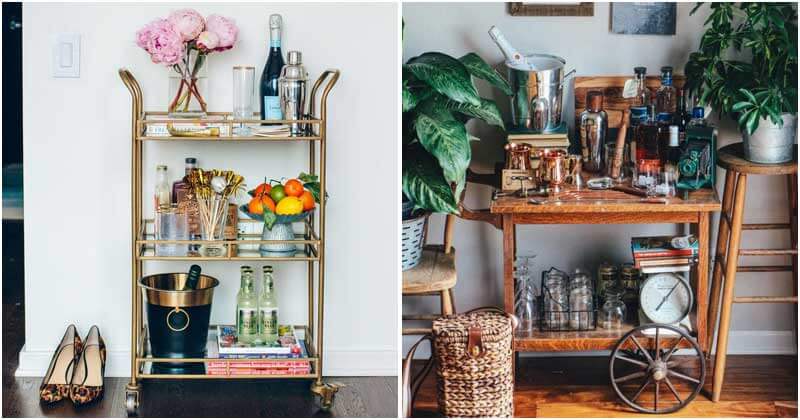 And, here are 25 awesome storage bar cart ideas to add to your pocket. If you are finding easy ways to store books and magazines, cups, spice jars, and drinks, these are right up your street. They work with both indoor and outdoor spaces. Many of them have wheels, making them a need for outdoor dinners and small gatherings. That's why many homeowners prefer placing a movable bar cart in the patio or backyard. They are functional and decorative, worth spending for.
1. Modern Coffee Bar Cart with Wheels
2. Enchanting Vintage Style Bar Cart
3. Stylish Wine Storage Bar Cart
4. Chic Storage Bar Cart for Wines
5. White Drink Bar Cart
6. Do You Love This Bar Cart for Spring?
7. Bar Cart for Books and Pencils
8. Chic Gold Bar Cart with Pink Flower Vase
9. Coffee Bar Station
10. DIY Bar Cart with Cabinet