You can definitely turn your kitchen window into an inviting indoor space. Hang on some decorative vine plants, build a windowsill herb garden, place multiple small plant pots – these DIY projects are all fantastic. Each of them is enough to spruce up your kitchen and purify the air here. Some even help with your cooking. If you grow herbs, this homegrown produce will go to your cooking pots. It's funny but totally true. We all love this, right?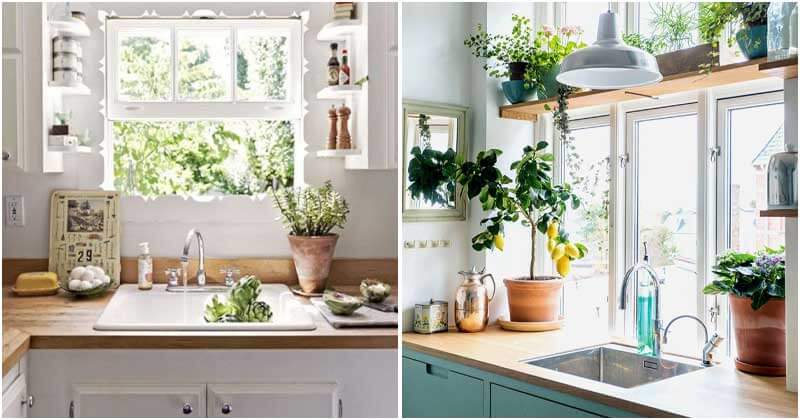 The collection below is about 25 creative kitchen window ideas that you will fall for. If you are looking for simple yet clever ways to liven up your kitchen window, these are right up your street. Small little changes always work. It adds spice to your familiar living space, making today is prettier than yesterday. Home is the place to return and your kitchen is a retreat after a long day at work. Just bring sweet things for it to find it happy every time you stay here. Let's check them out!
1. Environment-Friendly Kitchen
2. Simple, Rustic Farmhouse Window Treatment
3. Glass Kitchen Window Shelves
4. Pretty Small Kitchen Window
5. Kitchen Windowsill with Plant Planters
6. Simple, Rustic Flower Vase Near Window
7. Glass Window Shelves for Plants
8. Love This Farmhouse Kitchen Window Decor Idea?
9. Farmhouse Kitchen Window Idea
10. Farmhouse, Rustic Kitchen Window