Nothing is better than snuggling in bed with your blanket while it's snowing outside. It's a perfect treat from a constantly tired day at work. If you want to stay away from the hustle and bustle of city life, your bedroom will also help. We feel totally relaxed when lying on our bed with a good book and a cup of good tea (or wine) served alongside. Perfect!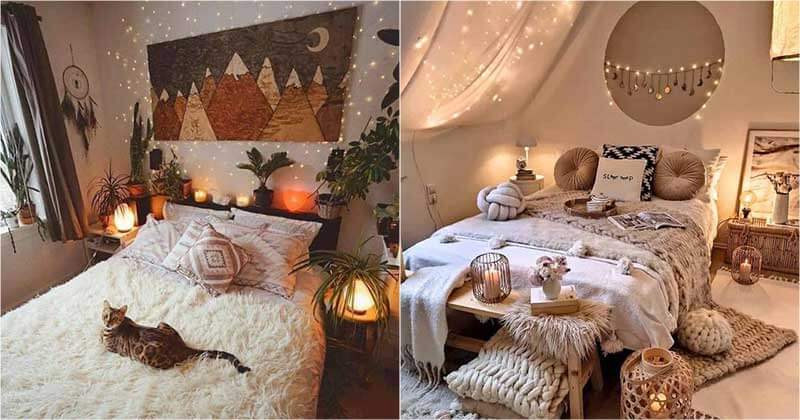 And here are 25 easy cozy bedroom ideas for the winter months we would like to share today. They are exciting ways to give your bedroom a cozy breath in a budget. If you want to "upgrade" your bedrooms for staycation goals this winter, just give these a look. I can spend all my weekend on my bed because it's so comfortable. Hope that you do, too.
1. This cozy bedroom idea can elevate your room
2. String lights always make your space cozier at night
3. Love this Boho style bedroom?
4. Maximalism at its breeziest
5. Could you feel the coziness here?
6. A cozy bedroom is vintage style, Papasan chair, plant stand basket, bright and airy, and nook
7. Cozy dorm room for girls!
8. Cozy bedroom with yellow pillows and dangling plants
9. A creative Boho bedroom idea!
10. Add some more pillows and use string lights
11. Easy cozy bedroom!
12. A vegan home is also busy, right?
13. A fluffy cloud down comforter bed can make a neutral cozy bedroom
14. Is it an ideal place to retreat for a little rest and relaxation?
15. Another cozy Boho style bedroom
16. Rustic bedroom!
17. Is this the dream cozy room of every girl?
18. There is so much love with the coziness of this bedroom
19. This cat also loves staying in this bedroom
20. A Scandinavia bedroom!
21. If you prefer a rustic style bedroom, this is for you
22. Girls will fall in love with this cozy bedroom
23. An ideal place to hide the coldness outside
24. Cinnamon linen bedding!