Obsessed with yellow? Looking for stunning blooming plants to bring to your garden? You've been in the right place, guys. This post introduces 25 gorgeous yellow flowers to liven up your garden. They will be striking in here when blooming. You can grow a single variety or some in your garden. Some of them work well when grown in bush, borders, edges and hedges. It may take you a lot of time and effort at the beginning but is actually a rewarding journey. Just look how pretty your garden is with these yellow flowers.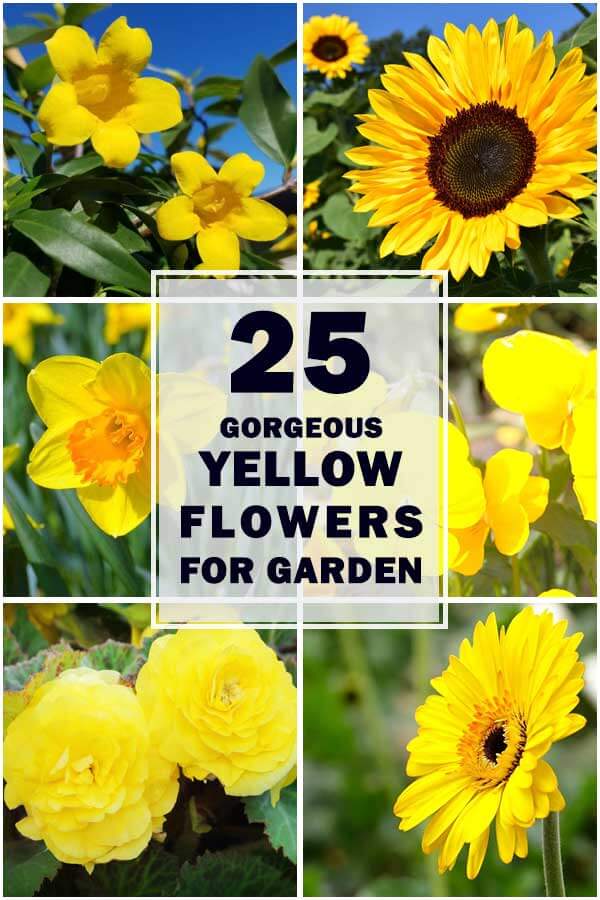 Some of these are perennial plants, so surely return your garden year after year with proper care. These would be an excellent choice for lazy (or busy) garden owners. As these yellow flowers bloom beautifully, they will attract birds, bees, butterflies, and other beneficial insects to your garden. It means that other garden plants will get benefits from these. So good, right?
#1 Impatiens
These vivid impatiens surely spruce up your garden when blooming. These flowers are easy-to-grow and look pretty cool in containers and hanging baskets as in the ground.
#2 Daffodil
When the cheerful and trumpet-like flowers of Daffodil appear, it means that spring arrives.
#3 Sunflower
Sunflower should never be missed in this collection. They're heat-tolerant, make great cut flowers, and attract butterflies and bees.
#4 Dahlia
Dahlias bloom in different shades of colors. They do best in full sun and well-draining soil in more moderate climates.
#5 Iris
You can find Iris in a number of different varieties and hues, including a bright and bold yellow. These flowers do well in zone 3-9. They are also toxic to pets—so keep that in mind when planting.
#6 Tulip
Tulip comes in more than 100 species. It's the most popular of spring flowers. Plant the bulbs in fall, six to eight weeks before a hard frost is expected.
#7 Craspedia
Craspedia is also called billy button. They're a favorite for easy DIY flower arrangements thanks to their long vase life.
#8 Coreopsis
Coreopsis are excellent to grow in borders and containers. It is a heat-tolerant plant and will bloom all summer long.
#9 Carolina Jessamine
Carolina Jessamine is a fragrant flowering vine rambling on a trellis or fence. You can also grow it on banks and slopes as a ground cover.
#10 Daylily
The name and shape of daylilies may mislead many people. They are not true lilies and can be eaten and treated as a vegetable in some countries.