I really love cozy pillow corners. Nothing is better than snuggle here after a long day at work. I can even spend the whole weekend sitting and lying down here with good books and good meals. Of course, it's also an ideal corner to work with the laptop. Comfortable. I get a lot of relaxation here. It's also worth mentioning that this nook works with all seasons.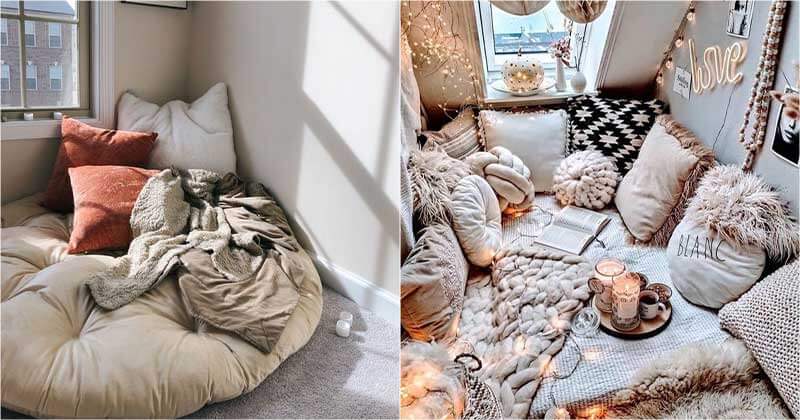 This post is a collection of 25 inspiring ideas for cozy pillow corners. If you want to "upgrade" a nook of the house for staycation goals, you should never miss these. Every family should have this comfy space. Both parents and children can stay here to relax and re-fill their energy levels. Let's check them out!
1. Why not "build" this relaxing nook right in your bedroom?
2. Cute Boho pillow corner with a green hue
3. A comfy, cozy pillow corner near the window
4.  A great idea to get into the holiday's spirit, right?
5. Such a beautiful cozy corner!
6. Filled with Bohemian vibes thanks to woven space-dye rug and pillows
7. Sunny seating corner filled with plants, crystals, and cozy floor pillows
8. Such a chill out meditation corner idea!
9. Cozy rug pillows throw reading nook
10. Rohini velvet daybed cushion
11. Cozy Boho reading corner with a fairy white bed and cream pillows
12. A cozy reading nook and cozy corner
13. Love this nook for your house?
14. The kids will love playing in this cozy pillow corner
15. Some oversized throw pillow works here
16. Vintage pillow corner with an old chair
17. A cozy cuddle corner for the colder months
18. The sofa always makes a perfect place to build a cozy pillow nook
19. Place some more pillows to the sofa
20. Love the pillows!
21. If you prefer a rustic, cozy nook with pillows, this is right up your street
22. Cosy pillow corner in the dining room
23. Outdoor lounge with pillow
24. Global boho style living room decorated for Christmas!
25. Another cozy reading nook with pillows!