It's great to spend some spots in your garden for shade-loving plants. They will add a charming view to your garden. Some can even support the growth of other plants in your garden. If you get interested, you may try growing them in borders, edges, and garden fence. But the point here is many of these shade-loving plants look cool and thrive in containers and hanging baskets. Why not give this gardening idea a go?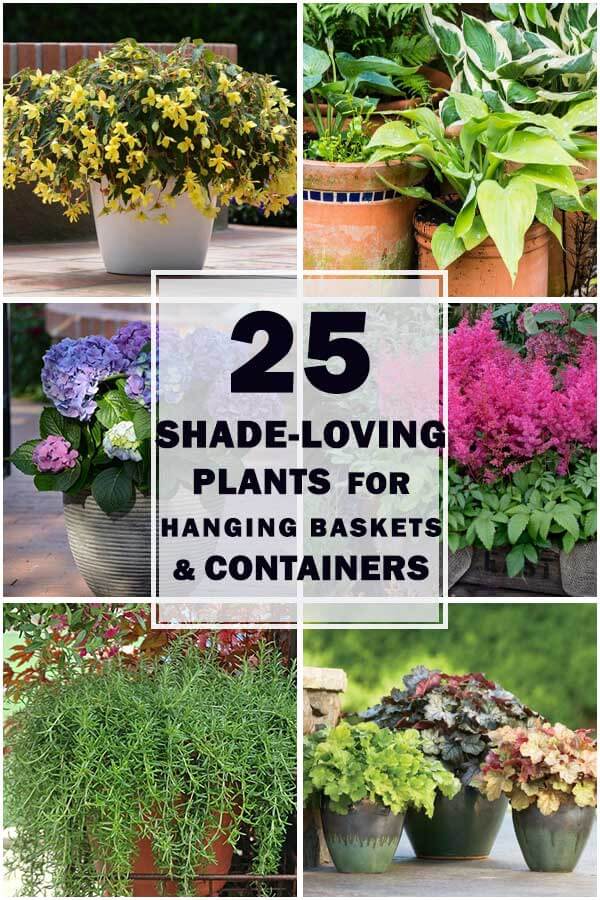 We've rounded up 25 shade-loving plants for containers and hanging baskets. If you're finding some plants that do well and look pretty in these, just give this collection a look. You can keep your plants indoors or out. They will liven up your space. But be sure to choose the right containers or hanging basket for your plants and give them proper care, of course.
1. Succulent
Not all succulents appreciate the sun. There are several varieties that do better in light shade, especially during the summer months. They can tolerate some morning sun, but the scorching afternoon sun may fry them to a crisp. Here are some of the most popular species: fairy crassula, sedum, aloe vera, jade, devil's backbone, many different kinds of Sansevieria (snake plant) and kalanchoe.
2.
Fuchsia
Fuchsia loves living at temps between 55° to 80° Fahrenheit, if the thermometer consistently stays higher than that they'll probably stop flowering. You can find it in a variety of colors with unique flowers, most all of which spill beautifully over the sides of hanging baskets and tall containers. Fuchsias will easily thrive in regions with naturally cool summers. In warmer climates, they perform best in fall.
3.
Begonia
Begonia comes in a variety. The topline way to divide them up is by root type. Tuberous begonias are a herbaceous perennial that is usually grown outdoors. Begonias with fine-fibrous root systems are best as houseplants. Both kinds thrive in low light and well-drained soil.
4.
Hydrangea
Some hydrangea varieties look pretty cool in pot dwellers. All you need to do is provide it with sufficient water. They'll need more water than those grown directly in the garden soil. Keep your hydrangea pots in the spot where they best receive morning sun and afternoon shade in all climates.
5.
Hosta
Hosta is also commonly grown in pots. All hostas prefer rich, well-drained soil, and do best in part shade, although some varieties can tolerate a little direct sunshine. Make sure that you provide ample water and spread mulch around them to help retain moisture. Its spikey white to lavender blooms attract bees, butterflies and hummingbirds to your garden. Unfortunately, their leafy green foliage is a tasty treat for deer and rabbits.
6.
Astilbe
Who can't resist these beautiful perennial shade flowers? Astilbes are prized for their feathery, plume-like blooms that will stand above ferny foliage making them the perfect thriller in a mixed container garden. Once blooming, these will attract butterflies and look great in fresh floral arrangements. Astilbes can range in size from 6″ to 24″, so make sure that you choose the right variety that will fit your containers.
7.
Heucheras
Heucheras also come by the name coral bells or alumroot. This hardy perennial is striking in borders with other shade-loving perennials, but they also look fabulous planted solo in containers. It prefers partial shade but can take more sun in cold climates.
8.
Carex 'Toffee Twist'
Carex 'Toffee Twist' will bring a new breath to your garden. It's slender, bronze-green foliage that forms a loose mound to 18″ tall and 12″ wide. A cool-season grass, 'Toffee Twist' grows actively in spring and fall — whenever temperatures stay below about 75° F. It thrives in moist, well-drained soil or potting soil in part shade to full sun. Cut back by two-thirds in early spring for its healthy growth.
9.
Clematis
There are about 300 species of clematis and an even bigger number of hybrids. To grow them at your house, you should check with your local extension or garden center to see what does well in your area. I really love vining clematis as it looks wonderful in a container climbing up an arbor, pergola or trellis. This plant thrives in moist, well-drained soil.
10.
Hakone Grass, Siberian Bugloss + Heuchera
Looking for a cascading basket full of dramatic texture and earthy color for your garden? A mix of hakone grass (aka – Japanese forest grass), two varieties of heuchera (aka – coral bells) and Siberian bugloss come as the rescue. Hakone grass is one of the best ornamental grasses for shade containers as it grows slowly and spills nicely.