Plants are an excellent choice to hang on the wall. They serve for both decorative and functioning purposes. These beautiful plants add a green hue to your home, purify the air around you, and offer a fragrant scent. Some even bring luck and wealth to the homeowners. You could search for Vastu or Feng Shui plant architects to know more. And of course, they are a focal point in your home, spruce up your space.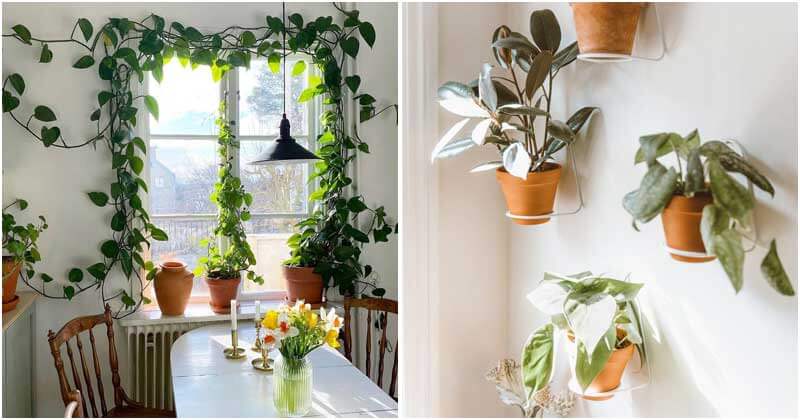 And here are 27 of the best ideas to build a beautiful hanging plant wall. If you want to decorate your wall with plants in a charming way, these are right up your street. Air plant vessels, living plant wall, wall-hanging plant boxes, and some other interesting ideas are recommended here. Just pick out your favorites and apply them for your home. They will liven up your wall!
1. Beautiful Vine Hanging Wall for Bathroom
2. DIY Hanging Plant wall With Macrame Planters
3. Modern Wall-Hanging Plant Boxes
4. Kitchen Shelves with Plant Pots
5. Vintage Hanging Plant Shelf Behind Bed
6. Plants in The Kitchen
7. Plant Wall with Terra Cotta Pots
8. Landscaping Wall with Ceramic Plant Pots
9. Fabulous Green Wall Design
10. Hanging Kitchen Shelves with Lush Plant Garden
11. Hanging Herb Garden in The Kitchen
12. Chic Wall Hanging Plant Garden
13. Contemporary Planters
14. Love This Plant Wall Hanging for Your Bedroom?
15. Hanging Macrame Planters