A small Bohemian style balcony can always grasp the eyes of all family members. The décor and colors are super impressive. That's why it becomes a perfect place to hang out, relax, and enjoy the weekend. This cozy place is also an ideal inviting place. Your guests will feel at home when staying here.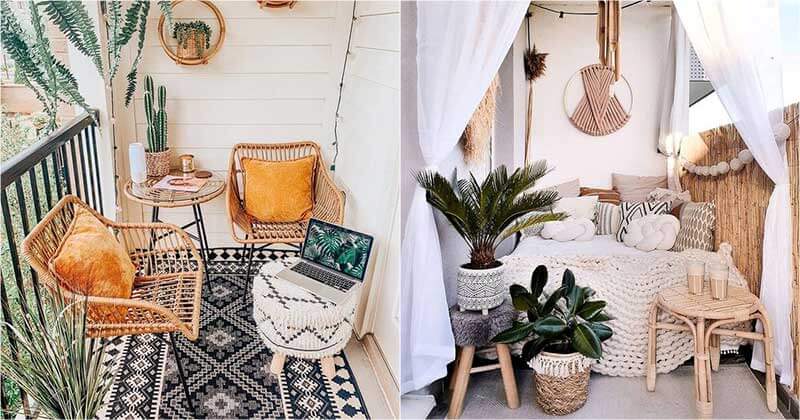 Here are 28 chic small Boho balcony ideas we would like to share today. If you want to turn your balcony into a relaxing place, these are the way to go. I can spend my whole evening sitting here and reading a favorite book. It is a perfect retreat from the hustle and bustle of city life. We, adults, may not need a garden but really need a nook where we get full relaxation and peace in mind.
1. Perfect Retreat for Relaxing and Entertaining
2. Beautiful Boho Balcony for Staycation Goals
3. Small Boho Balcony with Green Foliage, Intricate Patterns, and Vibrant Colors
4. A Beautiful Mini Osis!
5. Cozy Small Balcony with Bench and Pillows
6. Dreamy Boho Balcony with String Lights
7. Boho-Chic Small Balcony
8. Cozy Small Boho Balcony for Apartment
9. Small Boho Balcony with Swing Chair and Pillow
10. Boho Rustic Balcony
11. Perfect Relaxing Nook!
12. Soft Neutral Balcony Decor
13. Eye-Catching Small Boho Balcony with Pink
14. Boho Balcony with Dark Beige Woolen Hoop
15. Chic Boho Balcony with Hanging Chair, Pillow, and Coffee Table
16. Cozy Boho Balcony for Girls
17. Small Chic Boho Balcony Garden
18. Boho Balcony with Staycation Goals
19. City Boho Balcony with String Lights
20. Rustic, Small balcony with Pallet Bench
21. Decorated Small Outdoor Balcony!
22. Simple, Rustic Small Balcony with Hanging Chair
23. Colorful Small Balcony with Pillows and Vines
24. Beautiful Boho Balcony with Chairs, Pillows, and Rugs
25. Boho Apartment Patio Inspiration
26. Small, Rustic Boho Balcony
27. Small Balcony with Bamboo Objects
28. Pink Boho Balcony for Girls