A waterfall in the garden not only spruce up the backyard but also helps you can closer to nature. In addition, water is a power that helps to relax, and the sounds of falling water create real harmony. If you are finding ideas to turn the landscaping of your backyard, let's check 28 spectacular backyard garden waterfall projects that we are so glad to share in this post today. With these ideas, you will have the chance to feel the sound of water as funny music. Don't hesitate, explore them!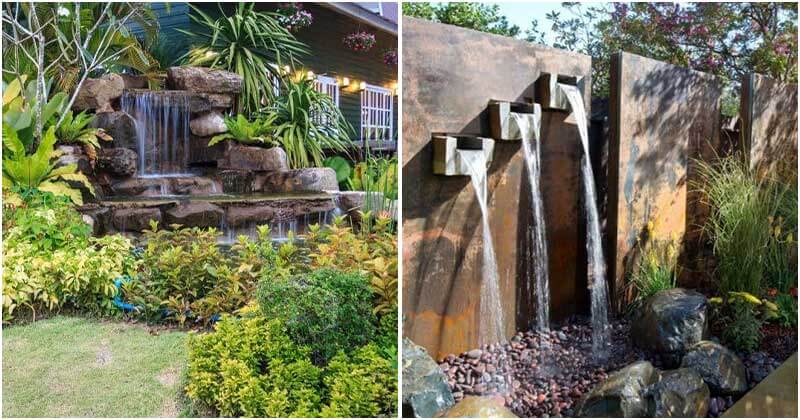 You've probably seen fountains in public places, right? And we believe that you felt the sound of water as funny music, and delighted by the sound of running water. It is so great! Why don't you make your own waterfall so that you can enjoy the calming sound of the running water all year round at right your home? The ideas here will help your garden space become full of freshness and energy. Just make one you will have perfect space for your private life as well as bring joy and relaxation to the souls of family members.
#1 This Is A Combination Of Rough Rocks, A Pond, and Lots Of Greenery To Make This Little Terrace A Perfect Place
#2 Such Beautiful Water Feature For An Area Near Your Terrace or A Gazebo
#3 Stone Paver Cover The Area Around The Stone Waterfall
#4 Upgrade Your Fence with Planters and Waterfalls
#5 A Contemporary Water Feature Could Also Be Made Of Metal
#6 Repurpose Some Of Your Garden Stuff To Construct A Beautiful Waterfall
#7 The Perfect Place To Relax And Drink A Glass Of Wine By The Fire Pit Listing To The Sound Of Falling Water
#8 That's How Well A Waterfall Could Fit Into A Complex Landscape
#9 Rustic Backyard With An Amazing Waterfall And A Cute Little Wooden Bridge
#10 Surround Your Garden Waterfall With Flowers And It'd Look Like It Was There Before Your House.