An old teapot or an unused tire may seem like scrap but with some creativity, you can create them into new useful items to add charm to your front yard. It could be an outstanding decoration, a cool planter, an interesting water feature, and more. Do not believe it? See the list of 30 Amazing Repurposed Front Yard Decorating Ideas listed below.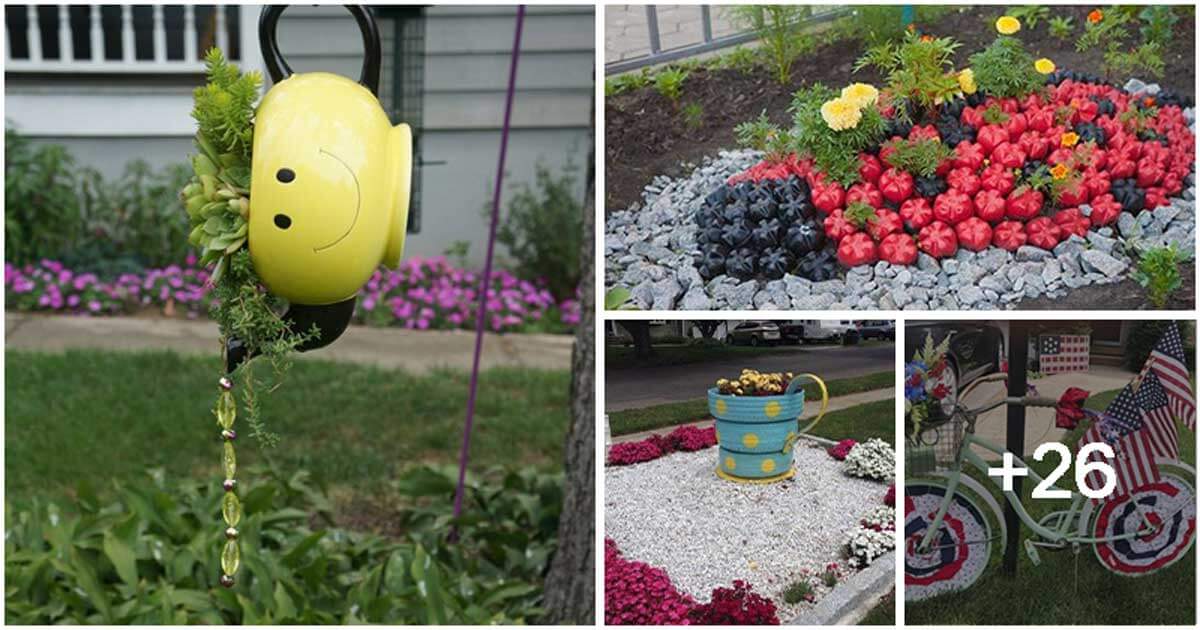 With a little creativity, handiwork, and a little time, these old things that lie cluttered around your home can be transformed into decorative, functional pieces that can jazz up any outdoor space. You can make them easily without needing any sort of painting talent or experience to create something completely unique. They can give you a rustic, elegant, or vintage look, depending on the ways you create them. Are you ready to get these inspirations and infuse your own style into designs?
#1 Reuse Old Ladder
Source: Houseofhawthornes
#2 Painted Old Pallet with Bright Colors for Fence
Source: Gislene Miranda
#3 Hanging Flower Bucket
Source: Pinterest
#4 Guitar Flower Planter
Source: Mydesiredhome
#5 Unique Bicycle Mailbox
Source: Kenny Lucas
#6 Watering Can Lights
Source: Smartschoolhouse
#7 Metal Water Trough Planter
Source: Lindsey Mitzel
#8 Add A Water Feature
Source: Mirjamell Arne
#9 Old Door with New Mission
Source: Homehacks
#10 Garden Corner Decoration
Source: Pinterest
#11 A Flower Tower
Source: Rachael Hiam
#12 A Raised Garden Bed
Source: Kitchenfunwithmy3sons
#13 A Creative Bird Feeder
Source: Etsy
#14 Enjoying Music!
Source: Sandra Olsson
#15 An Antique Planter
Source: Anoregoncottage
#16 DIY Barrel Planter
Source: Hometalk
#17 4th of July Old Bicycle Upcycle
Source: Hometalk
#18 Hanging Mason Jar Candle Holder
Source: Stylemepretty
#19 Tipsy Pot Planter
Source: Hometalk
#20 Glass Bottle Art
Source: Talking-to-plants
#21 Light Up Your Front Yard
Source: Thedreameryevents
#22 Old Tree Stump Plant Stand for Flower Pot
Source: Ginghamgardens
#23 Metal Magazine Holder as a Repurposed Planter
Source: Sadieseasongoods
#24 A Lady Bug Made From Plastic Bottle
Source: Lushome
#25 Cute Succulent Planter
Source: Pinterest
#26 A New Cup Version
Source: Hometalk
#27 Flowering Chair
Source: Pinterest
#28 Boat Front Yard Planter
Source: Angel Jury
#29 Stacked Clay Pot Filling Up Flowers
Source: Shiftingroots
#30 Tea Time in the Garden
Source: Flickr