Kitchen shelves help a lot in the kitchen. It's clear that these built-in shelves are a clever way to store and organize the kitchen's gadgets. This will be a need if your kitchen is small. The kitchen shelves are space-saving, turning your kitchen into a cozy, mess-free corner. You may get calmness and relaxation when staying here and cooking meals for your family.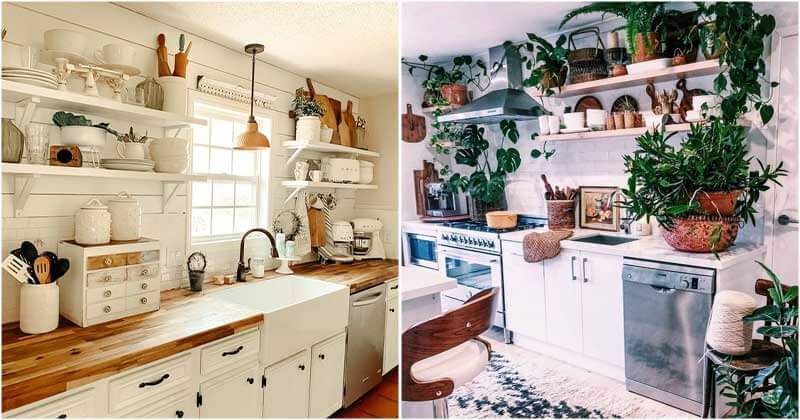 Here are 25 awesome ideas to make kitchen shelves I would like to share today. If you want to "renovate" your kitchen shelves, you should never miss these interesting DIY projects. There is one thing interesting that you can also build a small beautiful plant garden right on these kitchen shelves. It makes the kitchen livelier and more eye-catching. If you grow herbs, they will work with the cooking. So good, right?
1. Two-Toned Kitchens with White Subway Tile and Blue Green Cabinets
2. Beautiful Kitchen Shelves with White Theme
3. Stunning Shelving Kitchen Corner
4. Open Shelves over Coffee Bar in The Kitchen
5. Such a Beautiful Kitchen!
6. Rustic Open Shelving with White Cabinets and Classic Subway Tile
7. Stunning Kitchen Shelving with Shoppable Finds
8. Boho Vintage Open Shelving Kitchen
9. Chic Kitchen Shelves
10. Cottage Kitchen with Open Shelves
11. Poetic Open Kitchen Shelves
12. Natural Wood Floating Shelves
13. Love This Kitchen Corner?
14. Another Rustic Open Kitchen Shelving
15. Modern Open Kitchen Shelves