Want to turn your small balcony into a cozy, relaxing oasis? You've been in the right place, guys. This post is about 30 dreamy small balcony ideas that will amaze you. Apply a suitable one for your balcony, it will be a perfect retreat from the hustle and bustle of city life. Who doesn't need this? We all love staying in a place where we can get fully relaxation and peace in mind. We can also work, reading books, and enjoy our weekend here.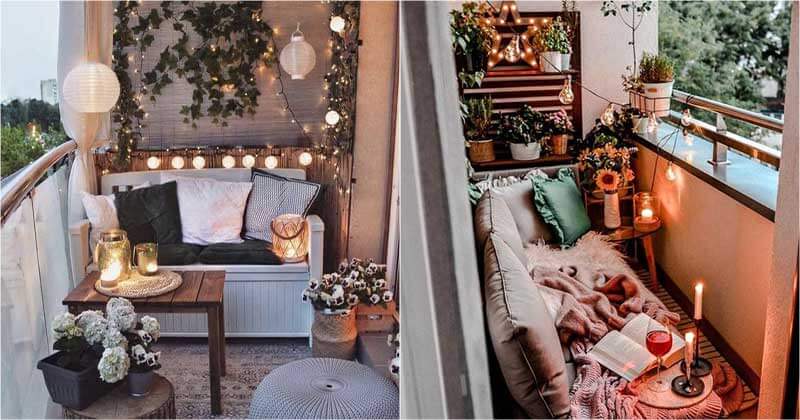 If you want to "upgrade" a house corner for staycation purposes, you should also give these ideas a look. Your balcony is always a perfect place. Plant some plants, set up some chairs and pillows, hang over some string lights – they all work in these DIY balcony projects. If you get enough patience, just give them a try. Your small balcony will become a place that "urges" you to get back home at the end of the day. Let's check them out!
1. Such a cozy beautiful balcony!
2. Small Boho balcony for staycation goals
3. Small balcony design for relaxing and working purposes
4. Bring a green hue for the balcony with a hanging garden
5. Brilliant small balcony idea!
6. Girls all fall in love with this balcony, right?
7. An irresistible outdoor retreat for relaxing and entertaining!
8. A hanging balcony chair turns the space an ideal place to relax in the late evening
9. Modern small balcony
10. A balcony that every girl dreams about, right?
11. Beautiful relaxing and inviting place!
12. A cozy balcony oasis with plants, pillows and lights
13. Another beautiful small Boho garden with lush green foliage, dreamy texture, intricate patterns, and vibrant colors
14. Great Idea for Apartment Balcony
15. Rustic style small balcony