All of us dream about a charming porch and patio. Along with the garden, they're the features of any house. Anyone that passes by your house will be immediately impressed by them. A beautiful patio is a stunning place to talk with your guests. To your family, it's an ideal space to relax and enjoy something good after a long day.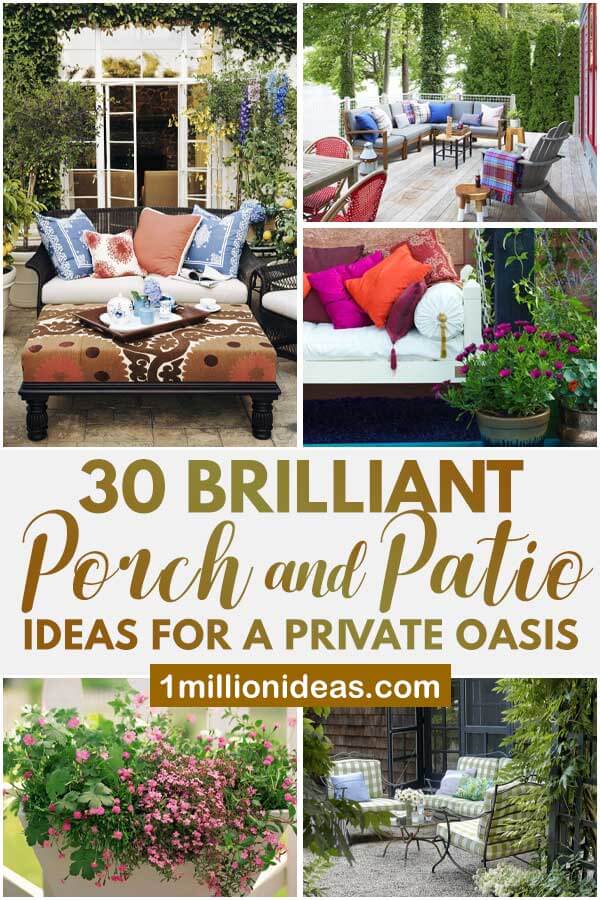 In this post, I'm glad to share 30 brilliant porch and patio ideas for a private oasis. Some of them are super easy to carry out while some need a bit more effort and budget. It really depends. Even if a renovation isn't on your to-do list, it's still possible to expand your home's footprint. Best make use of the space of your home and add a new appearance to it. Who do not want this? Here we go!
#1 Try an Oversized Ottoman
It can be an extra seating when many people gather at the patio.
#2 Add More Plants
It's great to dress up your patio with potted plants, hanging planters, and trailing vines.
#3 Incorporate Preppy Touches
Some gingham cushions will be bright, even striking in the patio space.
#4 Put Up a Shelf
Shelf can definitely find it way into outdoor spaces.
#5 Hang a Flower Box on the Fence
Everyone will stop by when seeing this flower box on your fence. It surely brightens up the space.
#6 Install a Hanging Candle Holder
A hanging candle holder will make the patio more modern and stylish.
#7 Hang Paper Lanterns
Hanging some paper lanterns at patio will make outdoor dinner more impressive.
#8 Decorate with Big Pillows
Oversized pillows can hide any unforgiving marks or nicks in your furniture.
#9 Stick With a Theme
This theme makes the patio comfortable yet cohesive. Who could resist it?
#10 Grow Your Porch With Pavers
I just love this idea so much. It can expand the usable space and makes it more stylish and modern.