Looking for simple yet firm planters for your succulents? Concrete makes an exciting material to proceed with this DIY project. All it takes are cement, water, and of course, your favorite molds. Then you can make stunning concrete succulent planters in shapes of wine bottles, teacups, owls, bags, motorcycles, and cones. It depends. These containers do not cost you a lot of time and budget. You can definitely give it a try right this weekend, along with your kids.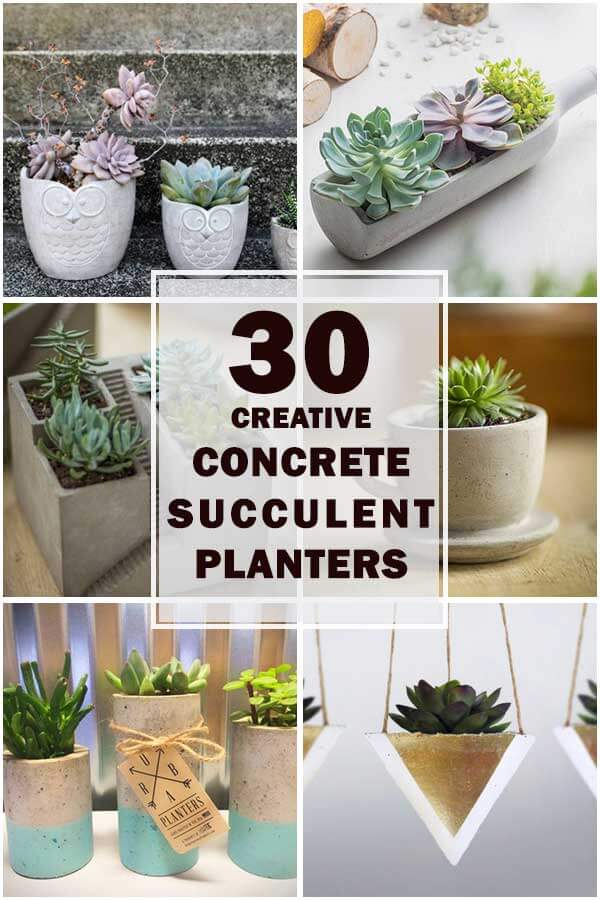 So, you've got what this post is about, right? It shares 30 Cool Creative DIY Concrete Succulent Planters for you to make at home. If you want to grow hardy succulents in handmade planters, these are excellent suggestions. I've got some already on the windowsill, working desk and in the living room. To make these concrete planters less boring, you can try painting them with favorite colors and decorating them with beautiful patterns. Let's get started!
#1 Concrete Wine Bottle Planter
Obsessed with wine bottle garden projects? This concrete succulent planter is also worth having a spot in your home. You can even use it as a kitchen gift for friends. They would go crazy for it.
#2 Concrete Owl Planters
These little concrete owl planters surely add more charm to both outdoor and indoor spaces. Each one includes a drainage hole to accommodate a variety of small and medium plants.
#3 Building Shaped Succulent Planter
Such a chic succulent garden!
#4 Cup Shaped Concrete Planter
Why not make your own concrete teacup and grow favorite succulent in? You can place this charming succulent planter at any room in your home. It even works well on your working desk.
#5 Concrete Head Planters
Looking for a creative functioning garden work? These Concrete Head Planters are right up your street. These can take on different personalities depending on context – they might look like elegant vintage statuettes in a classic garden, or spooky alongside Halloween decorations or gothic decor. Can't wait bringing them home?
#6 Concrete Gladstone Bag Plant Holder
This concrete succulent planter features its shape of a classic Gladstone bag. It is an appealing gift to vintage suitcase collectors and avid travelers alike. You may also try growing favorite flowers in here.
#7 Concrete Motorcycle Planter
Can't stand falling in love with this Concrete Motorcycle Planter, right?
#8 Cylindrical Concrete Planters
These Cylindrical Concrete Planters are an excellent example for the thing that a dash of color can make even the most rugged material look chic as can be. The planter cavities – on all sizes – are only 2 inches wide and 2 inches deep, suitable for small to medium-sized succulents.
#9 Large Concrete Planter
Seeking the perfect accent for your futurist or industrial themed interior? This Large Concrete Planter is an excellent choice for you. It looks like a nuclear power station's steam stack, large enough to support bamboo or even a small tree.
#10 Bowl Shaped Concrete Planters
This set of three bowl-shaped concrete planters will be a unique decor for your home. These planters are especially easy to handle thanks to the lightweight blended concrete and fiber construction