I just love the Bohemian architect, design, and style. They are vintage, rustic, and incredibly beautiful. That's why many people decorate their bedroom with Boho style. It's cozy and eye-catching, making you feel totally relaxed when staying here. If you are looking for a pretty retreat from the hustle and bustle of city life, a Boho bedroom will be an excellent choice.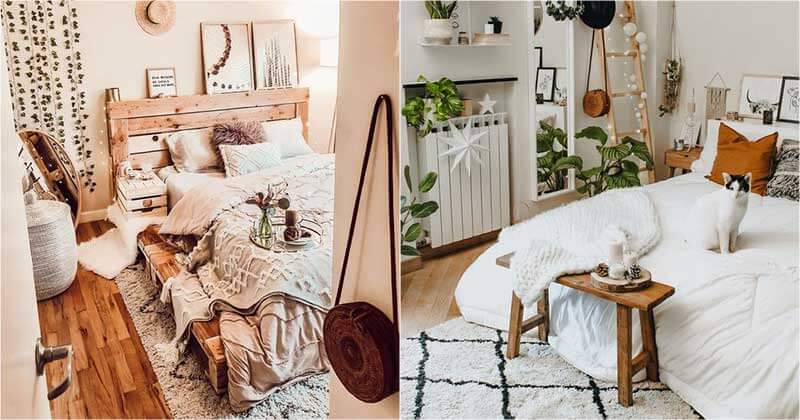 Here are 30 cozy, beautiful Boho bedroom decor ideas for the winter months. If you want to bring a cozy breath for your bedroom, these are right up your street. I just can't keep my eyes off these fantastic decors. It's a perfect relaxing nook after a long day at work. An ideal bedroom is a place that you can always get relaxation and peace. Ready to add some to your bedroom?
1. Bestever Cozy Small Boho Bedroom
2. Lively Boho Bedroom Decor
3. Bohemian Bedroom of Your Dreams
4. Cozy Modern Chic Boho Bedroom Decor
5. Mesmerizing Boho Bedroom with Spring Vibes
6. Minimalist Soft Hue Bedroom
7. Boho Bedroom with Yellow Hue
8. Boho Bedroom with Comfy Chair and Colorful Pillows
9.  Boho Bedroom Decor with Baskets, Macrame, and Plants Galore!
10. Love This Cozy Small Bedroom?
11. Vintage Boho Bedroom
12. Boho Bedroom with Hanging Plants
13. Simple Boho Bedroom with Olive Duvet Cover
14. DIY Cozy Reading Nook in The Bedroom
15. Boho Bedroom with Plant Pots and Wall-Hanging Mirror