Do you have unused wine bottles in kitchen shelf? Maybe yes, right? I guess so!!! If yes, let's take them out and transform them into awesome DIY projects. And I know that you are wondering what will they be? They might be interesting interior or exterior items that makes your space will be more attractive. Or simpler, you can turn them into meaningful gifts for special occasion like mothers' day, Christmas, or parties. Well, there are a lot of great ideas here, check them out with us.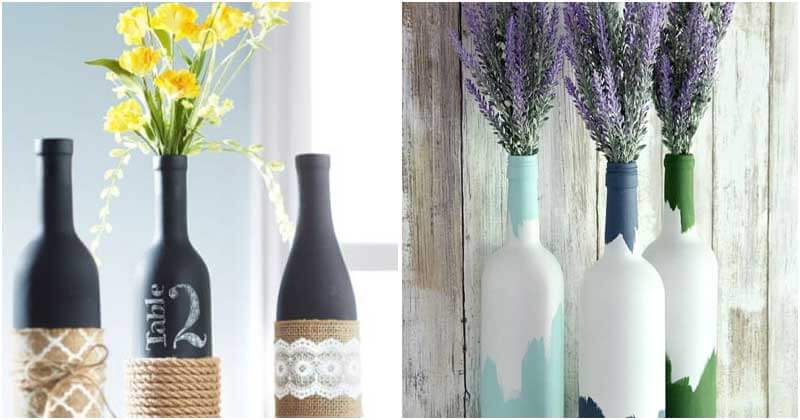 Instead of putting them in the trash, you can turn them into interesting items in a flash, or renew them into useful objects. Wine bottles come in a variety of shapes, sizes and colors, with these variations, you will be quite surprised to see that there are so many interesting and creative ways that we can use. Besides, the list includes inspiration that lends itself to a host of uses for budget-friendly backyard items that you can save your money such as tiki torches or bird feeders.
#1 Wine Bottle Glass Pebble Pendant Lights
This Wine Bottle Glass Pebble Pendant Lights would look right at home in your den or over a bar.
#2 Lace Trim Wine Bottle Vases
These elegant, reinvented wine bottles are perfect to use as a vase or centerpiece.
#3 Message in a Bottle Craft
This bottle is so special, it has messages but maybe no one will receive it; however but we know it will look adorable in your home!
#4 Glitter Wine Bottle
Liven up any space with these dazzling wine bottles covered in whatever color glitter you'd like! Try it once!
#5 DIY Bird Feeder
Great idea for a bright feeder, it will attract flocks of your favorite birds come springtime.
#6 Painted Vases
A super easy centerpiece with the combination of the colors of a trio of bottles to decorate for your home.
#7 Succulent Planter
Grow any your favorite succulents or any other tiny greenery. It will be lovely DIY planter that attracts your neighbor look.
#8 Bud Vase
Just 10 minutes to complete this gilded creation. It is not fussy but has beauty simple.
#9 Diamond Dust Decor
Your next Christmas decoration promises keep will be the cutest with this sparkly craft.
#10 Rainbow Lanterns
These bright, beautiful and colorful bottles can be displayed indoors or outdoors.