Want to raise some chickens in your garden? It's possible if you have a chicken coop. This makes your garden clean and neat, and your chickens get a shelter for rainy and scorching days. Your chicken may also lay and hatch eggs in here. If the chicken coop is impressively built, it may serve as a garden décor. Just make sure to tidy it regularly to avoid smell.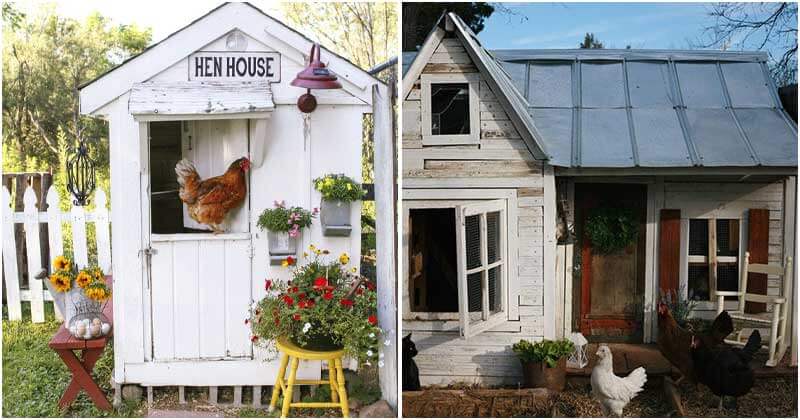 In this post, we're glad to share 30 easy DIY chicken coops to build. These not only serve as home to your chickens but also help with your gardening work. Chicken manure can be added to the compost pile, along with fallen leaves in the garden and fruit peels. If you prefer natural gardening method, you should never miss this.
#1 Colorful Chicken Coop
Your chickens will love living in this bright and colorful stacked chicken coop.
#2 Cottage Style Chicken Coop
This small cottage-style coop is home to her eight hens.
#3 Childhood Playhouse Turned Chicken Coop
The playhouse was built in 1964,  and is now the happy home to chickens.
#4 Chicken Coop with Vintage Appeal
Another vintage chicken coop idea for you to consider.
#5 Church-Inspired Chicken Coop
"The Chicken Church" was inspired by a centuries-old local church, Pisgah Presbyterian Church, and hand-built by Amish craftsmen.
#6 House-Inspired Chicken Coop
All it takes to build this chicken coop is scrap wood and windows and a door from a second-hand store. The chicken house is is complete with windows and a front door.
#7 Well-Appointed Chicken Coop
Love building this chicken coop in your garden?
#8 Silo Chicken Coop
Transform an unused grain bin into a unique chicken coop.
#9 Charm-Packed DIY Chicken Coop
A pretty blue upcycled door and an old shipping pallet are what make this chicken coop stand out
#10 City-Worthy Chicken Coop
This chicken coop features a chic black-and-white palette and hanging modern sconces.