Your house has a small backyard and you have no idea to decorate it? Don't worry! You can do some extra things to liven it up. Build a hanging herb garden, set up a potting station bar, or hang string lights will help. These won't cost you much time or budget but will give a new stunning look for your backyard. It's then an ideal place for relaxation, and also creates charming harmony for your home.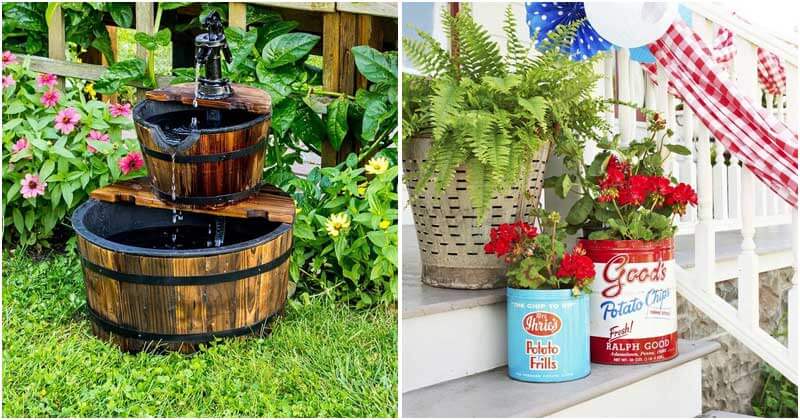 So, you've guessed what this post is about, right? It shares 30 fantastic ideas to spruce up small backyard. It is not only handy for small backyard owners but also helpful for all garden owners. Many of these ideas are great to apply for the garden, patio, balcony, and even large backyard. Why? Pretty little garden ideas are easy to become the star of the show. They can grasp our eyes right we see them for the first time. Let's give these a look!
#1 Set up a Small Backyard Fountain
This DIY small backyard fountain will be striking in your backyard and garden. Use stacked wooden barrels for this project!
#2 Storage with Style
A sturdy bench serves as a roomy storage unit? This will save you a lot of space, then is worth adding to your garden storage and organization project. You may hang some plant planter behind it to make your bench more eye-catching.
#3 Hang String Lights
It's fantastic to hang outdoor string lights above your outdoor dining table or sitting area. Imagine how beautiful it is at when the lights are on at night time.
#4 Repurpose Collections
I just love this so bad! Your potato chip tins are now charming flower pots.
#5 Set the (Outdoor) Table
All you need to dress up an outdoor table is a simple tablecloth, and viola! You would have lovely dinner in here.
#6 Set Up a Potting Station Bar
Your cute potting station is home to plant containers, and drinks and snacks .
#7 Hang Herbs Along an Outdoor Wall
Uhm, why not turn outdoor wall in to a hanging herb garden? Your wall is no longer boring and you may also harvest plenty with your herb garden.
#8 Capitalize on Fence Space
Looking for a great garden fence decor? This is right up your street. Use your fence as a canvas for a prosperous container garden.
#9 Stay Organized
It's a need to keep your garden tools staying organized. It makes your garden neat and also saves you a lot of time when seeking any for your garden work.
#10 Try a Tree Stump Planter
One of the craziest things to do with an old tree stump is here. Transform it into a rustic planter of flowers.