Toilet paper rolls won't be trash if you know how to reuse them. A piece of these rolls can be used as a material for DIY projects. The point here is you get interested in handmade crafts and love recycling "throw-away" items. Some are incredibly easy to make while some requires a bit more effort and skills. Don't let the fear of failure prevent you from trying. You will never know that you can do it well if you don't give it a go.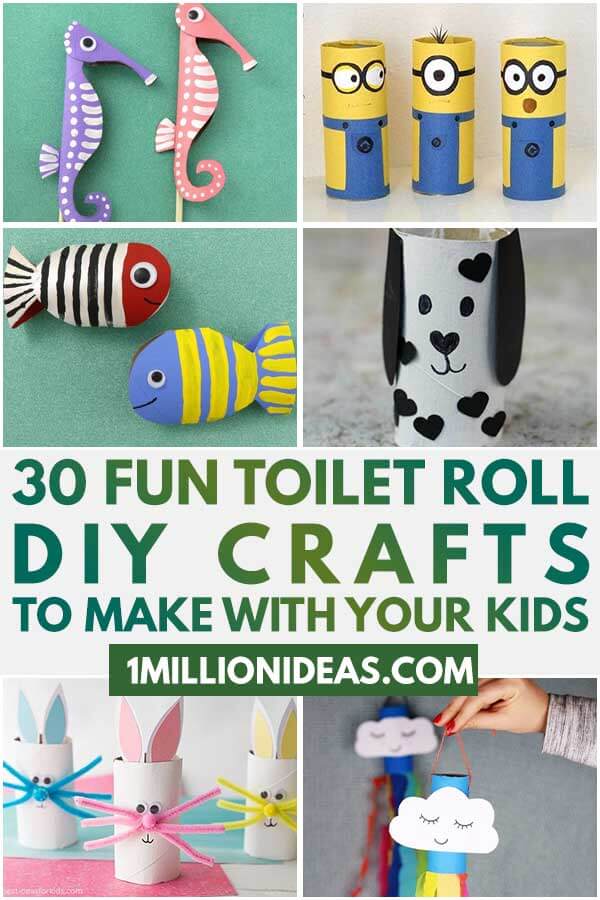 And, here are 30 fun toilet roll DIY crafts to make with your kids. Owl, train, bunny, fish, shark,.. there are a lot of types for you guys to do. They're all pretty cute, then will make your kids fall in love with. There is no need to buy expensive toys for your kids. Instead, you can do something more meaningful for them. These crafts of toilet paper rolls make senses. Let's check them out!
#1 Rainbow Windsock
All you need to prepare is toilet paper roll, blue paint, white paper, scissors, black marker, tissue paper in rainbow colors, string for hanging, and hole puncher.
#2 Toilet Roll Train
Made of toilet paper rolls, skinny cardboard tube, lids, craft paint, foam brushes, yarn, hole punch, hot glue gun, scissors.
#3 Toilet Paper Roll Bunny
You need to prepare paper rolls, white paint, small googly eyes, pipe cleaners, small pom poms, white cardstock, colored cardstock, extra strong glue, black sharpie.
#4 Toilet Paper Roll Owls
Aside from toilet paper roll, white, orange, and yellow paper, glue, pipe cleaners, markers, googly eyes, scissors, paint and a paint brush, and foam or colored cardboard.
#5 Toilet Paper Roll Fish
Made from toilet paper rolls, paint, googly eyes, glue, permanent marker, and scissors.
#6 Toilet Roll Shark
Toilet paper roll goes with gray paint, paintbrushes, googly eyes, school glue, black marker, and hot glue gun (optional).
#7 Valentine's Day Dog
You need to prepare only 5 materials: toilet roll, paint, marker, black paper, and tape or glue.
#8 Toilet Roll Unicorn
A charming craft made from toilet paper tubes, colored paper, pink paint, glitter foam sheet, rainbow yarn, glue, scissors, black sharpie.
#9 Toilet Paper Christmas Characters
You need to prepare: 4 toilet paper rolls, paint, red glitter paper, green glitter paper, small black buttons, small red buttons, small red pom poms, medium red pom poms, orange cardstock, small googly eyes, cotton balls, medium white pom poms, red pipe cleaner, and black sharpie.
#10 Halloween Characters
Paper rolls combine with paint – orange, bright green, beige, black construction paper, toilet paper, medium sized googly eyes, red glitter paper, sharpie, and cardstock – green, red, white.