Fall is coming. Have you got what to grow in your garden? Vegetables and herbs are always worth having a spot in here. It's super simple to explain why. These homegrown products are perfect for family meals. But this post prefers bringing something new for you guys. It shares 3- gorgeous fall flowers for your garden. They would be the star of your garden when coming into their time. Many of them can even attract birds, bees, butterflies, and other beneficial insects to your garden. So good, right?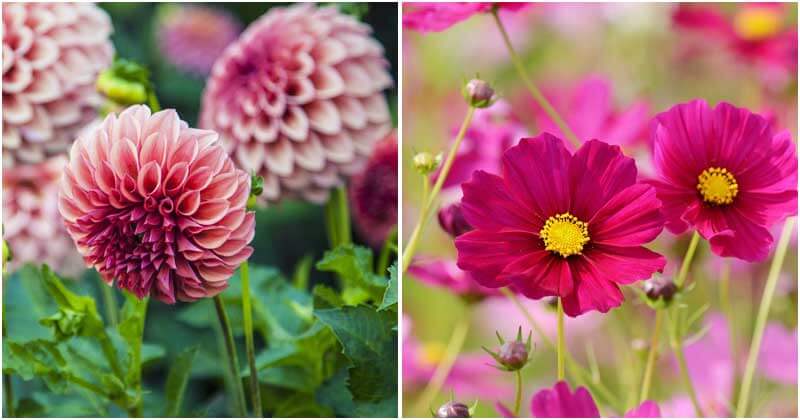 If you want to add more shade to your garden this fall, you should never miss this collection. Grow some varieties in the same place at the same time and enjoy their fragrance and beauty when they bloom. Balloon flower, goldenrod, amaranthus, cornflowers… there are many species for you to choose from. Just pick out flowers that you love and will do best in your garden. Let's get started!
#1 Balloon Flower
Balloon Flowers are gorgeous. They come in shades of blue, white, and pink—resemble hot-air balloons before they blossom. These fall flowers do well with full sun, but can also thrive in partial shade.
#2 Goldenrod
Goldenrod performs beautifully in full sun and well-drained soil. But beware if you suffer from allergies, as their pollen can cause a runny nose and itchy eyes.
#3 Hardy Fuchsia
This hardy fuchsia would add a burst of color to your garden. Be sure to grow it in the right soil—not too dry, moist, or hot to make them grow well and bloom gorgeously.
#4 Canna
Canna can reach up to 8 feet high and bloom beautifully from May until October, depending on the type and place. Plant dwarf varieties in containers.
#5 Amaranthus
Amaranthus bears gorgeous tassel-like flowers each fall that look great in arrangements — both fresh-cut and dried.
#6 Dahlias
Did you know that Dahlias come in just about every color under the sun? Certain varieties will keep blooming from mid-summer into fall. Pick range- and red-tinted varieties for autumn bouquets.
#7 Cornflower
Cornflower shows off bright-blue beauties that are also appealing to birds and butterflies. For continued flowering, deadhead spent blooms.
#8 Celosia
Celosia is also known as cristata. It bears crested flowerheads several inches wide well into autumn.
#9 Sunflowers
Sunflowers may peak mid-summer, but they will keep shooting up, up, up even as the weather cools. You can harvest them when the seeds start to turn brown, or the backs of the seed heads turn yellow.
#10 Dusty Miller
Dusty Miller is also called Jacobaea Maritima. This fluffy silver plant would make for an unexpected addition to your garden. Keep it well-drained in a place that gets full sun.