You can definitely turn your small bedroom into a relaxing and comfortable place. It's not just a cozy private corner to sleep but also an ideal nook to read books and work from home. If you need a retreat from the hustle and bustle of city life, your bedroom will be an excellent choice. You can get totally relaxed here, physically and mentally. No worries about work and study. Nothing disturbs you.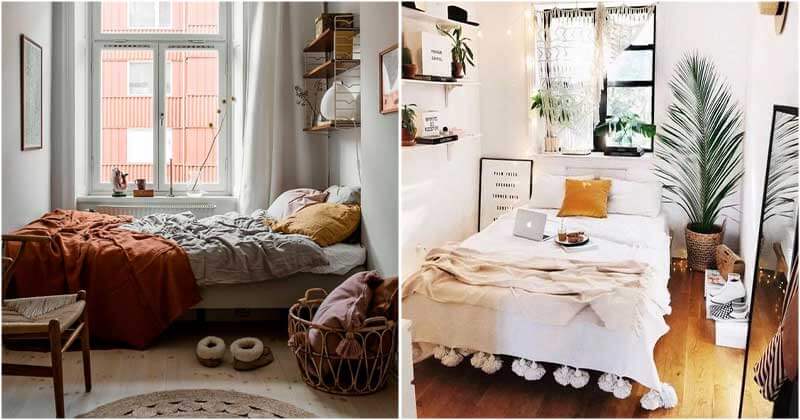 Here are 30 inspiring comfy small bedroom design ideas I would like to share today. If you want to "upgrade" your small bedroom, these are the way to go. Most of them are on a budget and do not require you much time and effort to proceed. People who are currently living in the dormitory, may also give these a look. They are excellent suggestions. Home décor has no limitation. Your small bedrooms may become a beautiful oasis of your own. Let's check them out!
1. Cozy Bedroom and Reading Nook near the Window
2. Beautiful Bohemian Small Bedroom
3. An Awesome Idea for the Dorm's Bedroom, Right?
4. Who Can Resist This Beautiful Small Bedroom?
5. Small Bedroom with Vine Plants
6. Simple, Modern Bedroom with Hanging Plants Near Window
7. Small Cozy Bedroom with String Lights and Plant Planters
8. Light Blue Bedroom for Girls
9. Another Cozy Small Boho Bedroom
10. Super Modern and Cozy Bedroom for Small Space
11. The Pallet Pence Bed Makes the Bedroom Rustic and Eye-Catching
12. Small Bedroom with Bulb String Lights
13. Pink Small Bedroom
14. Small, Modern Bedroom
15. Eye-Catching Small Boho Bedroom with String Lights and Vine Planter