Whether your balcony belongs to a private house or apartment, a good balcony that will have the following factors: green space, comfortable seats, and firm structure. These are important elements and must-haves in order to create a perfect balcony for your home.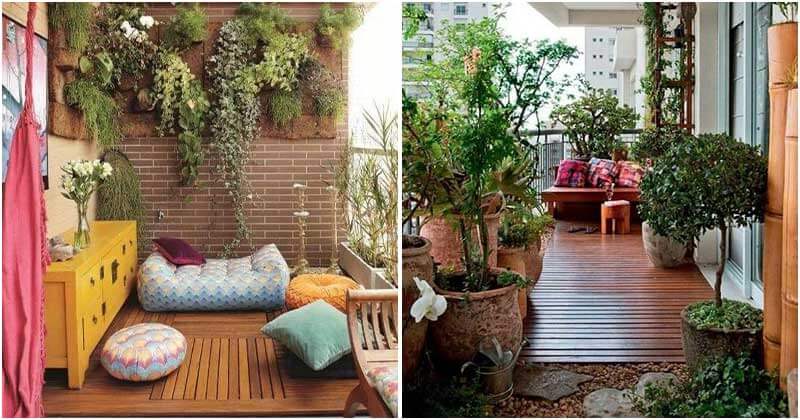 Actually, maximizing space for balconies is not difficult to work. The first thing, you should not think about that your balcony is too small to design and decorate? Don't let that thought "kill" your ideas. If you don't have a backyard, your balcony can be the best place to unwind yourself and have the best leisure time. With some plants and accessories, you can make it more appealing and relaxing. Here are some great ideas to decorate your small balcony, check them out with us!
#1 Water Feature in a Balcony

Design a a water feature in your high rise balcony like this that will make it look peaceful and serene.
#2 Apartment Balcony With Container Water Garden

A beautiful container water garden on your balcony or patio that is perfect place to relax by reading your meaningful books, or listen to your favorite songs.
#3 Easy and Stylish Small Balcony

With this design, you will make the most of vertical space aptly, and  create a sweet spot for yourself.
#4 Small Space Vegetable Garden

If you are looking for vegetable garden ideas, here is one of the best recommendation.
#5 Japanese Balcony Garden

A Japanese Style Balcony Garden is peaceful space for your free time at the weekend.
#6 Build a Balcony Jungle

If you love living a green nature, this design with a jungle-like appearance with lush plants that will create privacy.
#7 Have a Lot of Hanging Baskets

With a lot of hanging basket planters in your balcony garden like this, and you still save a spot for yourself for sitting.
#8 Charming Balcony Garden

Using real wooden flooring, adding gravel and stepping stones can add a more natural touch for your balcony
#9 String Lights in a Balcony

This is another idea if you want to set up a small balcony garden with palms and ferns, and accessories. To make it more perfect, add a glimmer of light.
#10 Balcony Wall Garden

This is nice space for small cozy family conclave with a small patio, storage and a walled garden.