Obsessed with the fragrance and elegant flowers of lili? This post is right up your street. It shows 30 most beautiful lily varieties for your garden. They would be the star of your garden when blooming. Not just that, some of them will attracts bees, butterflies and many other beneficial insects to your garden. Imagine how beautiful your garden is when having these lily varieties!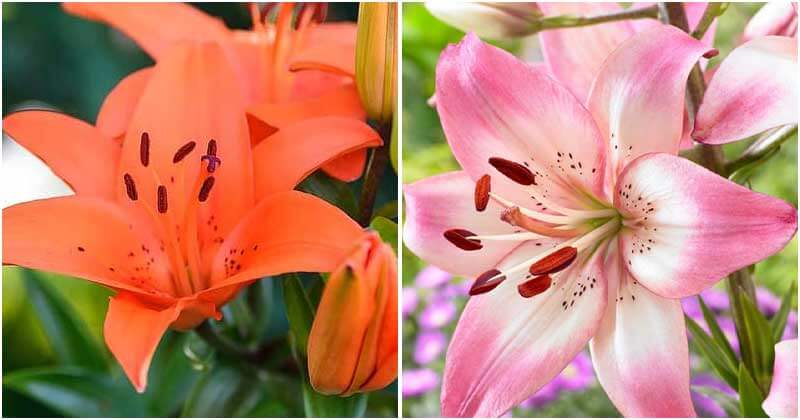 As lili comes in a variety and each produces its own bloom shade, you have a lot to choose from. All you need to do here is to look through all and pick out species that fit in your garden soil and light conditions. Every plant will do best when provided with proper care and living conditions. All vegetables, herbs, and flowers in your garden follow these rules. These also work when you plant your plants in containers. To let your lily flowers perform well in your garden, you should consider these. Ready to spend a garden spot for lily? Let's get started!
#1 Brunello Lily
'Brunello' lily makes a name for itself with eye-catching green buds that bloom into shiny orange large flower heads with dark green foliage.
#2 Crete
This vigorous plant produces a cluster of yellow buds that open into upward-facing magenta flowers in summer. It grows up to 3-4 feet tall.
#3 Lily Big Bang
"Big-Bang' shows off six-petaled, out-facing flowers in a creamy white hue, filled with burgundy spots and swirls.
#4 Enchantment
'Enchantment' are gorgeous deep orange flowers, sprinkled with black dots. It can reach up to 2-3 feet tall, and considered as one of the best lily hybrids.
#5 Black Out
"Black-out"lilies are upward-facing, dark red flowers with red stamens. The glossy petals have deep burgundy shades near the center with raised spots. This can reach 2-3 feet tall and produce a cluster of 4-5 flowers.
#6 Fire King
Lily "Fire King" features lightly scented, deep red-orange flowers with purple spots. Its leaves curl outward, showing off the orange stamens. It can reach up to 5-6 feet tall.
#7 Black Spider
This lily variety can grow up to a height of 2-3 feet. It produces round-edged, ivory white to yellow flowers with a plum center, sprinkled in dots.
#8 Corsica
My favorite lily is here!'Corsica' flowers come in late-spring and bloom in shades of pink mixed in yellow with dark pink dots on petals.
#9 Grand Cru
"Grand Cru" lily bears yellow flowers, with dark anthers and red markings in the middle of the petals.
#10 Brushstroke
"Brushstroke" lily bears large, upward-facing yellow-white flowers with beautiful dark purple brushstroke-like stripes on the petals. It can reach 4-6 feet tall.