Obsessed with purple? This post is right up your street. It shares 30 most beautiful purple flowers for your garden. Lavender, bellflower, allium, cosmos, or dwarf iris is popular with you guys, right? Do you think of bringing a favorite one to your gardening or growing some varieties in the same garden space? This surely makes your garden more eye-catching.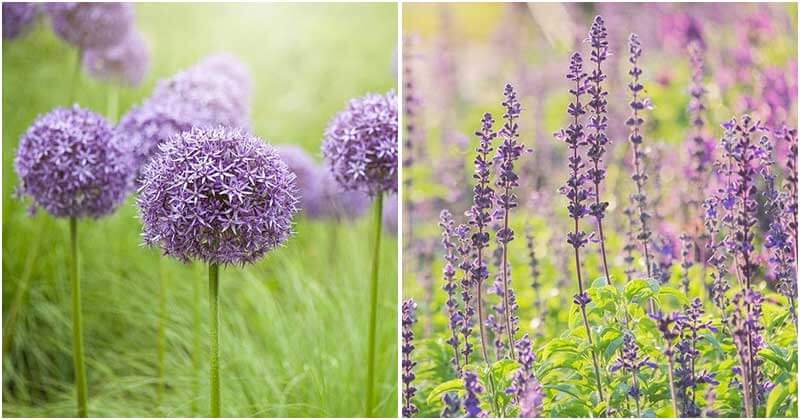 You can simply grow these beautiful purple flowers in soil in your garden. But if it's lack of space, you may plant them in containers. They will thrive in there if received proper care, enough light and water. Some even do well when grown in bush or in garden border. They help create a focal point for your garden that grasp the eyes off your neighbors and attract beneficial pollinators to your garden. More amazingly, some of them are edible and medicinal. Just spend a corner of your garden for these!
#1 Bellflower
These bell-shaped flowers come in both white and purple, but purple is the most common. They prefer well-drained soil and plenty of sunshine.
#2 Lavender
Imagine how beautiful your garden is will blooming lavenders? Grow it along walkways or garden paths where you can really enjoy its scent.
#3 Balloon Flower'
Balloon Flower is a part of the bellflower family. This long-living perennial naturally repel deer, rarely need dividing, and can thrive in both cold climates and drought-prone areas.
#4 Allium
Allium is member of the onion family. It produces striking perennial blooms in late spring and early summer and lasts for weeks. Easy to please, alliums can be planted on their own or mixed with other plants.
#5 Cosmos
I just love these daisy-like wildflowers. Comos bloom throughout summer and can thrive in poor soil conditions
#6 Dwarf Iris
Dwarf Iris makes great option for borders or edging. These tiny wildflowers grow only 6 to 8 inches tall.
#7 Foxgloves
Although foxgloves are beautiful, they should be kept away from children and pets, as all parts of the plant can be toxic if consumed.
#8 Lilac
One of the most beautiful purple flowers is here! Most lilac varieties bloom in late May, but the window is fleeting—about three weeks!
#9 Gladiolus
Easy to please, gladioli blooms appear from late summer through fall and are the perfect addition to a cut flower garden.
#10 Purple Flowering Tree
Purple jacaranda tree bears foot-long clusters of blooms measuring about two inches apiece.