Succulents have many different varieties, they not only feature unusual shapes and forms but also come in many unique colors. Most of them are both easy to grow and incredible to look to brighten up your garden and rooms in an instant. In addition, they're especially attractive to working people who have little time to spend on plants or maintaining them. And today, we've listed the 31 Colorful Succulent Types To Add Charming for the home you can grow.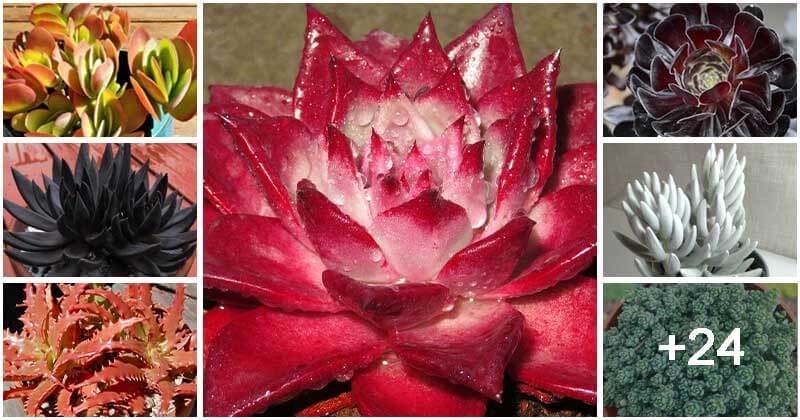 These plants often change colors due to mild or moderate stress, the changes of various environmental factors, making them even more unusual. They are beautiful and lend themselves to whatever shape, style, or arrangement you may have in mind. There are many ways to create a green mini garden in your house. For busy people, the idea of designing a garden with all kinds of succulent plants is a great idea to make you surprised with their vibrant displays of sun-drenched yellows, reds, oranges, and more.
#1 Paddle Plant (Kalanchoe Luciae)
Source: Medium
This succulent has pinkish-red color. It will turn into beautiful rosy color when grown in full sunlight and put into slight stress.
#2 Sunset Jade (Crassula Ovata 'Sunset')
Source: Blackgold
Sunset Jade turns golden yellow with red margins in full sun.
#3 Chroma (Echeveria 'Chroma')
Source: Crassulaceae
Chroma has foliage that is shiny and fleshy and ranges from deep red to maroon in color.
#4 Morning Light Echeveria (Echeveria 'Morning Light')
Source: Flickr
Morning Light Echeveria is a beautiful hybrid variety with short stems and a rosette that spans six inches in diameter. It produces orange-red flowers with bluish-lavender leaves with pink edges that make it an eye-pleasing succulent.
#5 Living Stones (Lithops)
Source: Amazon
Living Stones is a stemless succulent that has leaves fused together and resemble a polished grey or beige marble splashed with shades of green, yellow, lilac, and blue. It shows off large yellowish flowers contrasting the leaves.
#6 Red Aloe (Aloe cameronii Hemsl.)
Source: Worldofsucculents
This succulent belongs to the aloe vera family and is native to Zimbabwe and Malawi. It turns to outstanding copper red in the summer heat.
#7 Sunburst Aeonium (Aeonium 'Sunburst')
Source: Plantingman
Sunburst Aeonium has green and yellow leaves that make it looks charming. It does well in bright shade to full sun.
#8 Black Knight (Echeveria Affinis 'Black Knight')
Source: Reddit
This succulent puts on dark-purple fleshy leaves that almost appear black. It also showcases coral-red flowers when grown in full sunlight.
#9 Red Edge Echeveria (Echeveria subrigida 'Fire and Ice')
Source: Flickr
Red Edge Echeveria needs 4 to 6 hours of direct sun each day to give the best show of colors.
#10 Dragon's Blood (Phedimus Spurius 'Dragon's Blood')
Source: Worldofsucculents
Dragon's Blood can be grown as a ground cover. Its leaves turn to outstanding bronze-red in late summer and then red in fall. You also grow it in hanging basket or pots.
#11 Houseleek (Sempervivum Tectorum)
Source: Mundodesuculentas
Houseleek has a beautiful green rosette of leaves with purple tips. Some varieties have shades of red over green leaves.
#12 Silveron Red Echeveria (Echeveria 'Silveron Red')
Source: Flickr
This lovely succulent forms a rosette of plumped, undulated leaves in the shades of deep red with bright red margins. The leaves have a silvery coating.
#13 Echeveria 'Wine Red' (Echeveria Agavoides cv. Wine Red)
Source: Unknow
Echeveria 'Wine Red' is one of the best colorful succulents as it isn't just the tips, but the whole plant can turn into this beautiful red wine color.
#14 Pink Champagne (Echeveria 'Pink Champagne')
Source: Pinterest
Pink Champagne is slow-growing succulent. It forms a rosette shape and is appreciated for its striking light pink leaves.
#15 Red Pagoda (Crassula Capitella "Red Pagoda")
Source: Worldofsucculents
Red Pagoda is one of the most eye-catchy beauty succulents that belong to the Crassula genus. It grows well both in full sun and partial shade.
#16 Blue Carpet Sedum (Sedum Hispanicum 'Blue Carpet')
Source: Unknow
Blue Carpet Sedum has blue-green leaves that are tightly clumped. It also looks great in hanging baskets and pots.
#17 Black Beauty (Aeonium Arboreum 'Zwartkop')
Source: Gardenersworld
Black Beauty displays burgundy and green leaves. When grown in full sun, its color will turn black.
#18 Pink Moonstone (Pachyphytum Oviferum 'Pink Moonstone')
Source: Epicsucculents
Pink Moonstone features a rosette of pink leaves that have a blue-lavender hue. Its fleshy leaves have a coating of powdery white or silver fine hairs.
#19 Queen Victoria Agave (Agave Victoriae-reginae)
Source: Cibercactus
Queen Victoria Agave showcases sculpture geometric leaves with streaks of white make it an unrivaled architectural plant.
#20 Jelly Bean Sedum (Sedum Rubrotinctum 'Aurora')
Source: Ebay
Jelly Bean Sedum has jellybean-shaped pink leaves that fade into white or pale green tones. When placed in bright light Intensify, its color will turn pink shade.
#21 Baby's Necklace (Crassula 'Baby's Necklace')
Source: Crassulaceae
Baby's Necklace has red-edged leaves stacked like beads on a baby's necklace.
#22 Ruby's Necklace (Othonna Capensis 'Ruby's Necklace')
Source: Gardentags
Ruby's Necklace is a pretty trailing succulent with long, bean-like, narrow purple to green and burgundy leaves on purple stems.
#23 Cheyenne (Echeveria 'Cheyenne')
Source: Reddit
Cheyenne has a blue-grey rosette that looks amazing in small, light-colored pots. Keep it in full sun to have the best color.
#24 Strings of Heart (Ceropegia Woodii Var)
Source: Myhomenature
The Strings of Heart has trailing stems that catch the attention of everyone with their heart-shaped leaves.
#25 Santa Rita Prickly Pear (Opuntia "Santa Rita")
Source: Isabel Nemet

Santa Rita Prickly Pear is an upright succulent plant that has very attractive fleshy pads.
#26 Job's Beard (Sempervivum Heuffelii)
Source: Mountaincrestgardens
Job's Beard displays a rosette of round, grey to green pointed leaves with a deep purple hue. It gives the best color when placed in the maximum sun.
#27 Purple Heart (Tradescantia pallida 'Purpurea')
Source: Gardenia
This succulent shows off a beautiful color. Its flowers are purple and grow on vigorously growing stems.
#28 Campfire Plant (Crassula Capitella)
Source: Gardenmanage
Campfire Plant will give you the best color when it receives ample sunlight. It's not cold tolerant, so you should keep it indoors in a cool climate of winter days.
#29 Briar Rose Echeveria (Echeveria 'Briar Rose')
Source: Mldsucculents
Briar Rose Echeveria is a beautiful succulent with short stems and forms compact rosettes of pastel green leaves with pink edges. During the winter months, it turns more colorful.
#30 Wooly Senecio (Senecio Haworthii)
Source: Etsy
The Wooly Senecio forms snow-white leaves that set it apart from other succulents.
#31 Sticks on Fire (Euphorbia Tirucalli)
Source: Etsy
Sticks on Fire give the best color when grown in full to part sun. It has toxic so you should keep it stay away from your kids and pets.