Microgreens are familiar vegetables because they can be turned into many dishes and contain a lot of nutrients that are good for health. They have almost 5 times more nutrients and vitamins than full-grown vegetables. That is the reason why many families choose them to be one of the home-grown vegetables to meet fresh and organic vegetable needs. However, microgreens are very costly when buying at supermarkets. To save your money, you can totally grow our own supply in your kitchen garden in no time.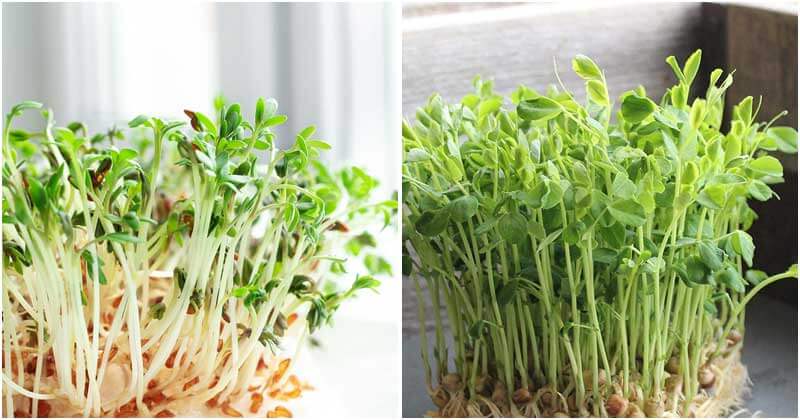 And in this post today, we want to share 6 microgreens to grow in your kitchen garden. All of them are very easy to grow and take very little time. The average time of microgreens is about 10 days to 2 weeks, at this period, they are ready to harvest for the first time. You can grow microgreens in any container that is available. Besides, the best growth medium for microgreens growth is coconut coir. Because it is pest free and it can retain a good amount of moisture, which is beneficial for growth. It's time to grow them in your kitchen right now!
#1 Sun Flower Microgreens

Sunflower microgreens are the most popular one. The seeds are quite larger than other seeds. First, soak the seeds in a glass of water for 24 hours. Spread these seeds on your growth medium (coconut coir). Put some pressure on seeds (a piece of wood). Don't put soil or growing medium on seeds. Water the seeds before putting weight on it. Water every day with a spray bottle. Just in 10 days, sunflower microgreens are ready to harvest.
#2 Pea Shoot Microgreens

Pea shoot microgreens are very easy to grow. Add seeds in a jar and put water in it. Soak them for 24 hours straight. Spread them on coconut coir (growing medium). You can put some weight on it or just put some coconut coir on it. Water them with a spray bottle every day. In just 10 days, microgreens will be 5 to 6 inch tall and ready to harvest.
#3 Redish Microgreens

They are the fastest-growing type of all microgreens. No need to pre-soak this type. Just spread some seeds on your growing medium evenly. Put some soil or coconut coir on them and water them using spray bottle. After 2-day seeds will start germination. After 2 more days they will be 2 inches tall. 2 more days and they are ready to harvest.
#4 Broccoli Microgreens

Broccoli Microgreens have same to grow as radish microgreens. No need to pre-soak the seeds. Spread the seeds on the growing medium. After 3 days shoots will appear. After 2 more days they will be 1 inch tall and turn yellow to green. After 4 days they will be 3 inches tall and ready to harvest.
#5 Cress Microgreens

You need to presoak these seeds in a jar with water. After 24 hours, seeds with produce a gel-like medium. Spread the gel-like medium with seeds on growing medium carefully. Water them and don't put anything on seeds. After 2 days they will start germination. After 6 more days, 3 inches in height and ready to harvest.
#6 Flax Microgreens

Sprinkle some water in your growing medium using spray bottle. Spread seeds on it. Water the seeds and put it in some dark place for 2 days. After 2 days put it in some sunny place. At day 6 and they are ready to harvest or you can wait a day or 2.