There are many reasons why we should grow some houseplants. They add an impressive green hue to our house, purify the air around us, and serve as home decor. Some indoor plants can even bring luck and wealth to homeowners. You can search for Feng Shui or Vastu architectural principles to get to know this better.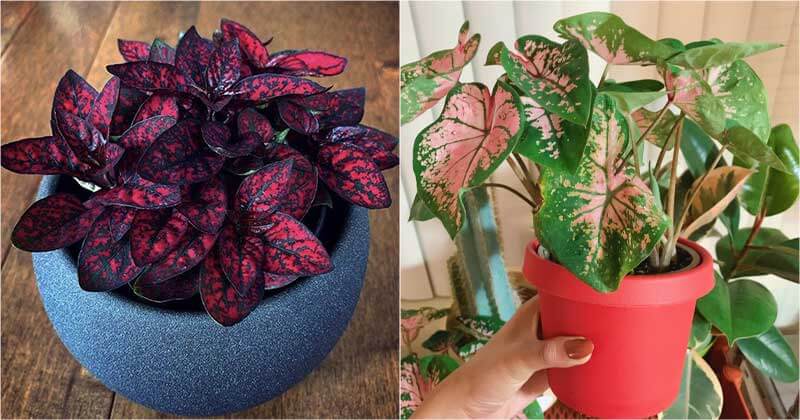 In this post, we're glad to share 8 fascinating houseplants with polka dot print. Green leaves with pink, red, or white polka dots and spots – who doesn't fall in love with this eye-catching contrast? This also makes these plants stand out among other green indoor plants. If you are looking for impressive yet helpful gifts for your friends at Christmas and New Year, these unique houseplants surely help.
1. Red Splash (Hypoestes phyllostachya 'Red Splash')
Red Splash is known for its black foliage with unique and striking bright red spots and dots, making it a focal point in your garden.
2. Silver Squill (Ledebouria socialis)
Light green leaves with dark green spots and patterns on them, this houseplant look smashing on tabletops.
3. Caladium (Caladium bicolor 'Polka Dot')
Featuring large arrow-shaped white-green leaves with pink and red spots, Caladium will be a focal point in your home. It thrives in high humidity.
4. Pink Brocade (Hypoestes phyllostachya 'Pink Brocade')
Pink Brocade is famous for its green fine spots-dots and lines on pink leaves. This fascinating plant grows fast and thrives well in partial to full sunlight.
5. Polka Dot Begonia (Begonia maculata)
Polka Dot Begonia is known for its striking appearance and easy-going nature. Its polka dot pattern leaves make it stand out among other houseplants.
6. Dracaena Gold Dust (Dracaena surculosa)
The glossy, dark-green leaves with elegant yellow spots are what make this houseplant standout. You can also find this dot in other colors.
7. Red Ruby Aglaonema (Aglaonema 'Red Ruby')
Featuring green leaves with impressive red-pink dots and splashes, this houseplant looks stylish and smashing on tabletops.
8. Polka Dot Plant (Hypoestes phyllostachya)
Polka Dot is famous for its contrasting and remarkable appearance. Beautiful green leaves with spots and splashes of pink, this plant is worth adding to any family space.