Today, let's spend some time learning about Ms. Whang-od Oggay, the oldest and the only "mambabatok" tattoo artist left in the Philippines.
Mrs. Whang-od is well-known both nationally and internationally. Every year, to acquire a tattoo from this legend, thousands of tourists travel to the mountain village of Buscalan, located in the north of Manila and tucked away amongst forests and rice terraces. One of these people commented that the tattoo by Miss Od is particularly different from modern tattoos; it looks like artwork done in ancient times.
In the past, no one in the Philippines had given any attention to traditional tattooing. However, Ms. Whang-od continues to strive for the preservation of these precious values. Luckily, she has succeeded after appearing in a 2009 documentary series by Lars Krutak, an American anthropologist. She quickly became famous and was visited by travelers from all over the world.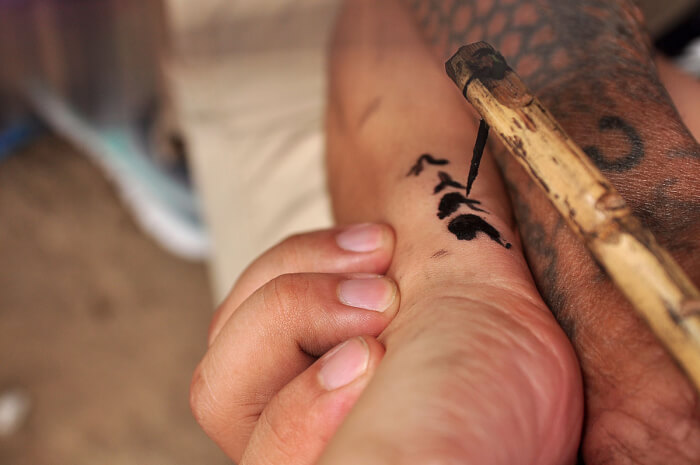 Source: Unknown
The main obstacle to Ms. Whang-od preserving this cultural history is that this particular tattooing method can only be disseminated through bloodlines. The ancients wanted these "mambabatok" tattoos to be protected to avoid them becoming "polluted." Although Mrs. Whang Od was childless, she taught her grandchildren the custom of neck tattooing. She told reporters that her friends whose tattoos were similar to hers all left this world. However, she does not worry that the custom will disappear because she is digging to create the next generation of tattoo artists.
Now, more people are aware of the tattooing tradition, which makes Mrs. Whang-od feel incredibly relieved. She does not need to worry about maintaining culture anymore. This heritage will continuously be preserved and developed by the young generations and the Kalinga's authority.
#1 Mrs. Whang-Od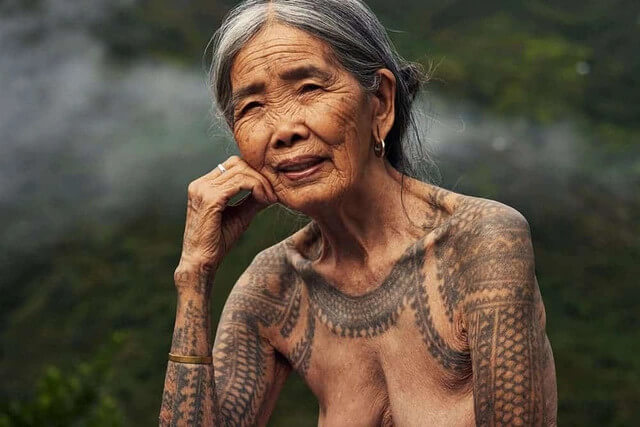 Source: The Independent
#2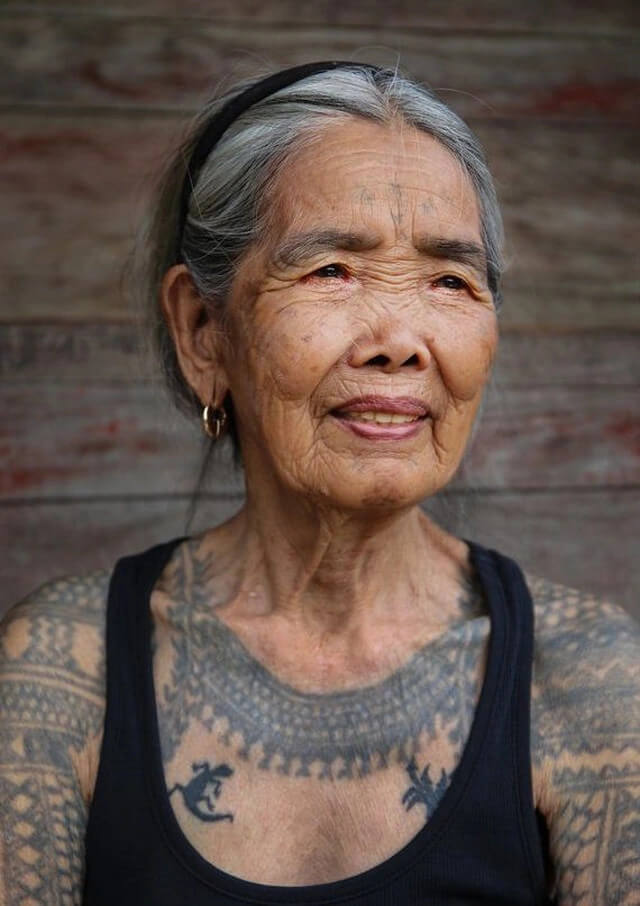 Source: Unknown
#3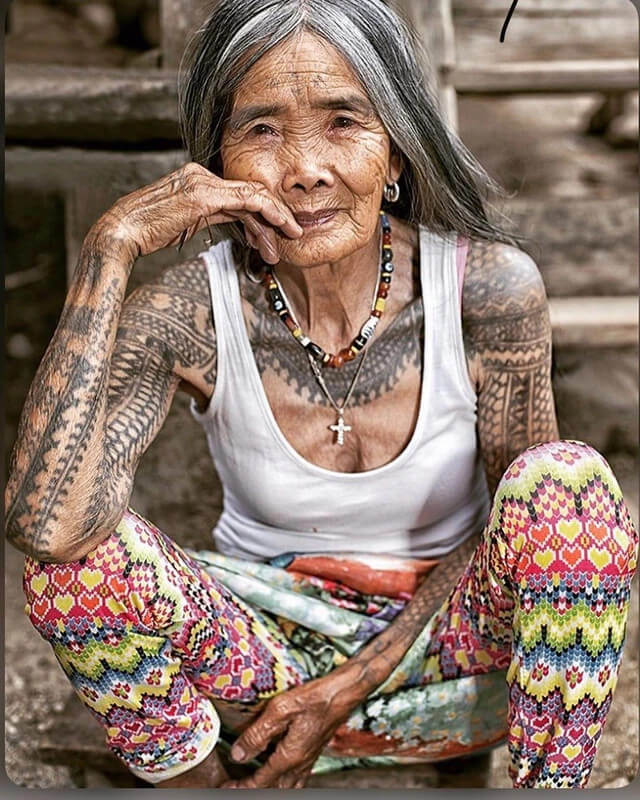 Source: Unknown
Mrs. Whang-od is among the few who still have traditional tattoos and know how to make them. Every day, she wakes up at 5:30 a.m. and begins her day by getting the tattooing tools ready. This 105-year-old lady is "actively" living her life with more enthusiasm than ever, aiming to finish 14 tattoos each day.
#4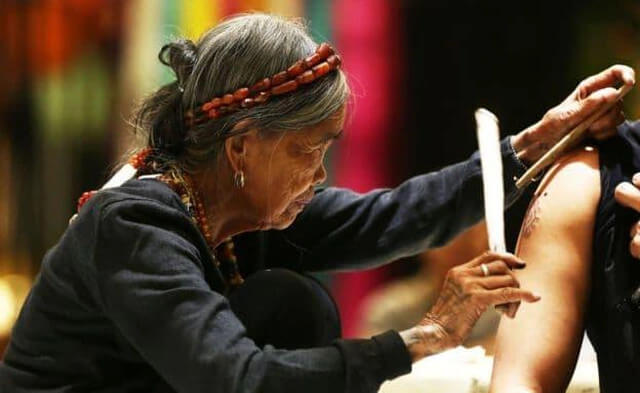 Source: The New York Times
A tourist is having his tattoo done by Mrs. Whang-od.
#5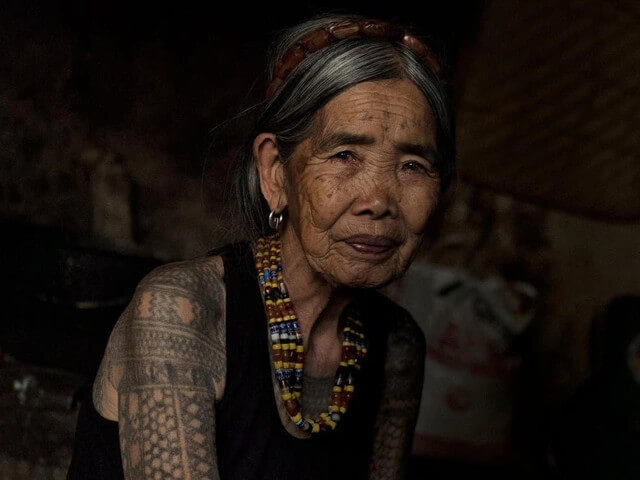 Source: Unknown
Despite being weak and bent now, Mrs. Whang-od was an admirable fighter. Her body is full of tattoos adapted from Kalinga symbols of strength and protection, like snakes, pythons, and caterpillars. She also has tiny tattoos that mix with her wrinkles on her jaw and forehead.
#6 An Example Of A Men's Tattoo From The Past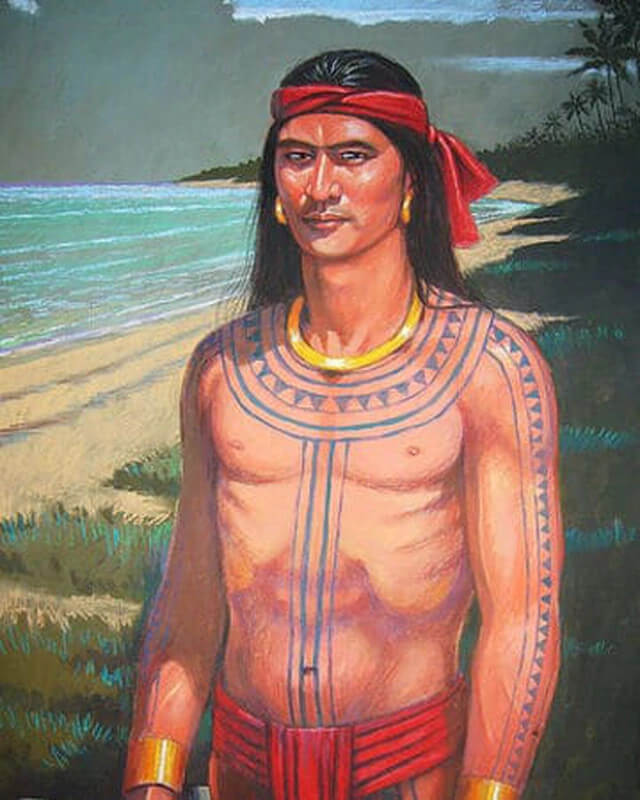 Source: Unknown
According to Ms. Whang-od, the history of the tattooing tradition in the Philippines is truly meaningful in terms of social and cultural values. One century ago, Kalinga women used tattoos to decorate themselves, and each unique type of tattoo represented a different rank among them. Meanwhile, Kalinga men only got tattoos after celebrating victory in a range of festivals, such as headhunting ceremonies.
#7 One Of The Earliest Tattoo Designs From Kalinga Village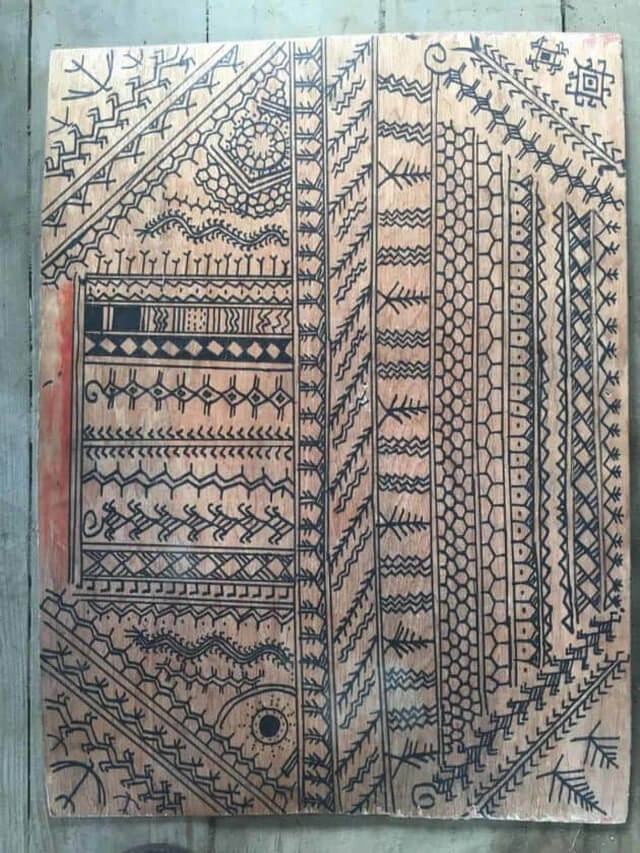 Source: Lars Krutak