We have a lot of options when it comes to nail designs and colors. However, nothing stands out more than hands painted in a vivid hue like blue. This year, everyone is paying attention to this rich hue of blue since it is striking and vibrant. Wearing the hue, which stands for wealth, authority, and refinement, can help you feel more confident. It is also quite attractive and a great technique to highlight the length and shape of your nails.
You can opt for a high-contrast look that will make a statement by combining blue with orange or tone it down by pairing it with natural tones. For your next trip to the nail salon, embrace this lovely and significant shade and experiment with various textures and designs.
22 Vibrant Blue Nail Ideas
Blue Marble Nails
Blue-marbled nails are the best manicure you can obtain for stunning beauty. The marbled effect creates a brilliant result, creatively combining several colors to create a textured finish. A common combination is blue and white, but for a more opulent look, consider adding gold accents to your manicure.
Blue Christmas Nails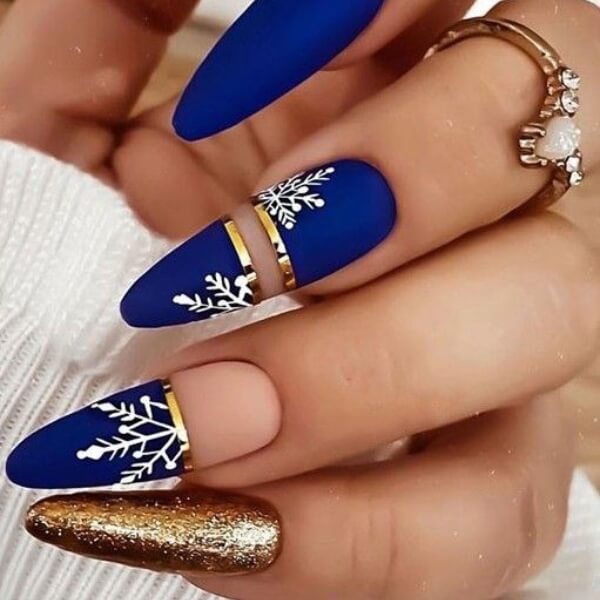 Christmas is one of the happiest times of the year, and it's also the ideal time to try new nail designs and express your creativity. Christmas nails come in a variety of hues and designs, and by including blue in your manicure design, you can get a look that is reminiscent of a winter wonderland. Add white snowflakes or silver glitter nail polish to complete the look.
Blue Nails with Diamonds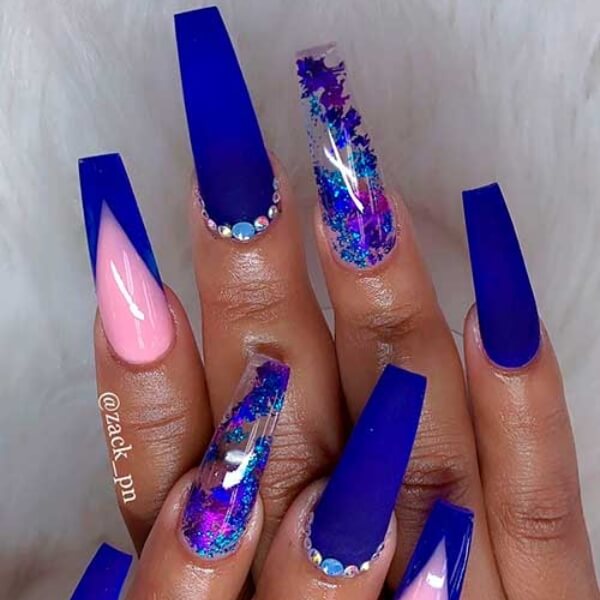 If you want to draw attention to your fingernails and showcase your nail shape and length, a rich shade of blue is ideal for your next manicure. When coupled with diamond nail embellishments, it will feel opulent and look excellent on most occasions. For a strong look, cover the entire nail in several artificial diamonds.
Glitter Blue Coffin Nails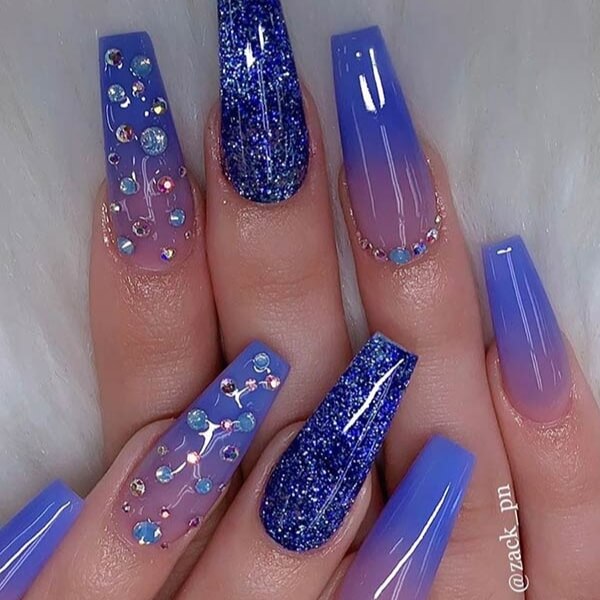 Adding metallic glitter paint over a blue base coat for some sparkle is one technique to add blue to the nails. Fun and feminine, glitter nails are a terrific opportunity to try various textures. Coffin nails are one of the best styles for nail art, and your polish can also draw attention to the shape of your nails.
Blue and Gold Nails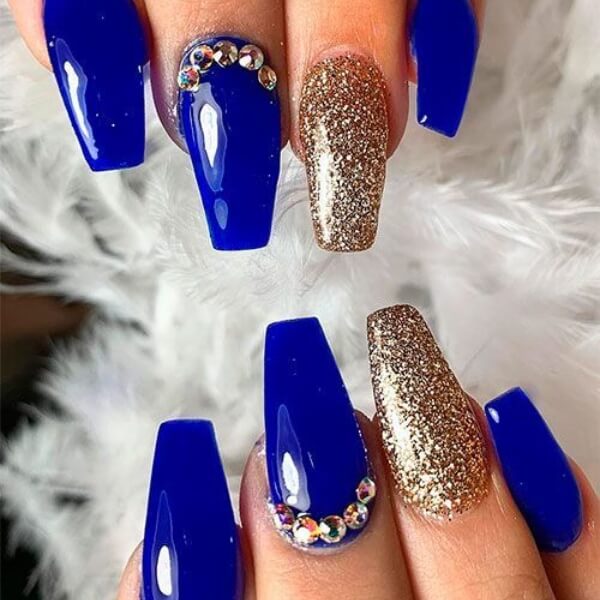 Although blue is a striking, attention-getting color, it is also surprisingly adaptable and may be used with a wide variety of other hues. Gold is used in this for a refined and opulent touch. Gold nails are a symbol of riches and majesty that might reveal your aspirations. You may be creative with your nail art by combining gold and blue in a variety of ways.
Blue French Tip Nails
French tip nails are a traditional style that is loved for their simplicity. The classic manicure can be updated by painting the tips of your nails blue. This will highlight the shape of your nails and lengthen your fingers.
Blue Nails with Nude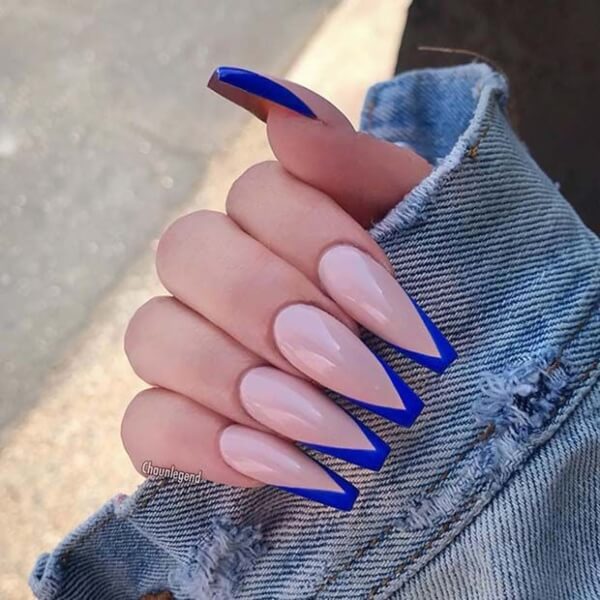 An elegant method to highlight the blue in your manicure is to pair it with a neutral, time-honored color like nude. There are various methods to mix your chosen colors, such as experimenting with patterns and motifs or concentrating the blue at the tips. For the greatest effects, pick a nude color that is most similar to your skin tone.
Cute Blue Nails
This is a fantastic approach to use these traits and give yourself a confidence boost. It is also a remarkably adaptable color that can be combined with a variety of hues to add contrast or complement it.
Blue Almond Nails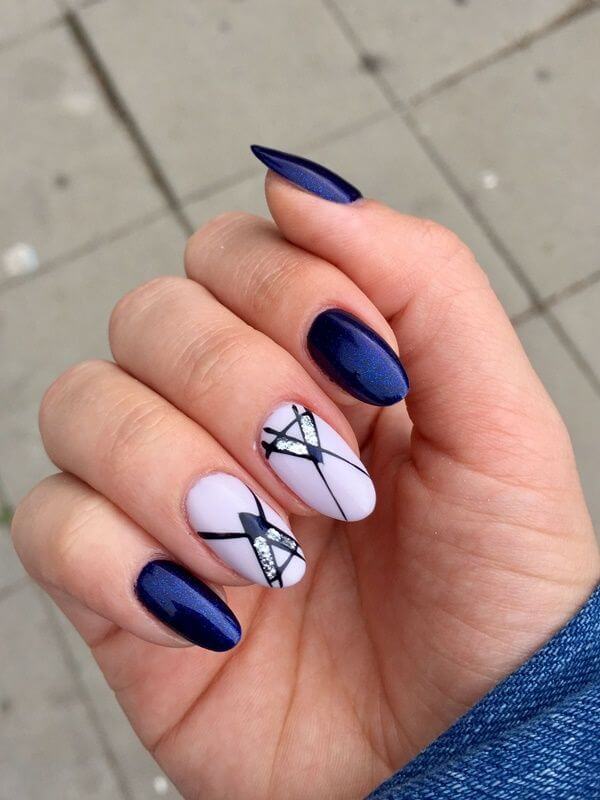 One of the most adaptable nail shapes is the almond, which suits women of all ages. They are elegant and timeless, and they also work wonders for lengthening and slimming down the finger. The form, which can be worn long or short and is exceptionally attractive, is characterized by tapered sides, a round tip, and a wide base.
Blue Nails with Butterflies
One of the cutest looks you may try is butterfly nails, which can be made in a variety of hues, including blue. While butterflies stand for beauty and metamorphosis, the color is representative of sophistication and authority.
Blue Stiletto Nails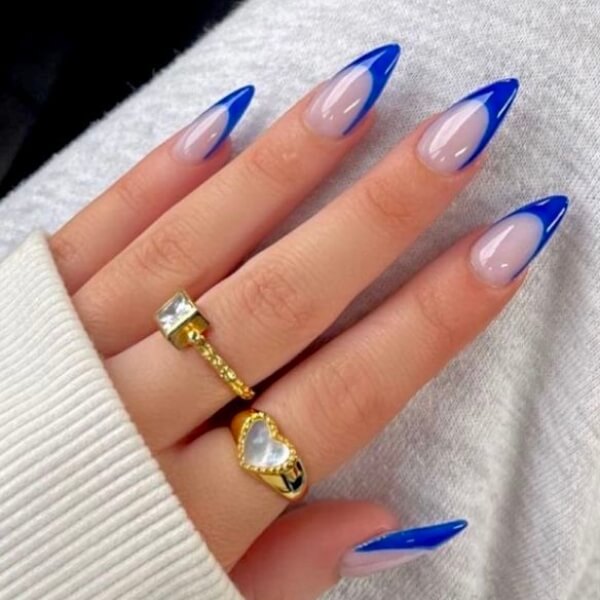 Stiletto nails are perfect for women who wish to draw attention to themselves. The form has an extremely pointed end and is tapered on the sides. They become cool and edgy as a result, making them the ideal surface for colored polish or nail art.
Have you chosen a style for yourself?