When it comes to planting fruit trees, most people think of a large garden. In fact, you can grow in small spaces such as pots, containers, even in planter boxes. And there are a lot of Citrus Trees that can grow well in those limited spaces. Also, growing citrus in pots or containers is not difficult due to their manageable height and low maintenance.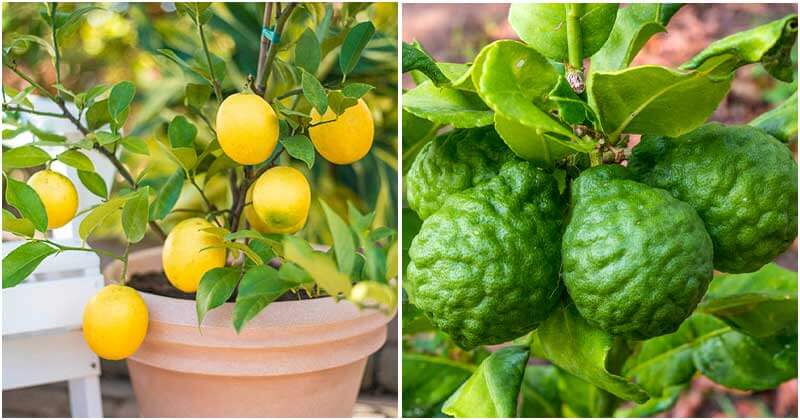 And in the post today, we will share the 10 Best Citrus Trees To Grow In Containers and Pots that you can grow and harvest right outside your door. These container plants not only give you fresh fruits but also put out the lush foliage and bring scented flowers when you grow them on your balcony or patio. There is nothing better than being able to grow your own citrus trees not only give you a great experience but also give you the best organic and fresh fruits.
#1 Oranges
Source: Plantvillage
Oranges need hot summers to produce their sweet and little tart fruit. They don't like growing in coastal areas or northern climates with very mild summers.
#2 Dwarf Bearss Seedless Lime
Source: Groworganic
Dwarf Bearss Seedless Lime grows well in zones from 9 to 11 and grows up to a height of 3-6 feet in pots. It produces its fruits that are larger and also ripen during winters until early spring.
#3 Lemons
Source: Springhillnursery
Lemons prefer to be grown in warm subtropical climates, coastal areas and will produce fruit year-round. They are a great choice for areas with both hot and mild summers.
#4 Australian Finger Lime
Source: Ozfingerlime
Australian Finger Lime does well in zones from 4 to 11 indoors, and 8 to 11 outdoors. It grows up to 20 feet in the wild but reaches about 4-7 feet tall in pots.
#5 Kaffir
Source: Gardensall
Kaffir does well in zones 9 to 10 and grows up to 2-5 feet tall in pots.
#6 Mandarins
Source: Fastgrowingtrees
Mandarins have fruits that are smaller than common oranges, usually seedless or with fewer seeds, sweet in flavor, and easy to peel. It grows short 10-12 feet, you can easily plant them in containers in full sun and warmth.
#7 Yuzu
Source: Palmaverde
Yuzu is most loved for its tartness and fragrance that is also capable of retaining the flavor while being cooked. Its fruits have a dark yellow color and have a lumpy texture. The plant can grow up to 4-6 feet in pots.
#8 Wekiwa Tangelo
Source: Harvesttotable
Wekiwa Tangelo can grow up to 3-6 feet tall. It grows well in containers in planting zones from 8 to 10.
#9 Kumquats
Source: Gardeningknowhow
Kumquats have skin that is sweet, and the pulp is tart. They do best in areas with warm summers and chilly fall/winter nights.
#10 Sweet Limes
Source: Nurserylive
Sweet Limes have juicy, sweet, and non-acidic fruits. It grows well in zones from 9 to11 or any other frost-free region and just can reach from 6 to 7 feet. It loves growing a warm climate, sunny exposure.