You are looking for beautiful plants for your water feature or backyard pond, you've come to the right place. From submerged to floating to border pond plants, there are some of 10 Popular Aquatic Plants for Ponds and Water Features that you can choose from. Surely, they will become a great addition to the living space around your home as well as create a thriving ecosystem in your water garden.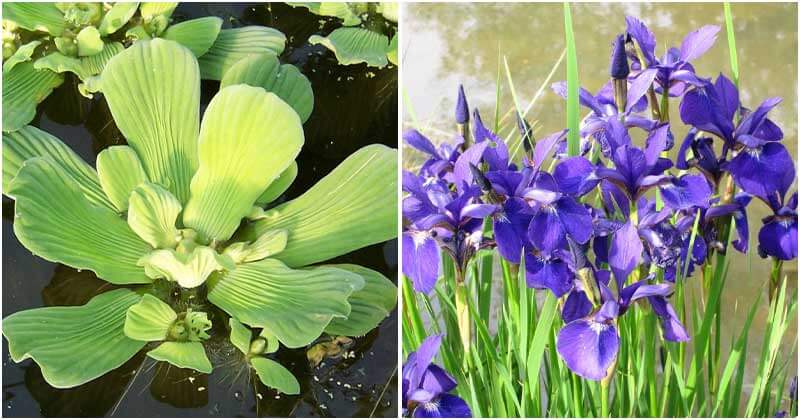 Water plants are gorgeous, interesting, and pretty easy to look after. They can make a pond or water feature all the more interesting and keep ponds healthy by managing the ecosystem, oxygenating. In addition to adding beauty, water plants are also great for mini ponds or water pots filled with fish and other underwater aquarium greens by filtering out waste from fishes, replicate natural habitats, and help aerate the aquarium. It's time to fill your pond or other water feature with one or more of these aquatic plants to create your own thriving mini garden pond.
#1 Water Lettuce
Source: Moorewatergardens
Water Lettuce can easily spread to cover, this plant grows best in USDA zone 10, in water that's slightly acidic and hard.
#2 Japanese Sweet Flag Grass
Source: Pondtrademag
Japanese Sweet Flag Grass grows 3 inches to 3 feet tall. It grows best in USDA zones 6-9 and does well in full sun or part shade.
#3 Mosaic Plant
Source: Gardenmanage
Mosaic Plant has oddly shaped leaves, which look like mosaic tiles. It grows well in full sun, some shade, and needs water that has a pH range of about 5 to 7.5.
#4 Water Lily
Source: Hgvt
Water Lilies are easy to grow and put on sweet, beautiful blooms. They need six hours of sunlight to truly thrive.
#5 Pickerel Rush
Source: Gardeningknowhow
Pickerel Rush is considered a weed. It features purple, pink, or white flowers that sit atop tall, sturdy yet slim stems, adding height and character to the edge of ponds.
#6 Bladderwort
Source: Homestratosphere
Bladderwort produces pretty yellow orchid-like flowers, sticking up past the water.
#7 Blue Iris
Source: Gardeningknowhow
Blue Iris bloom as soon as spring hits, creating stunning large flowers with light blue to purple. They grow well in full sun and some shade.
#8 Pitcher Plant
Source: Bergenwatergardens
Pitcher Plant has shaped tube-like leaves that trap various types of prey. This plant prefers full sun and moist soil.
#9 Creeping Jenny
Source: Ekoios
Creeping Jenny creates a striking image with its bright green foliages that grow quickly and can spread about 18 inches. This plant does best in shallow water and can reach 4 to 6 inches.
#10 Cardinal Flower
Source: Reddit
Cardinal Flower is an easy-to-care perennial plant that grows in almost any condition.