When it comes to flowering indoor plants, we can't help saying about Jasmine. This type not only displays small elegant white flowers but it's blooming also a delightful fragrance. That is the reason why many people love growing this flower, and if you want to grow this beautiful flower in your living space, the post today is for you. Here, we've listed 8 Best Beautiful and Fragrant Indoors Jasmine Types you can grow.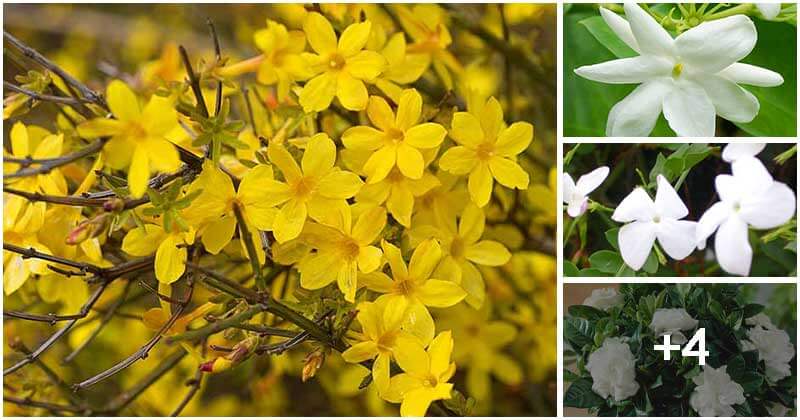 There are 200 species of the Jasminum genus that grow well in warm regions including Asia and Eurasia. Although they are usually grown outdoors, the Jasmine genus has a few types that make excellent indoor plants as well. In addition, this flower prefers warm weather so it can adapt well to indoor conditions. All these being flowering plants give you a stunning look and a comfortable feeling when enjoying them. If you are ready to grow some in the home, let's give them in an area where they get at least 3-5 hours of sun every day for the best beauty as well as give them optimum growth. It's time to check them out!
#1 Common Jasmine (Jasminum officinale)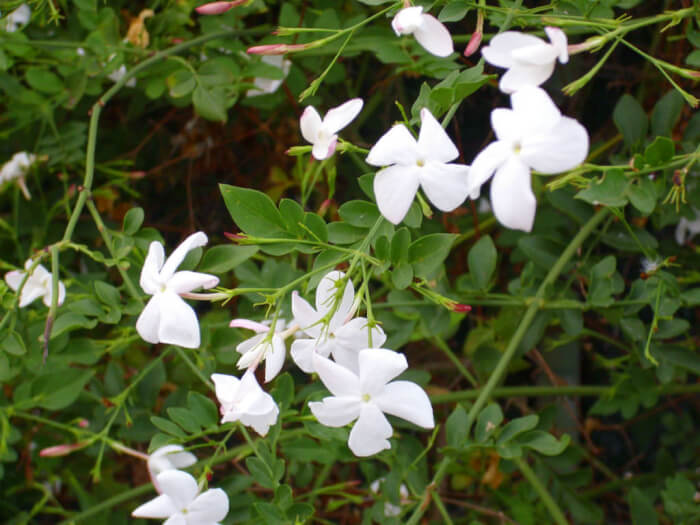 Source: Worldoffloweringplants
Common Jasmine not only displays white flowers but also has white flowers. It is a vine plant to grow well indoors.
#2 Madagascar Jasmine (Stephanotis floribunda)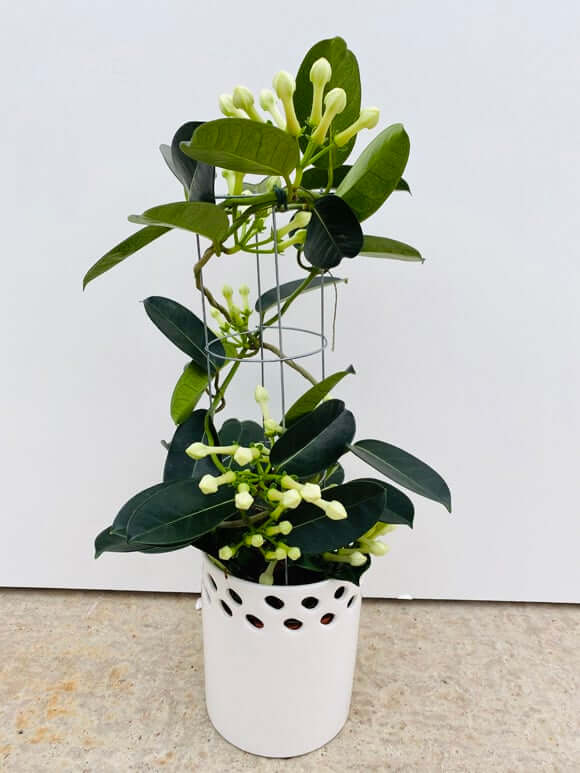 Source: Ourhouseplants
Madagascar Jasmine has a sweet scent with star-shaped tubular blooms that make you feel joy when to look at it. You can train it in a hoop of wire. Give it a few hours of morning sun for its optimum growth. It prefers to be grown in a peat moss-based potting mix.
#3 Spanish Jasmine (Jasminum grandiflorum)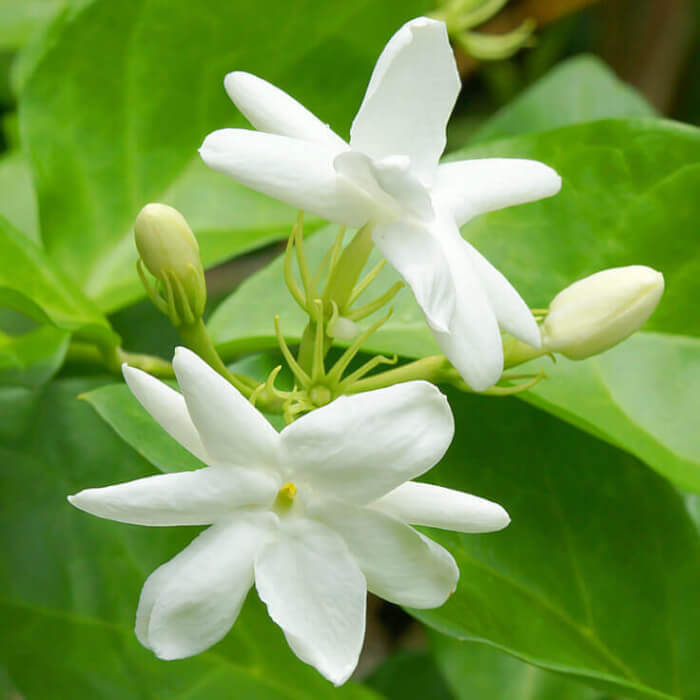 Source: Lgbotanicals
Spanish Jasmine is a super easy-to-care plant but grows slowly. Growing it indoors will give you aromatherapy into your daily routines. It will bear abundant flowers if it gets plenty of natural sunlight.
#4 Winter Jasmine (Jasminum nudiflorum)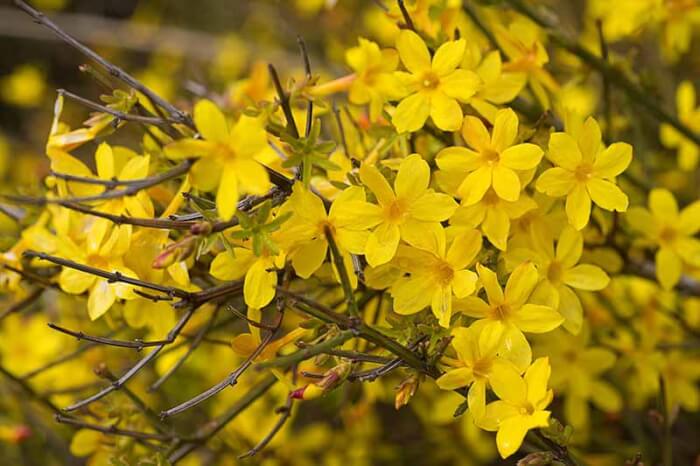 Source: Gardenerspath
Winter Jasmine shows off gorgeous yellow blooms and climber anywhere space to give you a stunning look right in your home. Although it doesn't have a scent, it is popular for its vibrant and brilliant blooms. Its blooming time is in late winter or early spring so that this plant is also famous as the 'flower that welcomes spring' in China. Prune regularly to keep it staying in shape.
#5 Gardenia (Gardenia jasminoides)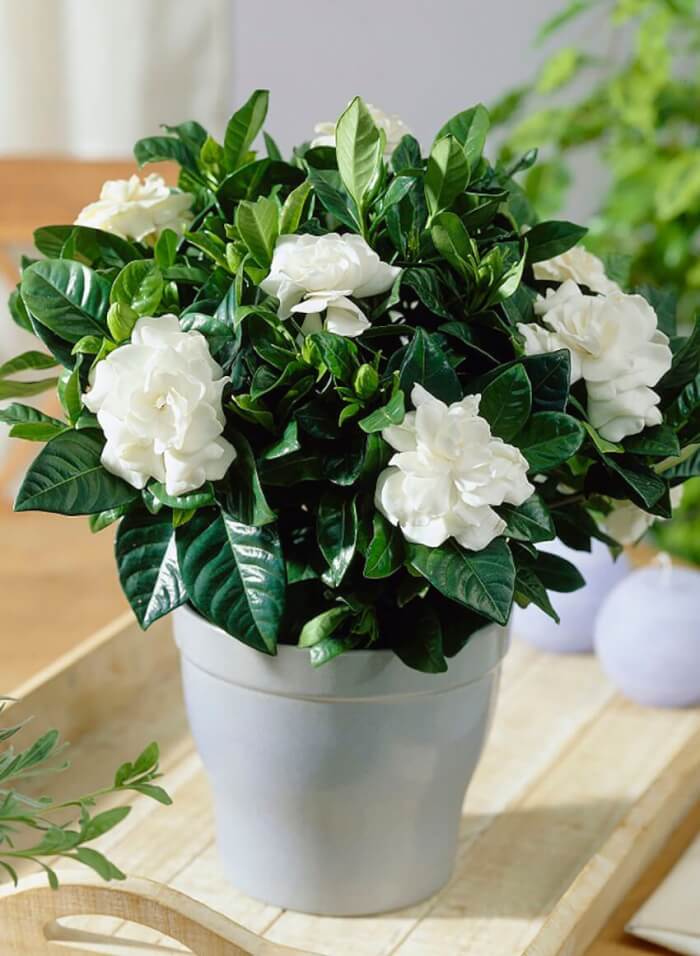 Source: Plantshop
Gardenia offers stunning flowers along with an amazing fragrance. It prefers rich, well-draining soil. Remember that keep the plant away from pets as it is mildly toxic for them.
#6 White Jasmine (Jasminum polyanthum)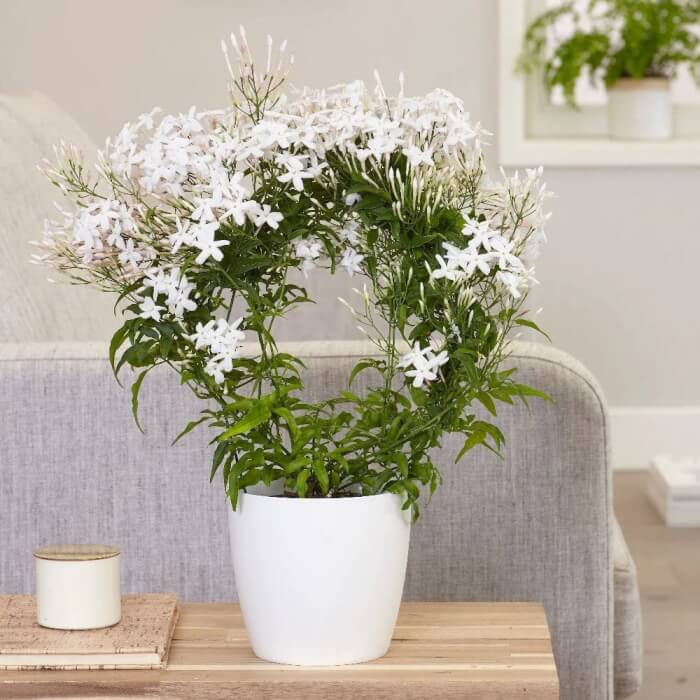 Source: Waitrosegarden
White Jasmine produces pink-tinged flowers bud into beautiful star-shaped blooms that exude a sweet but powerful fragrance. Grow it near a south or west-facing window.
#7 Star Jasmine (Trachelospermum jasminoides)
Source: Gardenersworld
Star Jasmine has star-like white flowers with an amazing sweet smell. It grows quite tall and fast so you should regularly prune it to keep it in shape.
#8 Arabian Jasmine (Jasminum sambac)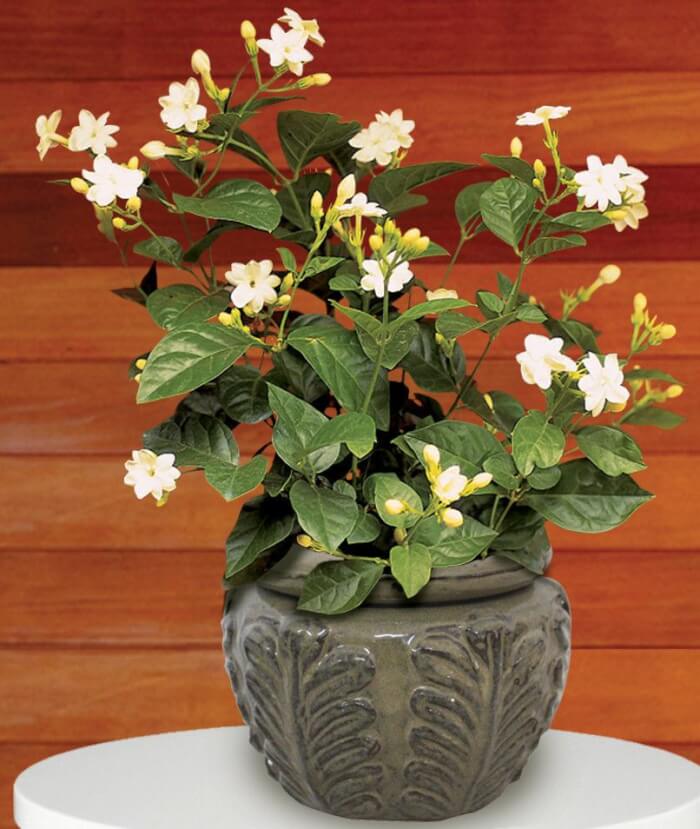 Source: Logees
Arabian Jasmine has the most luxurious scent that you will most likely recognize. It produces lovely blooming flowers and a sweet aroma.