When Winter comes, it also is the time of cough and cold diseases and many diseases about respiratory problems! That is the worry of many people, especially those who get into trouble with respiratory problems, they feel scared every time when turning this season. Don't worry, you are reading the right post, you will love winter more instead of hating it. And we are so glad to share the 13 Best Herbs For Cough And Cold You Should Grow that can help you reduce these winter diseases.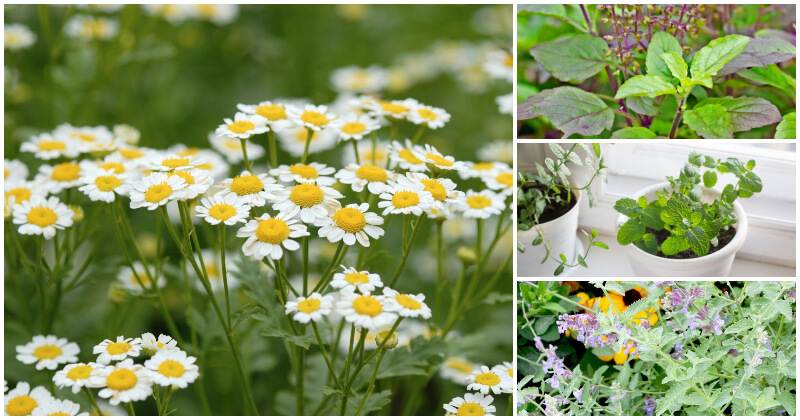 These herbs are great a natural remedy without using medicinal drugs if you want to cure yourself naturally. Growing them not only improves your health but also helps your house be more beautiful and have a chance to be close to nature. Using plants to freshen up your house is a boost for anyone's mood. The benefits of these herbs are really pretty amazing. Start growing them right now!
#1 Sage
Source: Sowgoodnaturally
Thanks to the antibacterial, antiseptic, and astringent properties, sage is great in treating cough, sore throats, and mouth inflammation. You can use fresh or dried sage leaves to make an aromatic tea.
#2 Thyme
Source: Thespruce
Using thyme tea is a great method to treat cough and cold thanks to the essential oil of thyme leaves.
#3 Peppermint
Source: Growyouryard
Peppermint is used to treat the common cold, cough, and congestion by making herbal teas. This herb cools the mucous membranes and works as a decongestant.
#4 Marjoram
Source: Britannica
With antimicrobial, anti-inflammatory, and antioxidant properties, marjoram is often used to treat infections, runny nose, cough, and cold.
#5 Chamomile
Source: Tegoder
Chamomile has antispasmodic properties to help in relieving cough, sore throat, and cold, you can drink chamomile tea or inhale its steam.
#6 Oregano
Source: Thespruce
Oregano has antiseptic properties that can heal flu, minor fever, cough, and cold.
#7 Betel Leaf
Source: Plantkaro
Betel Leaf is great for curing cough and cold, you can spread some mustard oil on the betel leaf and place it on the chest to treat congestion.
#8 Lemon Balm
Source: Thespruce
Lemon Balm helps in relieving fever and cold, thanks to its antiviral properties, you can add a tablespoon of fresh or dried leaves to a cup of boiling water to make its tea.
#9 Catnip
Source: Plantopedia
Catnip can be used to treat the common cold, flu, pain, and stress by brewing some fresh or dried leaves in the tea.
#10 Lemon Verbena
Source: Growjoy
Lemon Verbena is perfect for treating digestive disorders, insomnia, cold, and asthma, you can brew some fresh or dried leaves in teas.
#11 Lemongrass
Source: Gardeningknowhow
By its anti-inflammatory and anti-fungal properties, lemongrass helps in combating cough and cold. You can brew some fresh lemongrass leaves and grated ginger in boiling water for relieving cough.
#12 Holy Basil
Source: Britannica
Holy Basil is ideal for treating a wide range of ailments including cough, cold, asthma fever, arthritis, and eye diseases; you can drink it by adding in teas or hot beverages.
#13 Rosemary
Source: Gardenersworld
Rosemary contains high antioxidants that are necessary for a healthy immune system, so it is great in preventing wintertime ailments. You can use it in your daily diet or brew some leaves in tea.