If you're interested in growing your own vegetables but don't have access to an outdoor garden space, an indoor garden can be a great option. Here are 15 of the best vegetables for growing in an indoor garden. With a little bit of care and attention, you can grow a bountiful harvest right in your own home.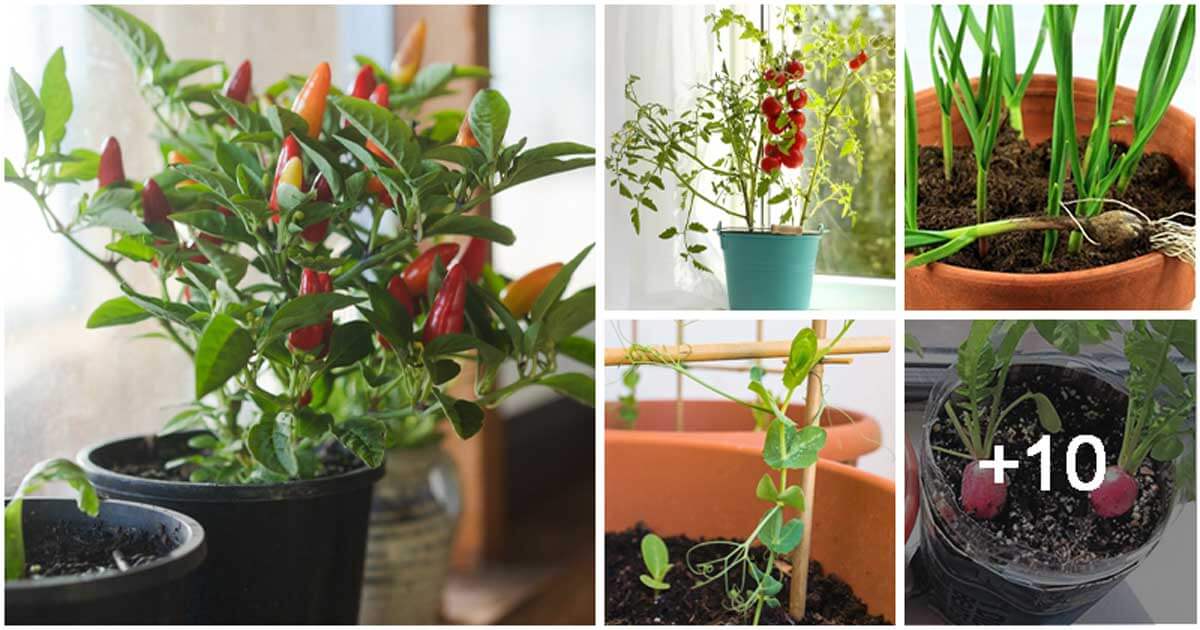 An indoor garden is a great way to grow your own fresh vegetables year-round. With the right containers, soil, light, and water, you can enjoy a bountiful harvest of microgreens, leafy greens, root vegetables, tomatoes, peppers, and more without even stepping out the door. Start small and experiment with some or more of the vegetables to find what works best for your space and tastes. Happy gardening!
#1 Garlic Greens
Source: dengarden
Garlic greens can be grown in 6-8 inches-deep pots indoors. They are consumed in many dishes from soups to salads.
#2 Microgreens
Source: sowrightseeds
Microgreens contain high nutrients. They are versatile that can be used as leafy greens, vegetables, and herbs. You can grow them in shallow trays up to 2 inches deep and can start harvesting young when they are up to an inch or two.
#3 Spinach
Source: gardenerknowhow
Spinach is one of the best indoor vegetables you can grow easily as long as giving it a windowsill where it gets plenty of sunlight.
#4 Hot Peppers
Source: greengoscantina
Hot Peppers are tropical perennials that can grow well indoors. They can be grown from their seeds or plants some from the garden.
#5 Mustard Greens
Source: seedsnow
Mustard Greens are healthy vegetables to add to your indoor garden. Producing red or green leaves and yummy succulent stems makes them the perfect ingredients for a salad platter. Plant them in 6-8 inches-deep pots or window boxes.
#6 Onions
Source: littleyellowwheelbarrow
Onions are really, really easy to grow without requiring much space. All they need is to grow in a container with good drainage, potting soil, and onion sets or bulbs.
#7 Carrot
Source: empressofdirt
Most small carrot varieties can be grown well in indoor conditions, and even thrive in limited space. To grow them successfully, Use window boxes, lightly layer the seeds with damp peat moss, keep the soil moist, and seeds will sprout after 2 weeks.
#8 Garlic
Source: gardeningchores
Like onions, growing garlic is quite easy. A little space to place the pot is all that you need.
#9 Peas
Source: gardenerspath
Growing peas is simpler than you think. You only need good soil and a trellis or support system for happy growth when mature.
#10 Green Onions
Source: masterclass
You can grow green onions all year round to give you an endless supply. They can be used in many recipes like soups, salads, and for garnishing.
#11 Chives
Source: thekitchenherbs
Chives are best consumed fresh. Thanks to producing bright green, grass-like foliage, and pretty mauve blooms, making them a lovely touch to any indoor setting.
#12 Mushroom
Source: smugtownmushrooms
You can grow some mushroom varieties indoors, whether you live in a house or an apartment. Here are the best options to help you get started: Shiitake mushrooms, wine cap mushrooms, oyster mushrooms, pioppino mushrooms, and lion's mane mushrooms.
#13 Tomato
Source: marthastewart
When getting the right conditions, tomatoes can be grown well indoors. Grow them in spots where the pots get 6-8 hours of sunlight.
#14 Lettuce
Source: gardeningsoul
With the shallow-rooted, lettuce grows easily in any condition and also does not require deep pots. After about one week, you can see seedlings germinate quickly.
#15 Radishes
Source: gardeningsoul
Radishes are easy to grow and ready to harvest within 30-40 days from germination. Remember that avoid overcrowding their bulbs in the same pot.