At a time when the vibrant colors of summer do not feel right, the deep, subdued, and nude colors come out. This autumn is hardly an exception. Fashion girls should attempt our top options for fall nails this season.
This fall nails compilation features warm, bold, and soft colors for every skin tone so just use your imagination to create such gorgeous fall nails this season. Enjoy!
24 Adorable Autumn Nail Designs
Fall Colors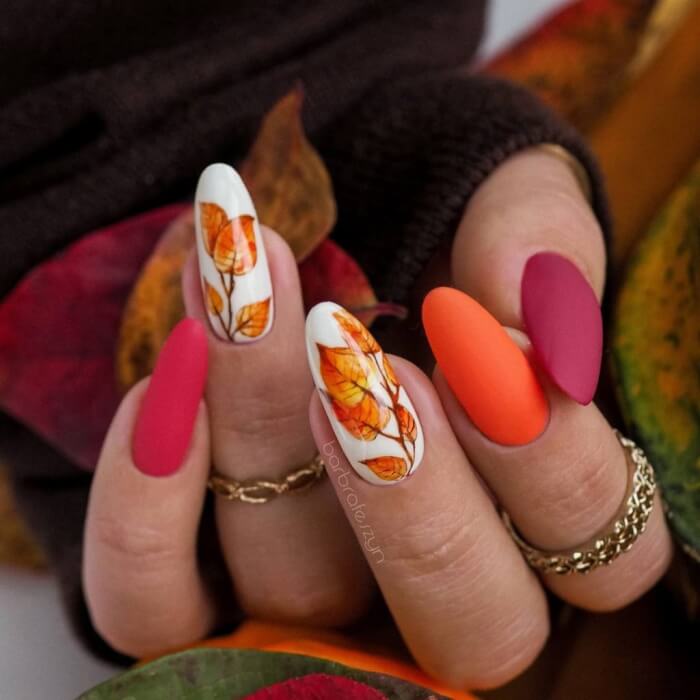 It's possible that you won't be ready to give up eye-catching brights after spending the entire summer wearing fluorescent neon shades. You need not miss out on fall's brilliant burnt orange, golden yellow, and red hues. Simply apply these colors to your nails. Try this nail style, which features stylish foliage embellishments and diverse nail paint colors in deep jungle green, pumpkin orange, wine red, and white. How lovely!
Light Brown Manicure With Orange Details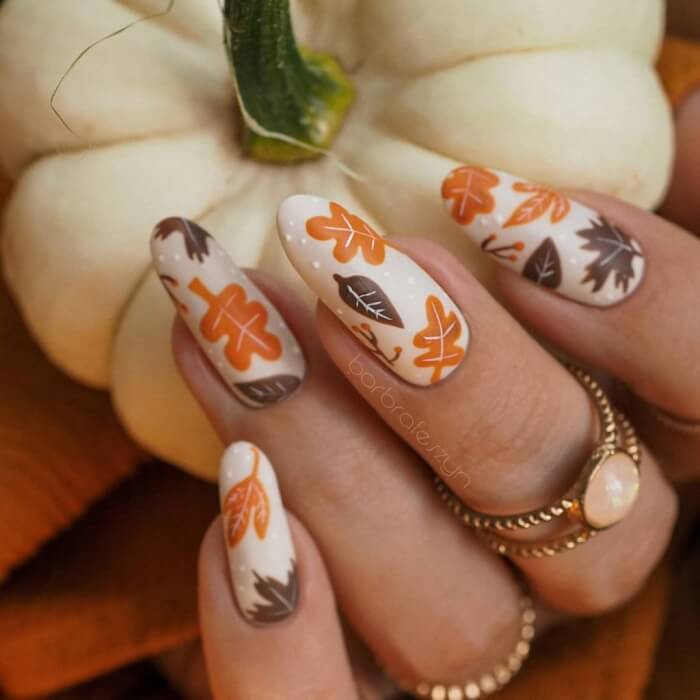 There is undoubtedly a brown nail color out there for everyone, with options including espresso, caramel, chocolate, and cinnamon. By using different hues of brown on separate fingers or adding foliage embellishments on different fingers, you can add interest to your nails.
Fall Foliage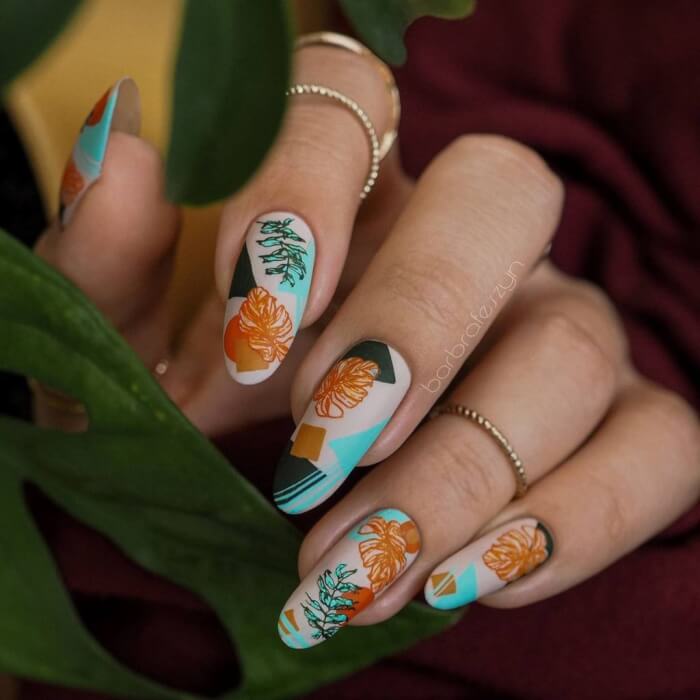 During the last days of summer into the fall seasons, you could say that blue becomes the new black. Painting your nails in this intricate fall manicure design with geometric designs and light blue and brown foliage can help you transition smoothly.
Sunflower Details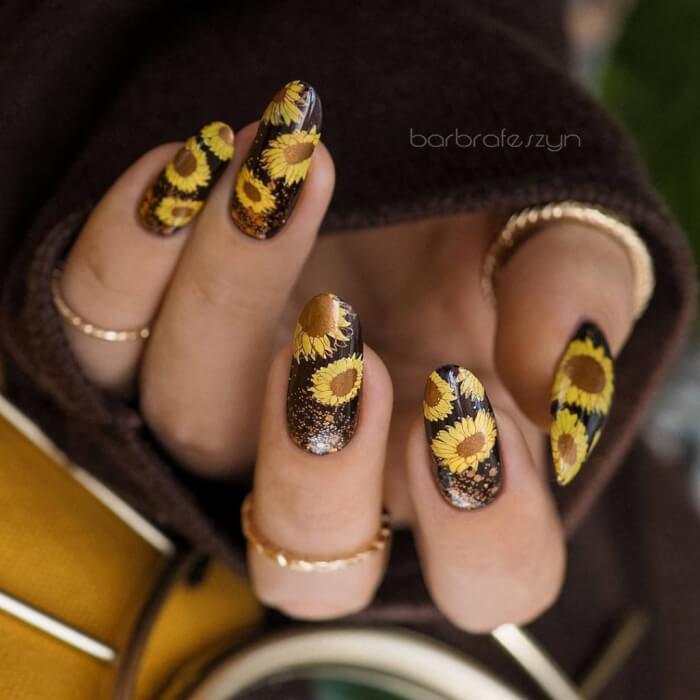 Sunflowers are lovely flowers that love the sun and can also be categorized as fall flowers. In order to give your nails a pop when the weather gets chilly and you go for subdued brown manicure colors, think about adding sunflower embellishments.
Pumpkin Nail Art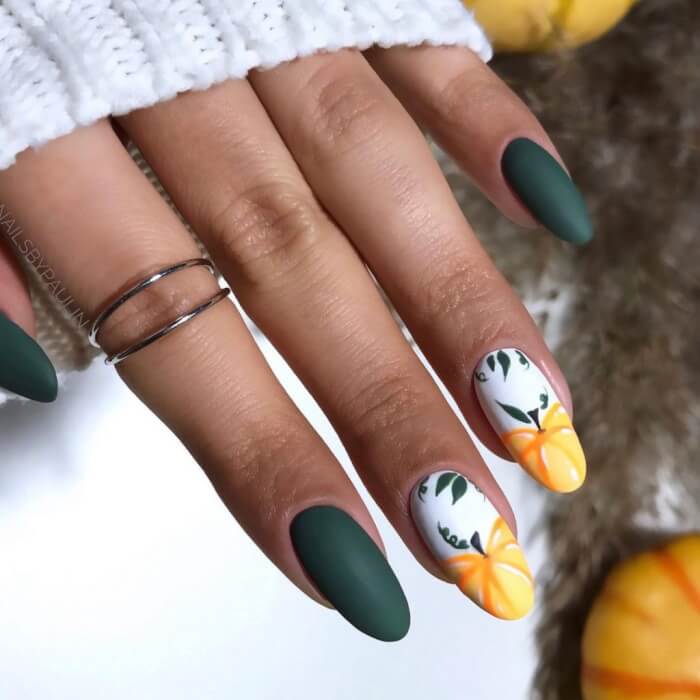 Fall nail trends include pumpkin designs. Take advantage of this by choosing matte green nails as a backdrop for stylish pumpkin-themed white and orange nails. Painting your nails in this intricate fall manicure design with geometric designs and light blue and brown foliage can help you transition smoothly.
Espresso Brown Nails with Foliage Details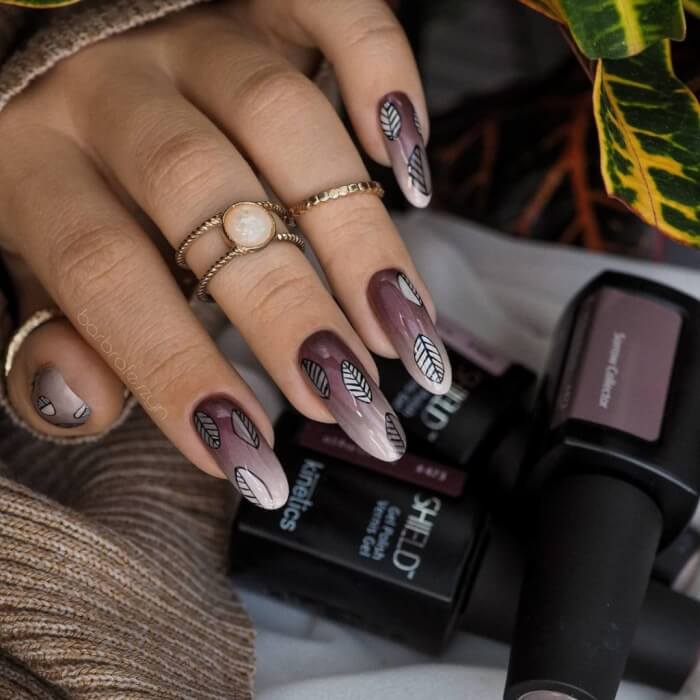 Treat your nails to a fall ride with Espresso Bean nail polish and finish with cute foliage decorations for a sophisticated and unique look.
Orange Fall Nails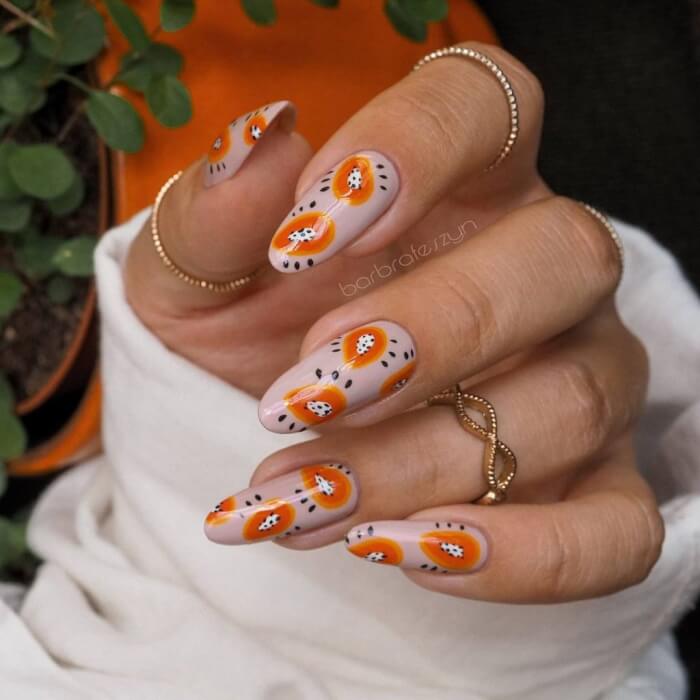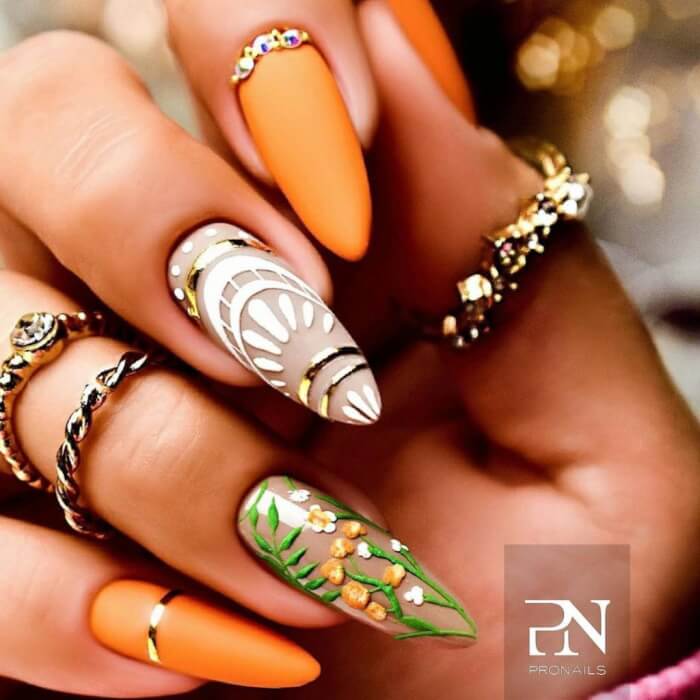 An orange manicure makes for a chic entry into fall. Whether you go for an apricot background, caramel, mustard orange, pops of pumpkin orange, or cinnamon colors, you will add the most flattering burnished glow to your fingers and toes. We recommend orange accent nails or hybrid nails incorporating other complementary colors like jungle greens, wine red, and deep purple.
Forest Green Fall Nails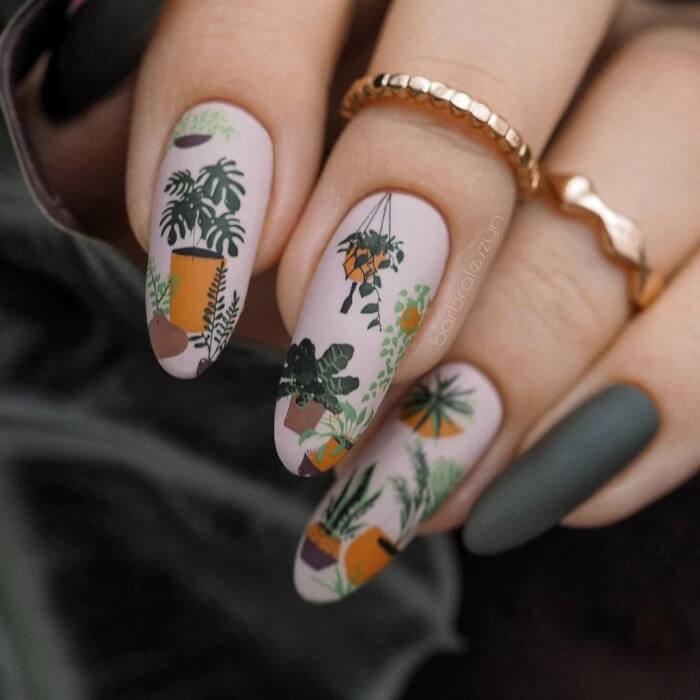 These matte green nails are the ideal color for a change from summer to winter. You won't be able to stop admiring your nails if you choose this for your next manicure and make sure to adorn them with lovely floral and leaf decorations.
Green Fall Nails With Golden Flakes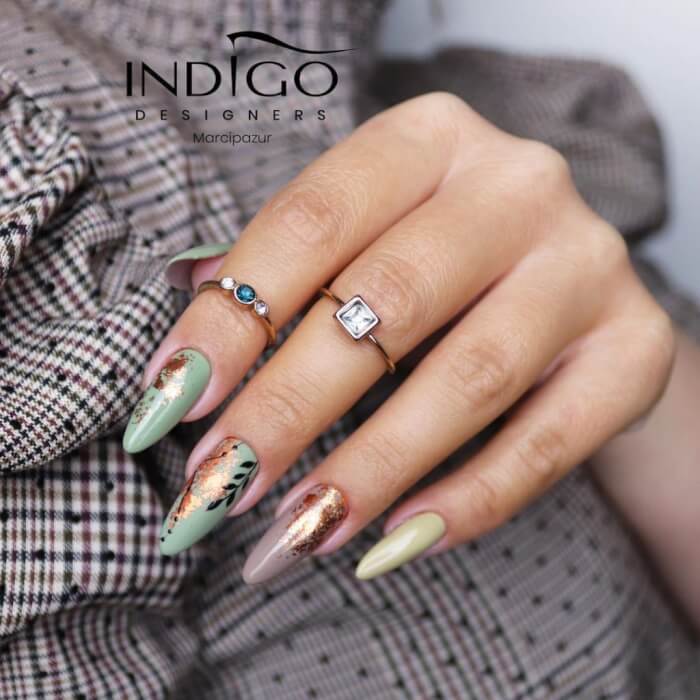 Sometimes green is disregarded as a good nail polish color, but in the fall, luscious greens come into their own! Try mint green manicures with nude and light olive accent nails. Use golden flakes to give them a seductive flair. You already know what your new favorite fall nail color is!
Ivory White Nails For Fall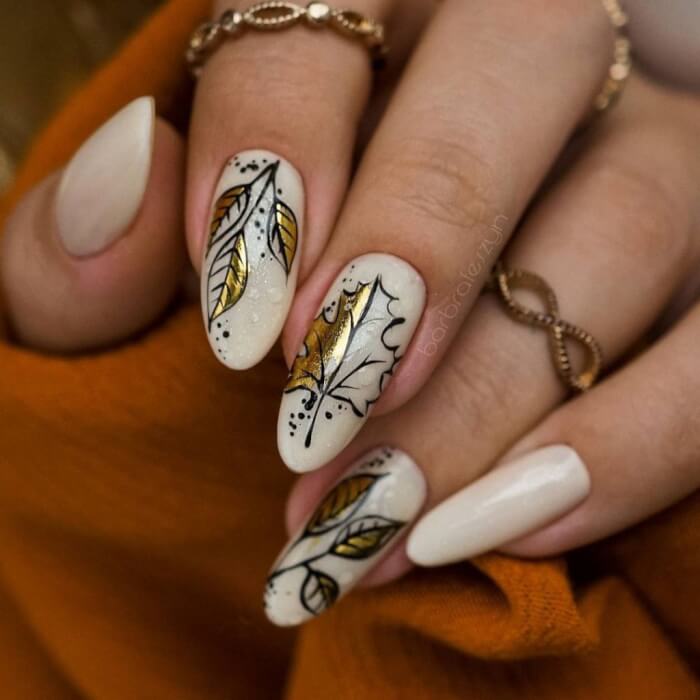 Do you have a weakness for white nail polish? This fall, opt for milky white nails and add the elegant touch of golden foliage embellishments.
Classic Coffee Brown Nails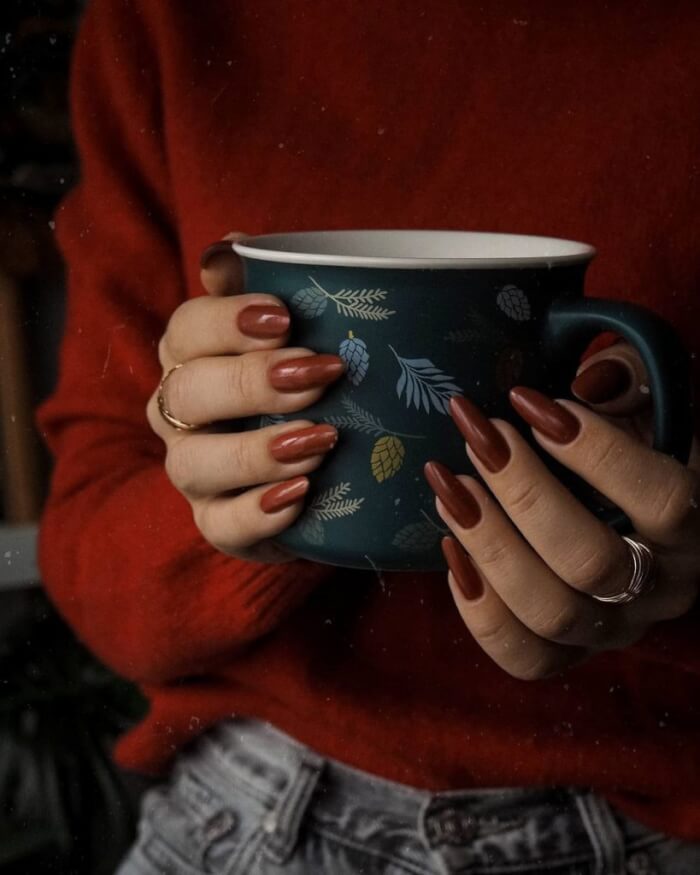 Who doesn't love a good brown shade? We love this coffee brown nail look for any season, but especially for fall.
Chestnut Brown Nails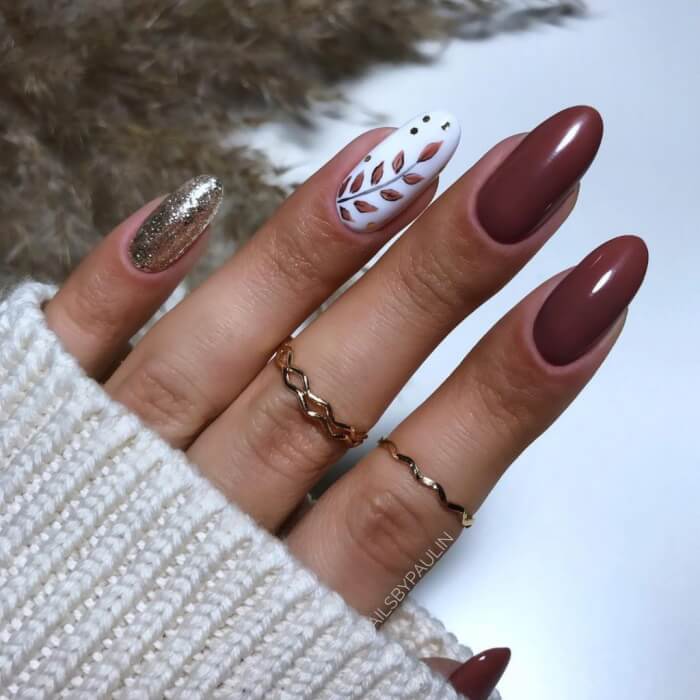 This reddish-brown shade of brown will pair very well with other neutrals in your fall fashion wardrobe. Accent the nails with white and golden glittery nails.
Dark Brown Fall Nails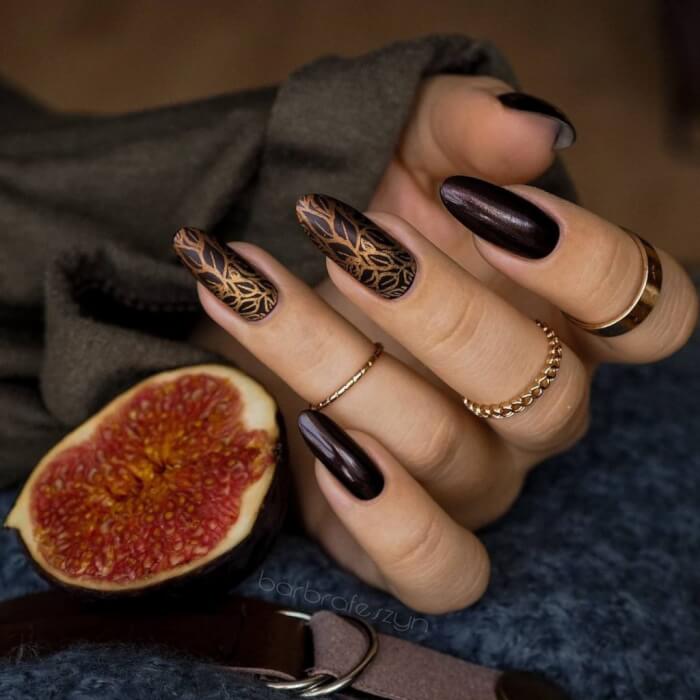 Want a dark, moody alternative to a black manicure? Look no further than a dark brown manicure. Add spice to this fall nail look using intricate patterns to create beautiful accent nails. So chic!
Glossy Brown Nails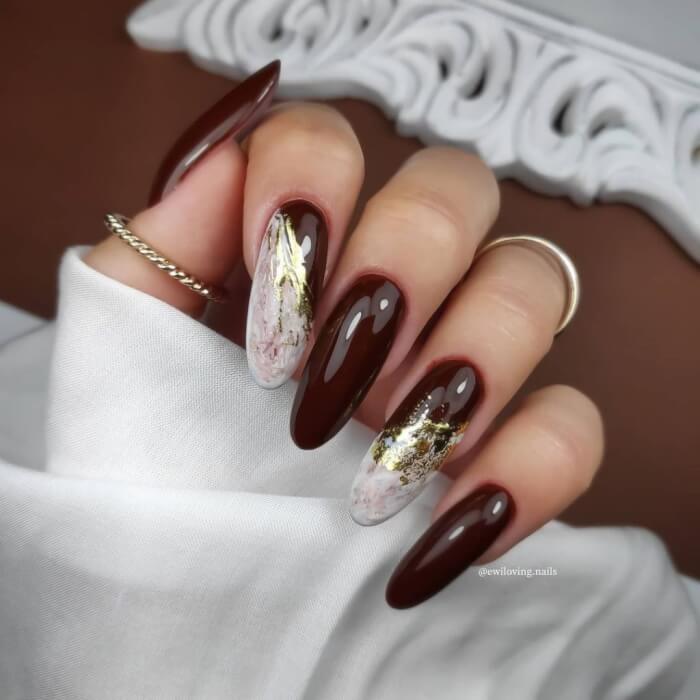 By now, you can tell that apart from orange, brown is another perfect fall color to paint your nails this autumn. Skip the matte versions and go for glossy nails that will perfectly pair with golden or floral accents.
Deep Purple Fall Nails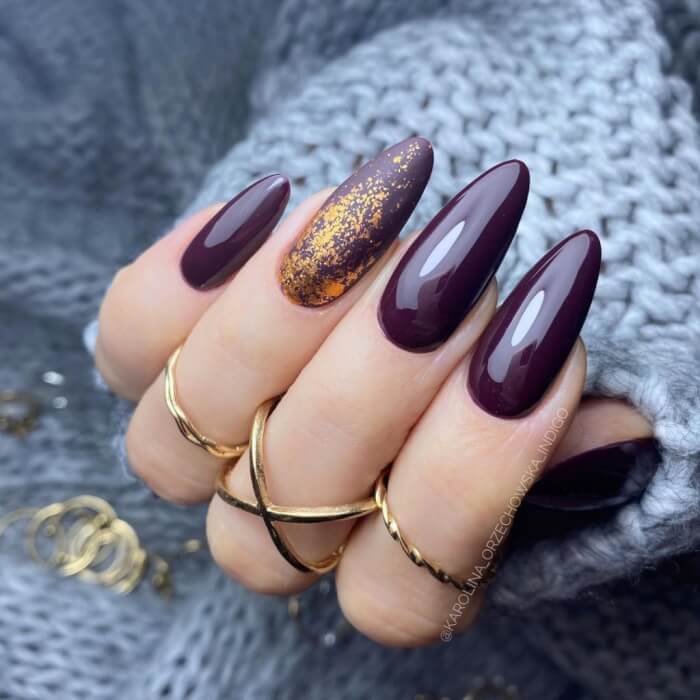 The vibrancy and depth of deep purple will not only enliven your nails, but it will also elevate your mood. As a nail design, glitters, rhinestones and golden flakes add a dash more glitz to your nails.
Mauve Manicure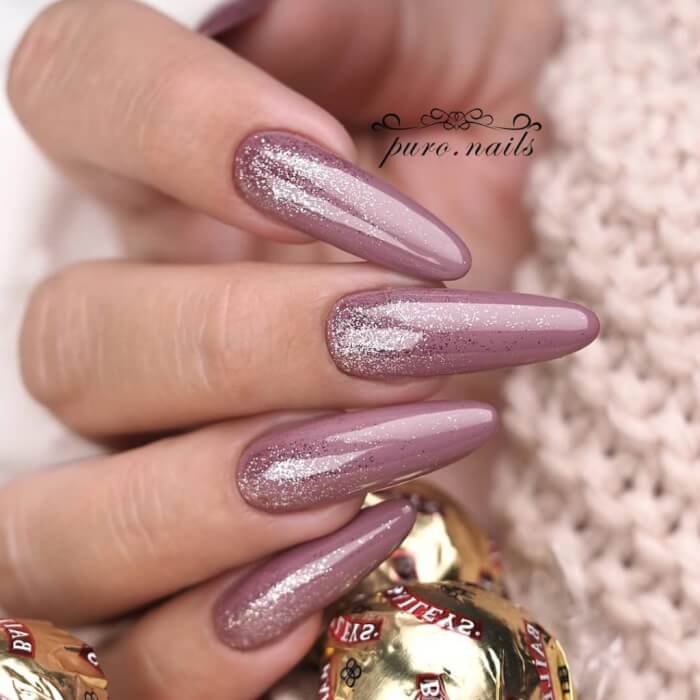 A mauve manicure embodies elegance. Throughout the fall and winter seasons, this lovely nail color will round off your stylish and feminine looks. Use statement jewel stones or sparkles to elevate this fall fashion staple.
Wine-Red Fall Nails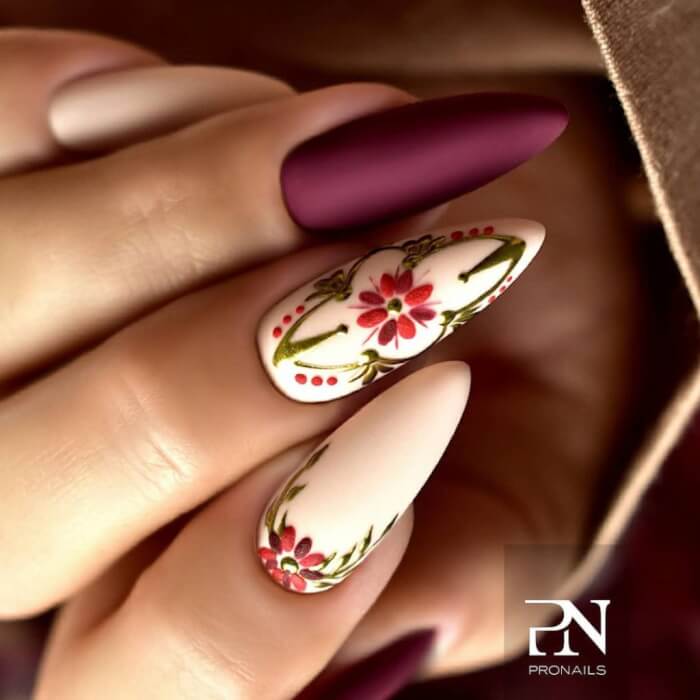 Fall and red wine go together, and these nail art ideas have it in spades! This manicure style will stand out from the crowd whether you want glossy or matte nails, or classic or accent nails in wine red. Include some golden glitter as well. These wine-red nail design ideas are particularly ideal if you have a Christmas party to attend!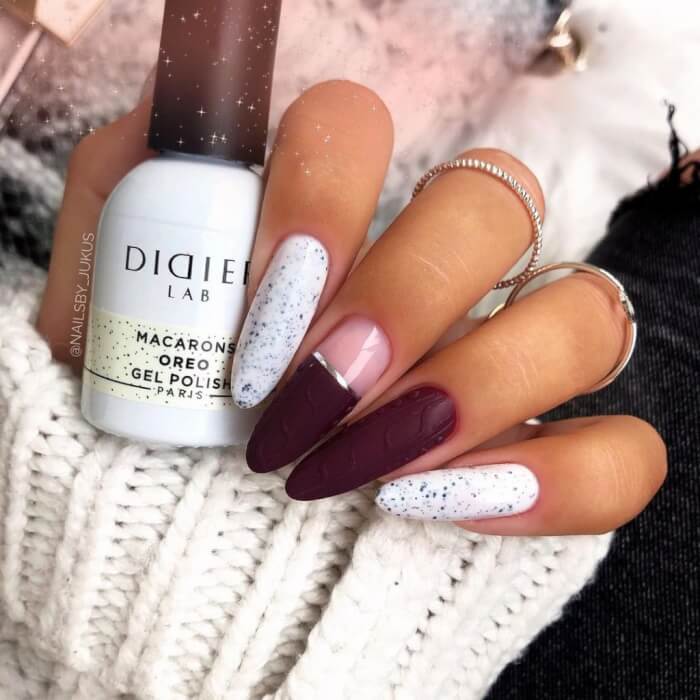 Which fall nail designs would you attempt this season? Please save it to a board on Pinterest. Cheers!