You love romantic! Do you want to enter this lovely world or stroll under this shimmering light? The article today will bring some great recommendations to help you live in your own fairy world. Go for fairy lights with ideas incorporate them into some amazing projects. Here are 26 DIY Fairy Light To Decor Home And Garden that you absolutely fall in love with them immediately. They make just about anything look magical and can be thrown into more DIYs than you might imagine.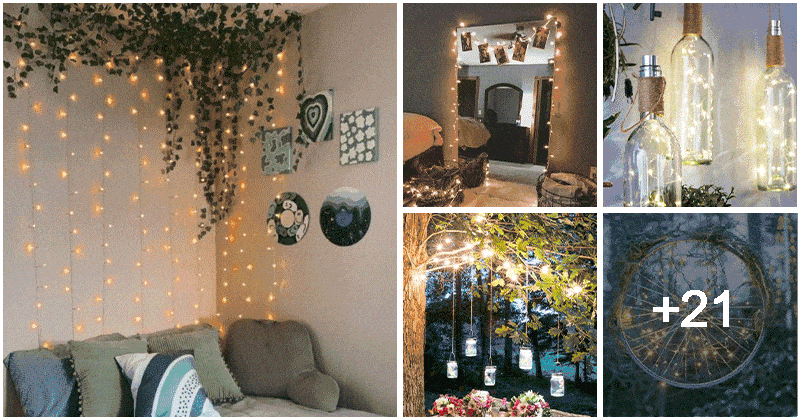 Fairy lights are a cheap and easy way to turn something average into something magical. They are easy to find and with a little creativity, you can use them in a million different ways as the creativity is unlimited. You can use them to create additional charm and ambiance at weddings and other events, use them to light up the garden or use them in your living space. Or you can use them anywhere you want because really, they can make too much charm there. So, grab some lights and get inspired with these awesome fairy light display ideas, and make your own version.
#1 String Picture Display
Source: Theinteriorsaddict
#2 Hanging Branch Fairy Light
Source: Popsugar
#3 DIY Lantern For Side Table
Source: Tiphero
#4 New Mason Jar Wall Sconce Fairy Lights Hanging Rustic Country Farmhouse Decor
Source: Amazon
#5 Glass Bottle Fairy Light
Source: Bonprix
#6 DIY Fairy Light Lantern
Source: Keystoinspiration
#7 A DIY Twig Frame With String Light
Source: Bethany Pulvino
#8 A Fairy Light Tree
Source: Decorhomeideas
#9 Old Pallet Decor
Source: Weheartit
#10 Decorate Hanging Swing With Fairy Lights
Source: Hunker
#11 Fairy Lights For Bedroom
Source: Lexi Haynes

#12 Big Star!
Source: Urbanoutfitters
#13 Lighted Mirror
Source: Cora Wiek

#14 String Light For Trees
Source: Creativegreenliving
#15 Tin Can Lantern
Source: Gofeminin
#16 Hanging Mason Jars On Branches Of Tree
Source: Countryliving
#17 Rustic Dining Table With String Light
Source: Homeandgarden.craftgossip
#18 Old Wheel With Fairy Light
Source: Pianetadonne
#19 Hanging Mason Jar Candle Holders
Source: Unknow
#20 Glowing Watering Can with Fairy Lights
Source: Goodshomedesign
#21 Lightning Bugs
Source: Ramshackleglam
#22 Bright Fairy Lights
Source: Basicoutline
#23 DIY Fairy Light Lanterns
Source: Unknow
#24 Fairy Light With Big Candles
Source: Michaels
#25 Fairy Light Ladder
Source: Rhythmofthehome
#26 Curtain Fairy Lights Above Bed
Source: Soph