DIY pallet projects are a great option for those who are seeking affordable and easy ways to spruce up their outdoor living space. Pallets are versatile, sturdy, and easy to work with, making them a popular choice for DIY enthusiasts. In this article, we have compiled a list of 31 simple DIY pallet projects that are perfect for your outdoor space, and we would like to share them with you. From easy-to-build benches and chairs to stylish planters and shelves, there's a project for every skill level.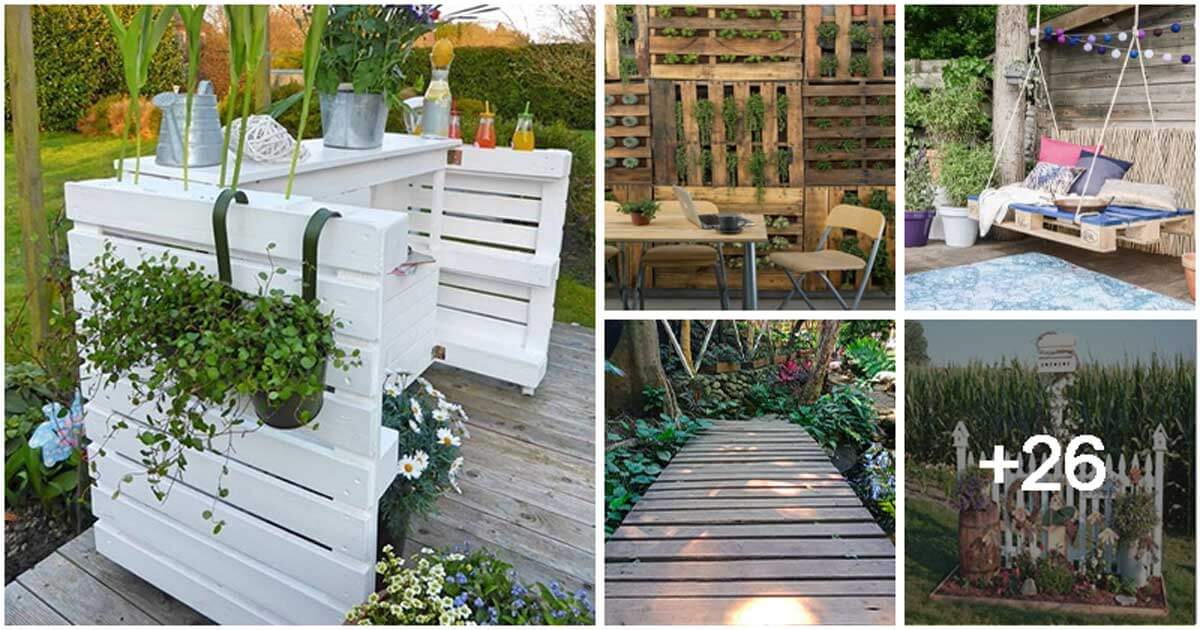 Not only are these projects affordable and easy to make, but they're also environmentally friendly. By repurposing pallets, you're reducing waste and creating something useful and beautiful for your outdoor space. With a wide range of creative ideas that have been collected below, you'll be able to transform your outdoor living space into a functional and stylish area that you can enjoy all year round. So grab some pallets and get ready to start your next DIY project with your family members!
#1 Classical Planter
Source: dishfunctionaldesigns.blogspot
#2 Wall With Plants Made From Pallet
Source: blog.coldwellbanker
#3 Chilling Space at Night With Pallet And Lights
Source: pinterest
#4 Easy Decoration in the Garden
Source: pinterest
#5 Pallet Shelf
Source: smore
#6 Simple Pallet Pathway
Source: greenandvibrant
#7 Flower Pot Rack
Source: hipandhumblestyle
#8 Swing Made From Pallet
Source: homehacks
#9 Eco-Friendly Outdoor Dining Space with a Pallet
Source: gravetics
#10 Durable Pallet Wood for Outdoor Pallet Furniture Ideas
Source: pinterest</em
#11 An Outdoor Bar for Fun Gatherings and Events
Source: etsy
#12 Tents Made From Pallets
Source: 1001pallets
#13 Vintage Gate With Pallet
Source: pinterest
#14 Comfortable Chair To Enjoy the sunshine
Source: washingtonpost
#15 Stunning Light
Source: 1001pallets
#16 Candle Holder Made From Pallet
Source: pinterest
#17 Easy-to-make Flower Pot
Source: weddingforward
#18 Create a Cozy Garden Lounge with Reclaimed Pallets
Source: pinterest
#19 White Pallet in Garden
Source: pinterest
#20 Pallet And Flower To Brighten up garden
Source: pinterest
#21 Water Wheel With Beautifull Flower
Source: thedailygardener
#22 Relax Place Under the tree
Source: pinterest
#23 Simple Star
Source: empressofdirt
#24 Sun made from old pallet on the wall
Source: theownerbuildernetwork
#25 Plant Pot Holder
Source: gardeningacreativejourney.tumblr
#26 Simple DIY Signposts
Source: pinterest
#27 Art Fence
Source: recycledcrafts.craftgossip
#28 The Fence With Colorful Birdhouse
Source: pinterest
#29 DIY Birdhouse
Source: flickr
#30 Amazing Corner In The Garden
Source: thecreatedhome.
#31 Easy Project With Pallet
Source: vintagerevivals