Cucumbers are popular among ladies thanks to its magical beauty enhancement benefit. Numerous cucumber-based products have been launched by companies every year. However, they still cannot supersede the multi-advantage of the authentic vegetable itself. Women and girls around the world still prefer to put a few slices of cucumber on their faces when they are enjoying their freetime. This is truly a gift from god as this fresh relative of the melon family is not only cheap, but also versatile in use. 
Additionally, if you are looking for a better way to take advantage of the skincare benefit of it, here are some home-made recipes that you can try out.
Anti-Aging Face Pack From Rice-Flour Cucumber
Source: unknown
Ingredients:
Cilantro leaves: 1 bunch

Lemon juice: juice of 1 lemon

Rice: as much as required

Cucumber: 1
Procedure to follow:
Cut a cucumber into two halves.

Blend dry rice into a finely smooth granulated powder.

Then add cilantro leaves and half a peeled and sliced cucumber into a blender.

Blend it into a smooth paste.

Pour everything into a clean container and mix well.

Cleanse your face thoroughly .

Take a generous amount of this face pack and apply it evenly all over your face and neck.

Massage your face with it for a while.

Wash it off with running tap water.

Gently exfoliate in a circular motion applying light pressure in upward strokes.

Pat dry your face with a clean towel.

Follow up with your regular moisturizer.
Frequency:
You should repeat this routine twice a week.
Moisturize Dry Skin With Coconut Water-Cucumber Face Mask
Source: unknown
Ingredients:
Tender coconut water: 2 tablespoons

Raw, unprocessed milk: 2 tablespoons

Cucumber juice: 2 tablespoons
Procedure to follow:
Mix everything in a mixing bowl.

Dip a cotton ball in the solution and squeeze out the excess liquid.

Gently pat all over your skin and wait 15 minutes for it to be fully absorbed.

Apply one extra layer if needed.

Rinse it off after 10 to 15 minute and pat dry your skin with a clean towel.

Follow up with an organic aloe vera gel afterwards.
Frequency:
Use this hydrating face mask every day to reap the maximum benefits that it has to offer.
Intense Hydration With Rosewater-Cucumber Face Mask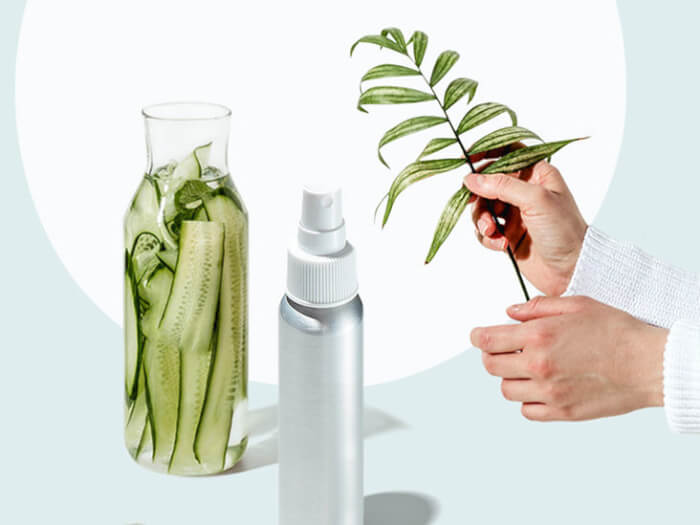 Source: unknown
Ingredients:
1/2 cucumber

Aloe vera gel

Lemon

Rosewater

A bowl

A knife

A blender

Measuring spoons
Procedure to follow:
Peel and chop one-half of a cucumber.

Toss the cucumber pieces into a blender.

Add 2 tablespoons of fresh aloe vera gel, 1/2 teaspoon of freshly squeezed lemon juice, 1/2 teaspoon of pure rosewater.

Blend all the ingredients until smooth.
Frequency:
You can use this recipe daily to achieve spotless, blemish-free and fair skin.