You love growing plants, you are always looking for new ways to show them off. The 17 Plant Stand Ideas That Can Be Made Easily From Old Items will help you do the same. Whether you're looking for a cute way to display your flowers inside or outside, there is something special and cute for you. After reading this post today, surely your green treasure can be allocated to any of these plant stand ideas.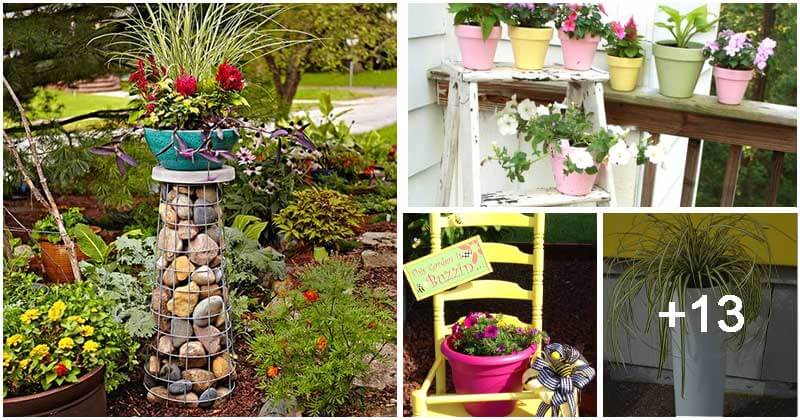 These homemade plant stands not only is a great way to let your creative side shine but also replace boring plant stands you've used year after year. They are shaped like a tower or table to provide your houseplants with a nice resting spot. They are inspired by renewing unused items such as old chairs, ladders, logs, milk junk, and more to make their own unique beauty. Are you ready to upgrade sad little corners or remove old ceramic potters with these ideas? It's time to try some now!
#1 Old Chair Plant Stand
This DIY project is a delightful and eco-friendly way to breathe new life into a worn-out chair. By repurposing an old chair into a stylish and functional plant stand, making it a unique addition to your garden or home decor.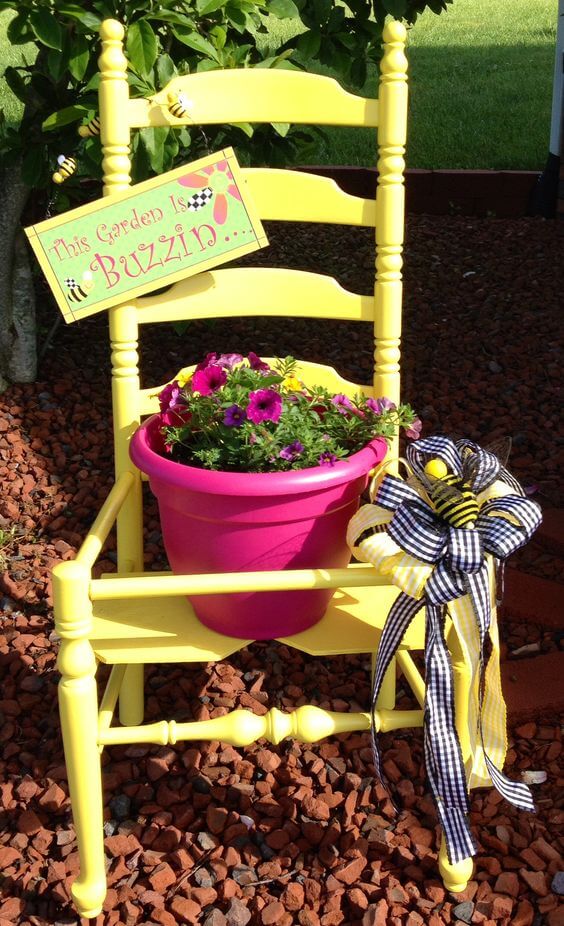 Source: Jeanette Coxx
With its blend of vintage charm and environmentally-conscious design, this plant stand not only elevates your greenery but also showcases the creativity and sustainability of repurposing materials. It's more than just a stand; it's a symbol of giving old items a second chance and infusing your space with character and a touch of nature.
#2 Ladder Plant Stand
This ladder idea is a versatile and stylish addition to your home or garden decor. By transforming a simple ladder into an attractive and functional plant stand, offering a unique way to display your greenery.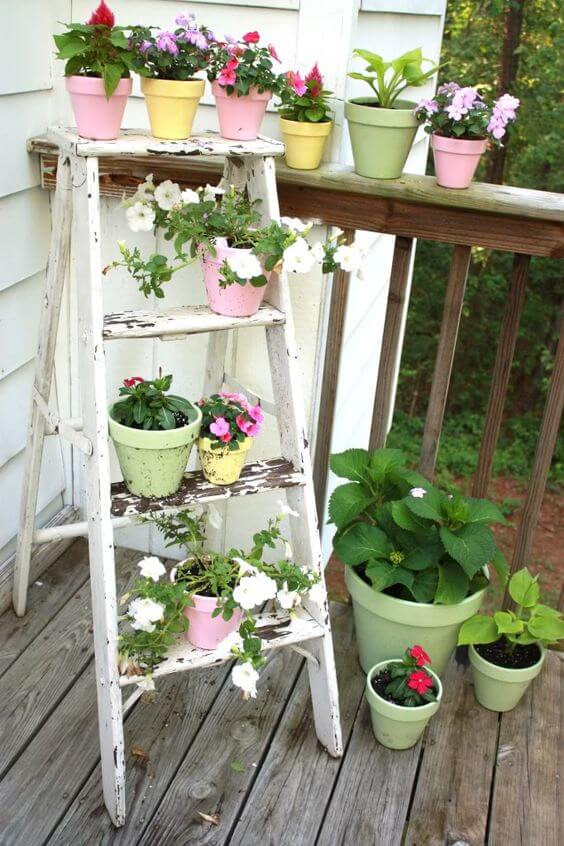 Source: bowerpowerblog
With its elegant design and practicality, the ladder plant stand not only showcases your plants beautifully but also adds a touch of creativity and sophistication to your space.
#3 A Gabion Plant Stand
The gabion plant stand is a rugged and eye-catching garden accessory that merges form and function with an industrial touch to add a touch of modern elegance to your outdoor space while supporting your beloved greenery. This innovative creation utilizes gabion baskets, typically used for retaining walls, to create a sturdy and unique plant stand.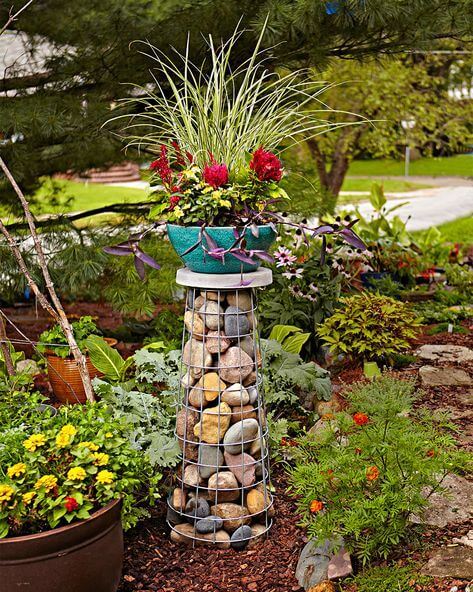 Source: bhg
With its robust design, the gabion plant stand not only showcases your plants beautifully but also serves as a testament to the versatility of materials and their creative use in garden design.
#4 DIY Rain Barrel Stand Idea
A rain barrel plant stand is a creative and eco-friendly gardening solution that repurposes a rain barrel into a functional and decorative piece for your garden or outdoor space. This innovative idea combines the benefits of water conservation with plant cultivation.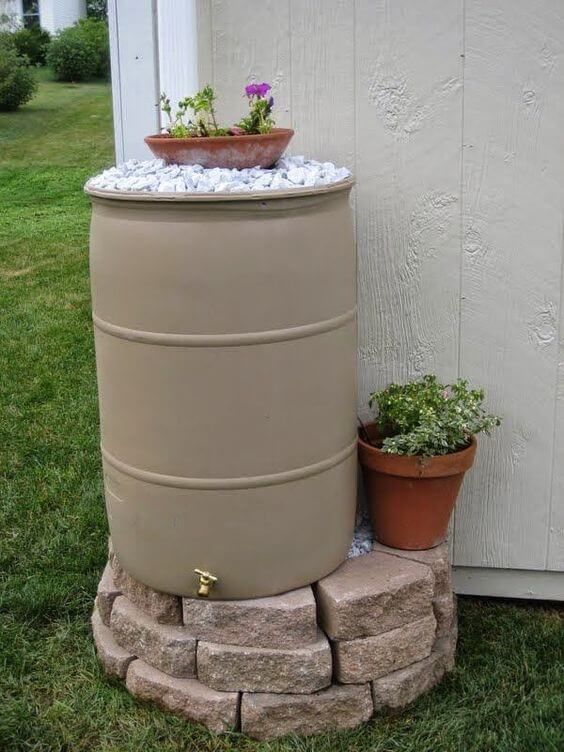 Source: everydayoldhouse
By converting a rain barrel into a raised platform for potted plants, you not only save and use rainwater for your garden but also create an attractive and sustainable display for your favorite plants. This DIY project is a great way to add a touch of greenery to your outdoor area while promoting sustainability and water conservation.
#5 Brick And Wooden Plant Stand
This is a versatile and budget-friendly way to elevate your potted plants and add a touch of rustic charm to your garden or indoor space. You can use readily available materials like bricks and reclaimed wood to create a stylish and functional plant stand. By stacking bricks and placing wooden planks across them, you can customize the height and layout of the stand to suit your space and plant needs.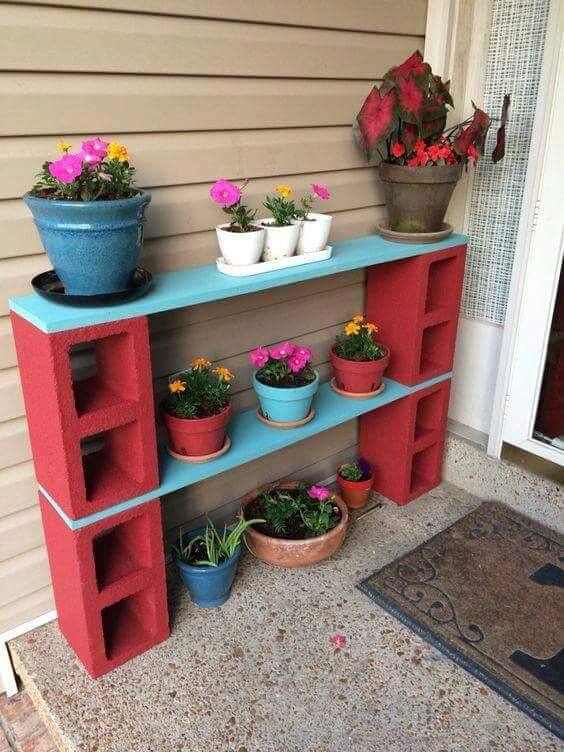 Source: kitchenfunwithmy3sons
This cost-effective solution not only offers a stable and attractive platform for your plants but also allows you to unleash your creativity by personalizing the design to match your decor. It's a great option for gardeners on a budget who want to showcase their greenery uniquely and affordably.
#6 Use Logs As Outdoor Plant Stand
Using logs as an outdoor plant stand is a natural and rustic way to display your potted plants indoors or outdoors. Repurposing logs, either in their natural state or cut into sections, to create sturdy and visually appealing plant stands. Logs offer a charming and organic look that complements the beauty of your plants while providing a stable and unique platform for them.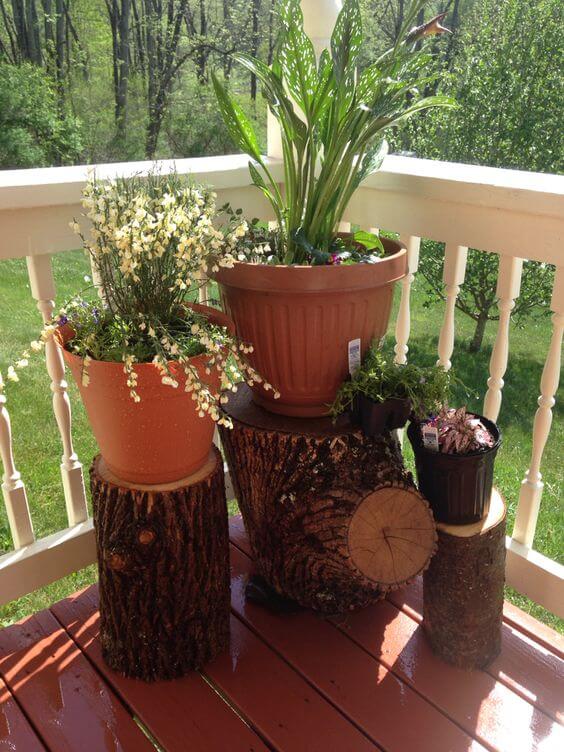 Source: Nereida Ramos

By arranging logs of different sizes and shapes, you can create an eye-catching display that seamlessly blends with the natural environment. This cost-effective and environmentally friendly solution allows you to bring a touch of the outdoors to your garden or living space indoors.
#7 Milk Junk Plant Stand
This DIY project is made from old milk jugs or similar containers into charming plant stands. By placing these containers on stakes, wooden planks, or other supports, you can create an eye-catching display for your potted plants.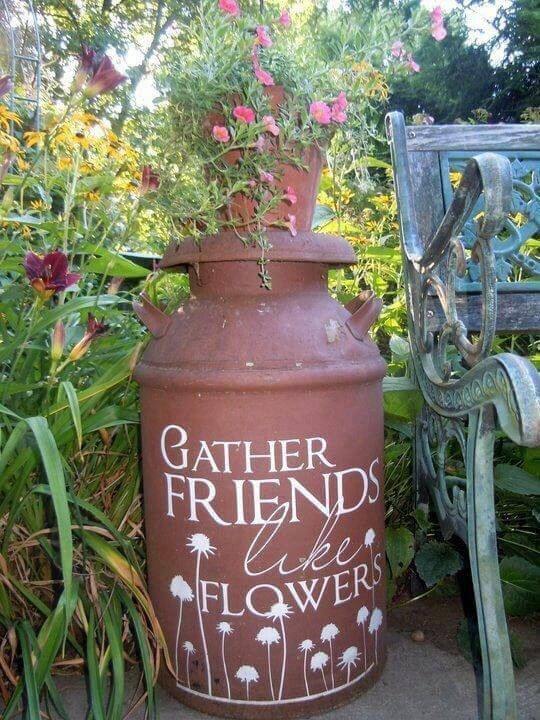 Source: Kay Frost

The weathered and vintage appearance of the milk jugs adds a unique, rustic touch to your garden while offering a practical solution for elevating your plants. In addition, you can enhance the rustic outdoor milk jug plant stand by adding painted words or decorative designs to the old milk jugs. By hand-painting inspirational messages, plant names, or artistic patterns on the containers, you can personalize the plant stand and make it even more unique and appealing.
#8 PVC Pipe Plant Stand
This sturdy and versatile DIY project is created easily and simply by using readily available PVC pipes. Cutting and assembling the pipes into the desired configuration, you can customize the stand's size and design to suit your specific needs. PVC pipe plant stands are lightweight, durable, and weather-resistant, making them ideal for both indoor and outdoor use.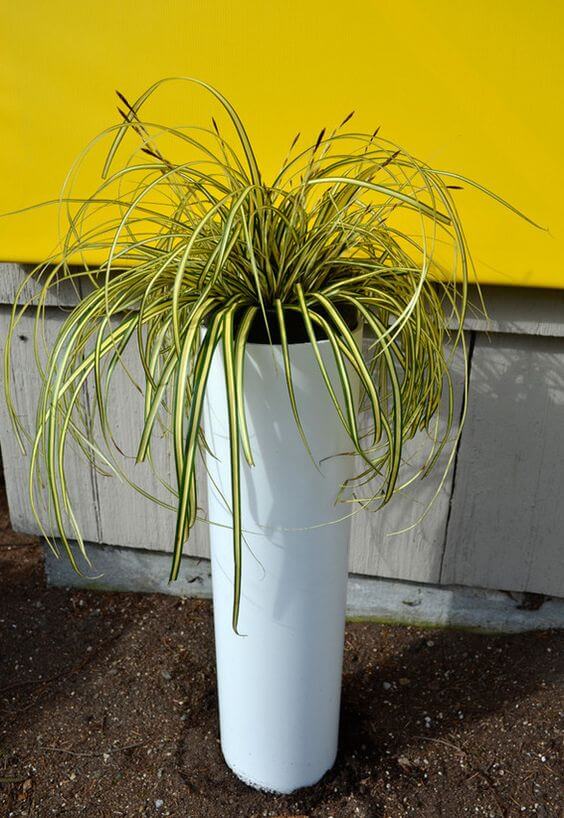 Source: Curbly
This project offers a straightforward and affordable way to display your plants in a neat and organized manner while allowing for endless design possibilities to match your style and space.
#9 Shaped Giraffe Plant Stand
The giraffe-shaped plant stand is a whimsical and creative garden accessory that adds a touch of charm and personality to your plant displays. This unique and eye-catching plant stand is crafted from bamboo for the body, clay pots for the head, and a dish for holding your plant pots.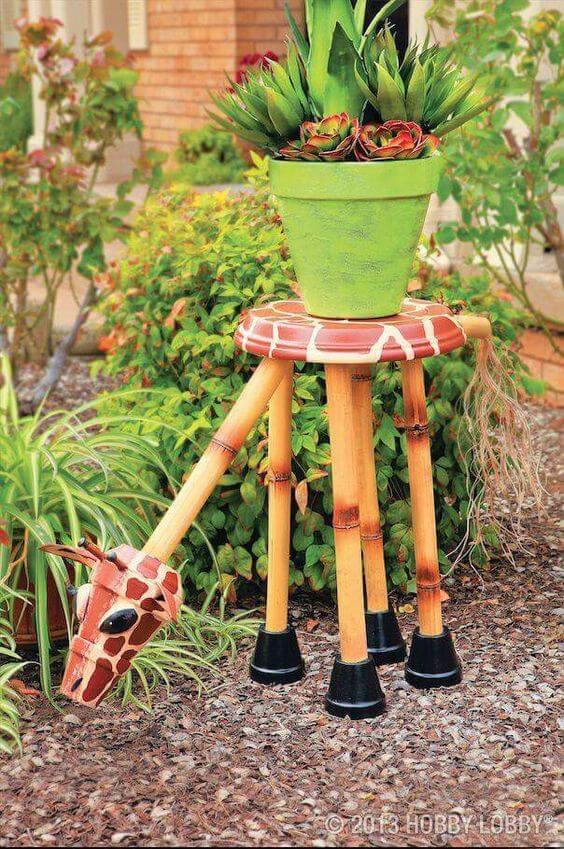 Source: Janie Hardy Grissom

The bamboo construction provides natural strength and durability, while the clay pots and dish allow for easy planting and arrangement of your favorite greenery. With its playful giraffe design, this stand elevates your plants and also serves as a delightful and artistic focal point in your garden or living space.
#10 Pretty Clay Pot Plant Stand
This charming plant stand features an arrangement of clay pots, with one pot prominently bearing the word "grow" engraved on its surface. The engraved message serves as a reminder of the nurturing and growth that gardening represents.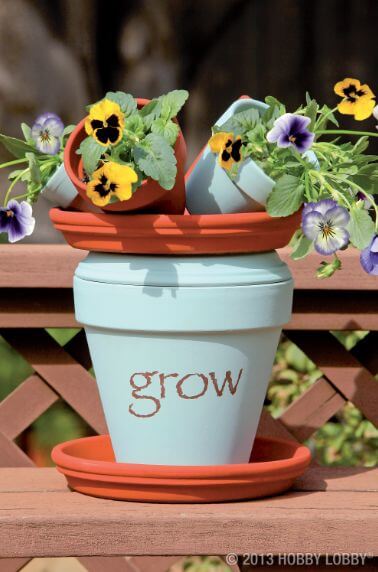 Source: Hobbylobby
The clay pots, which can house various plants, herbs, or flowers, add a rustic and natural element to the decor. This plant stand not only showcases your greenery but also encourages a sense of growth and vitality in your space, making it a lovely and motivating feature for both experienced and novice gardeners.
#11 Lamp Plant Stand
By removing the lampshade and electrical components, the lamp's structure can be transformed into an attractive vertical stand for your greenery. The rusty or weathered patina of the lamp base adds a vintage and industrial charm to your plant display, making it a unique and eye-catching addition to your garden or interior decor.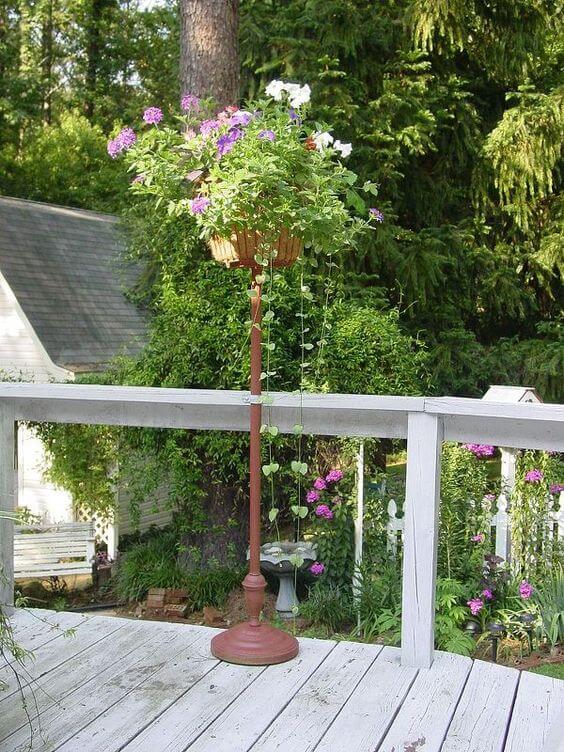 Source: Hometalk
This project breathes new life into an old item into a functional and stylish display for your potted plants. It also offers a cost-effective and environmentally friendly way to showcase your favorite plants while embracing the concept of sustainable design.
#12 Old Pallet Plant Stand
To have a functional and visually appealing display for your potted plants, this old pallet plant stand is a versatile and eco-friendly DIY project that you can make easily at home. By upcycling these pallets, you can create a rustic and cost-effective solution for showcasing your greenery in both indoor and outdoor spaces.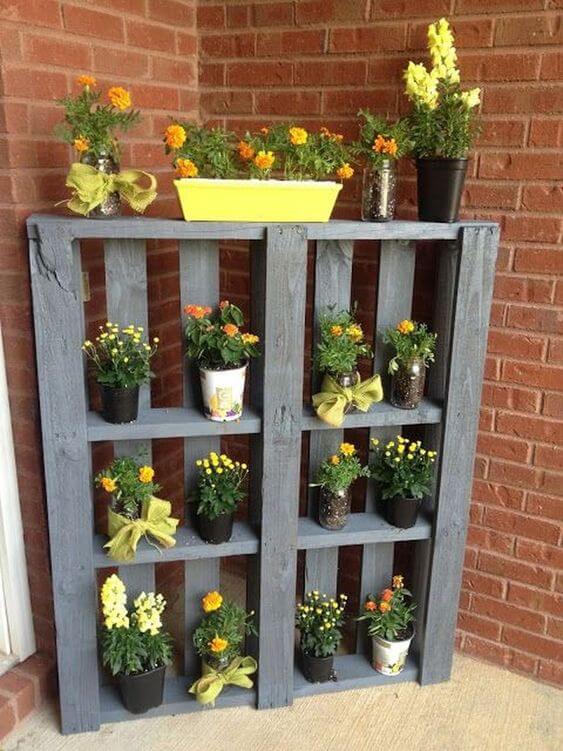 Source: Jessica Scott
The weathered and distressed appearance of the pallet wood adds a charming, vintage touch to your garden or home decor, making it an excellent choice for those who appreciate a rustic and sustainable design. It's a fantastic way to transform something old into something new and practical while adding a unique and character-filled plant stand to your decor style.
#13 Unique Plant Stand
Don't throw your little tricycle if it is too old. Try making with the idea, this is a delightful and imaginative way to repurpose a vintage tricycle into a functional and whimsical addition to your garden or home decor.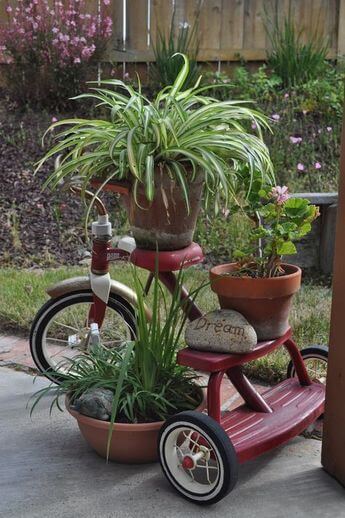 Source: Beneathmyheart
Transforming an old and unused tricycle by attaching plant pots or containers to the frame. The tricycle's charming and nostalgic design adds a playful and vintage touch to your plant display, making it a unique and eye-catching piece. This upcycling idea not only gives new life to a forgotten item but also allows you to showcase your favorite plants in a fun and artistic manner.
#14 Small Blue Bench Plant Stand
Let's save your broken bench and transform it into a small plant stand painted in a serene blue shade. This creative upcycling project not only breathes new life into a discarded or damaged bench but also gives it a fresh and charming purpose.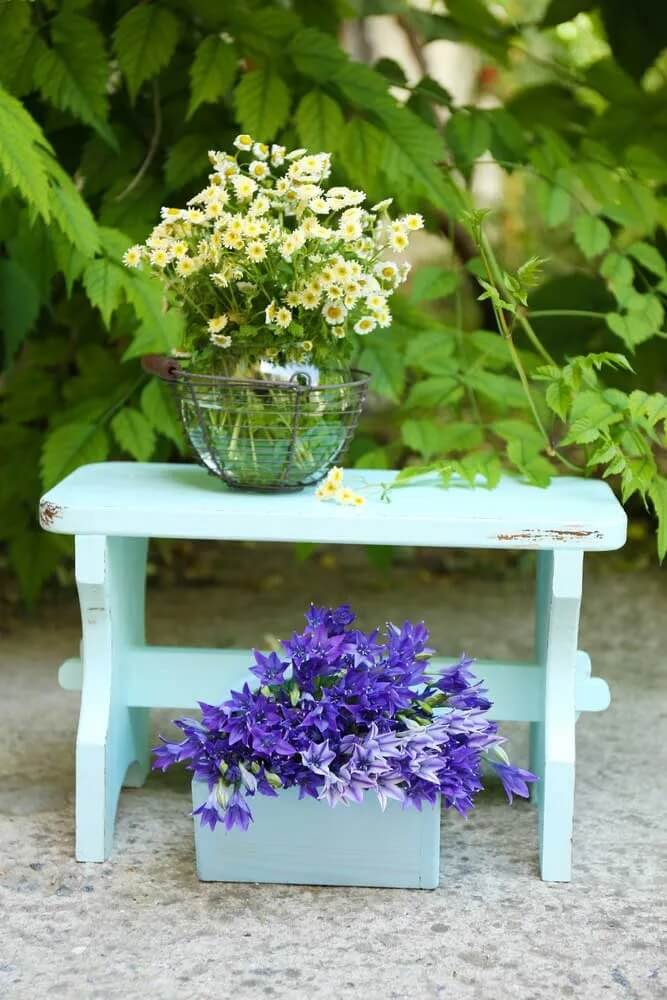 Source: Gardenloversclub
It promises to display the beauty of your potted plants while adding a touch of rustic elegance to your garden or interior decor. The blue paint enhances the visual appeal and adds a soothing, coastal vibe to the piece, making it a delightful and sustainable way to combine functionality and aesthetics in your living space.
#15 Upcycled Book Planter Stand
Save your favorite old books without having to use more space on your shelf, try the idea! It will help you own a unique and literary-inspired planter stand. This creative DIY project breathes new life into well-loved books that you can no longer read but can cherish in a new way.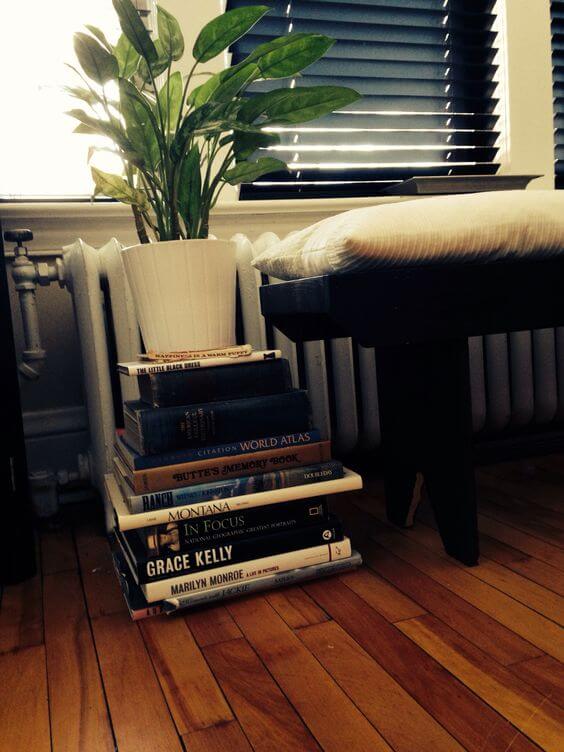 Source: Pinterest
By stacking the books into a sturdy structure and hollowing out the pages to create spaces for plant pots, you can create a charming and one-of-a-kind planter stand. The old books add a vintage and intellectual touch to your plant display, making it a conversation piece and a meaningful addition to your garden or indoor decor.
#16 DIY Trash Can Plant Stand
The DIY trash can plant stand is a clever and budget-friendly way to repurpose an ordinary trash can into a functional and space-saving platform for your potted plants. Simply, flip an old or unused trash can upside down, place a plant pot on top of it, and customize the exterior with paint or other decorative elements.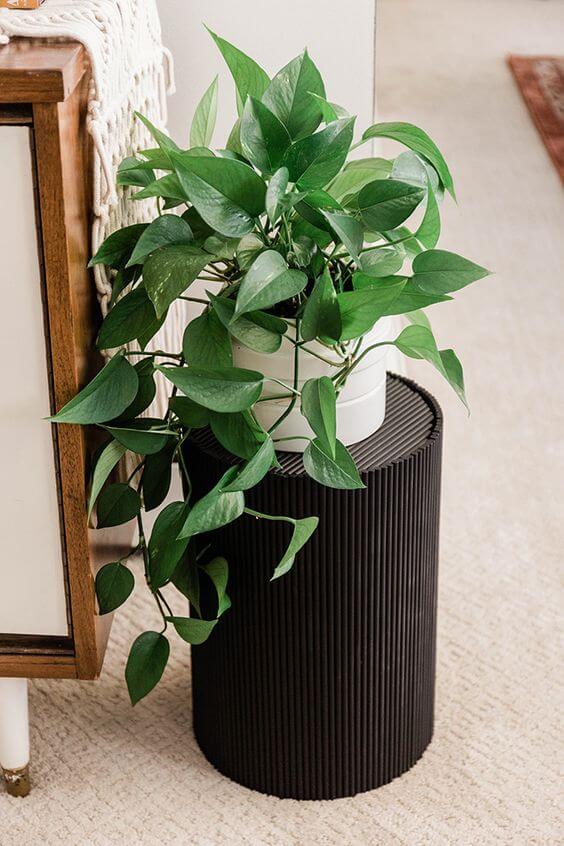 Source: Dreamgreendiy
The result is an innovative and visually appealing plant stand that not only showcases your greenery but also helps you make the most of limited space in your garden or living area. This eco-friendly and resourceful idea proves that with a little creativity, you can turn everyday items into charming and practical garden solutions.
#17 Hanging Plant Stand With Chalkboard
A hanging plant stand made out of wood with a chalkboard to create a "welcome" sign is a versatile and decorative addition to your entryway. This creative DIY project combines the functionality of a plant hanger with the charm of a welcoming message.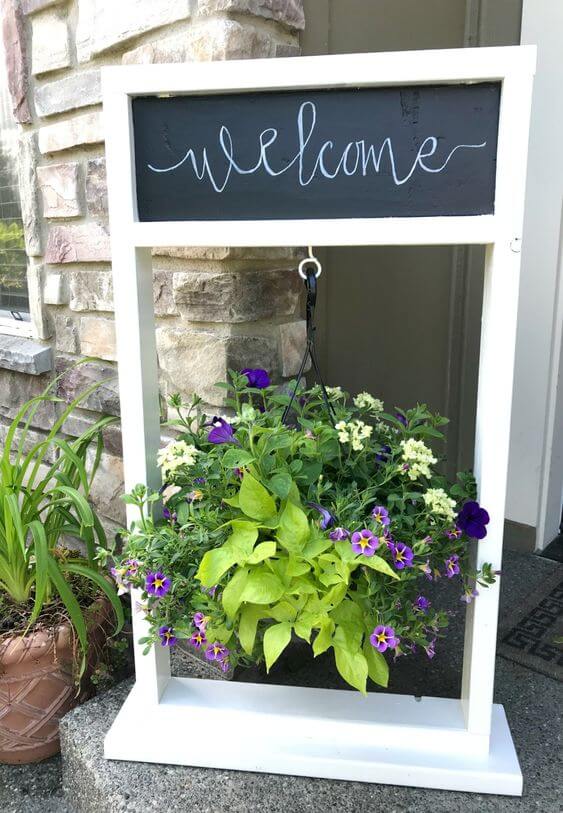 Source: Rachelteodoro
It showcases your love for gardening while extending a heartfelt welcome to visitors or guests uniquely and stylishly. Created from wood, the hanging stand features hooks or hangers for your potted plants and a chalkboard where you can write a warm greeting or any message you desire.