If you need an inexpensive, beautiful, and natural decoration for your living space, the solution might be right in your backyard and garden, and that is branches! Thanks to the natural colors and organic shapes, these great elements of the branches will add gorgeous texture and movement to any room. Check out the collection of the 23 Zero Dollar Branch Home Decor Ideas.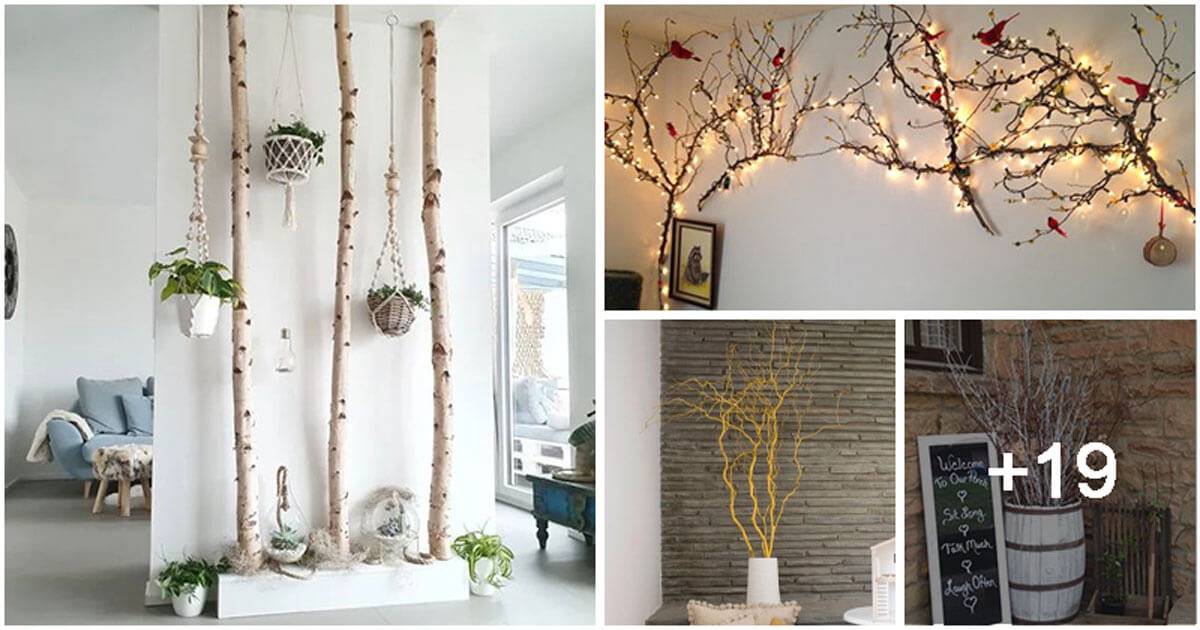 When it comes to bringing nature into your home, branches are the perfect option without using live plants. They're super versatile, going just as well with modern and glam spaces with decor that is timeless, chic, and soothing. Whether you're upgrading your entire home with more natural decor or just a room or two, you will find some design inspiration here. Natural home decor ideas have always been stylish!
#1 Front Proch Decoration
Source: Pinterest
#2 Simple Christmas Project
Source: Kathleen
#3 A Big Lighting Star
Source: Brit
#4 Corner Room Decoration
Source: Pinterest
#5 A Stunning Wall Art with Lights
Source: Mzellaneous
#6 A Rustic Wall Art Idea
Source: Becky McMinn
#7 Simple DIY Christmas Tree
Source: Pinterest
#8 So Beautiful Ceiling!
Source: Pinterest
#9 White Painted Branch Christmas Decoration
Source: Selene Rincón
#10 Light Up The Night
Source: Susan D
#11 Yellow Painted Branch Living Room Decoration
Source: Diynetwork
#12 A Colorful Branch Heart
Source: Mommodesign
#13 DIY Wall Decoration With Candles
Source: Pinterest
#14 White Birch Wall Art
Source: Pinterest
#15 DIY Divider Room Idea
Source: Epdesignlab
#16 Another Divider Room Idea
Source: Pinterest
#17 Fresh Door Alternative
Source: Apartmenttherapy
#18 Hanging Lighting Chandelier
Source: Wishdesignsusa
#19 Simple Living Room Decoration with Dry Branches
Source: Homedeco50
#20 DIY Winter Twig Wreath
Source: Northcountrynest
#21 DIY Scandi-Inspired Blossom Branch
Source: Aprettyfix
#22 A Fresh Branch For Wall Decoration
Source: Lifeonvirginiastreet
#23 Old Tin Can With String Light And  Dry Branch Decoration
Source: Pinterest