Pallets are cheap and versatile! They are used to create many useful projects serving both indoors and outdoors. In the collection, you will have a chance to explore a lot of creative ideas to turn this free raw material into outstanding garden decorations. Also, using pallets is one of the most on-trend to prevent waste as well as protect our environment.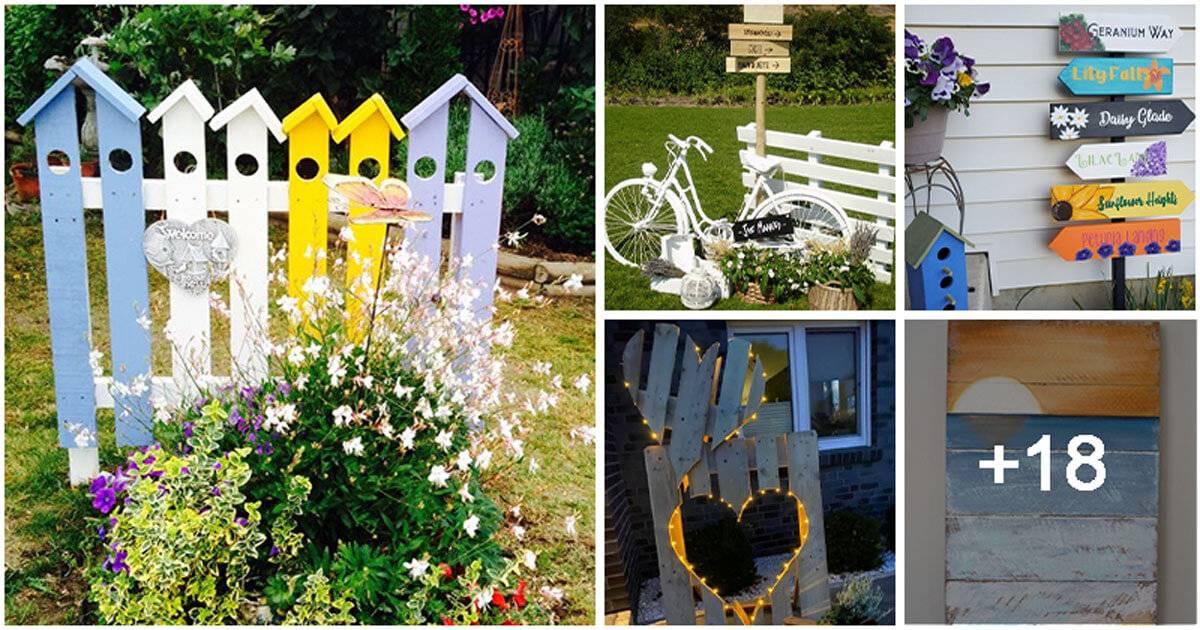 There are various ways that you can add an upcycled wood pallet to your gardening scheme to cool decoration. Make these great ideas, you will have a beautiful garden, and a great way to bond with your kids, whether by making small crafts like a bright hand-painted big flower or by tackling larger projects like sprucing up a small landscape to create an outdoor entertainment area. Are you ready to check a pallet product that no one else has?
#1 American Flag Pallet Art
Source: Hometalk
#2 Hand Painted Birdhouse Front Porch Decor
Source: Etsy
#3 Big Flowers
Source: Wendy Speaks
#4 Colorful Birdhouse Trellis
Source: Hometalk
#5 Colored Pencil Creative Fence
Source: Donna Weber
#6 Pallet Wood Wall Art
Source: Etsy
#7 Paint Beach Art
Source: Hometalk
#8 Big Heart On Pallet With String Light
Source: Oksana
#9 Rustic And Natural Outdoor Art
Source: Hubpages
#10 Warm Up Your Heart
Source: Dengarden
#11 Rustic DIY Pallet Wall Art with " Hello" Sign
Source: Diypallet
#12 Hanging Pallet Indoor Art
Source: Homesthetics
#13 Year-round Ice Cream Wall Art
Source: Pinterest
#14 Fence Board Art
Source: Pinterest
#15 Garden Fence With Pots
Source: Pinterest
#16 A Couple!
Source: Hydrangeatreehouse
#17 A Stunning Landscaping With A White Old Bicycle and Pallet
Source: Bitxilore Floristas
#18 A Cool Flower Planter
Source: Pinterest
#19 Painted Pallet Flower Planter
Source: Crazylaura
#20 Personalized Garden Sign
Source: Pinterest
#21 DIY Pallet Christmas Tree Idea
Source: Pinterest
#22 Front Porch Sign
Source: John inks
#23 A Simple Painted Pallet Idea with Bright Colors To Add Beauty To Flowers
Source: Sail Sabater