Looking for ideas to transform your boring garden into attractive than ever, you are reading the right post. On the list today, we are so glad to introduce 24 Amazing DIY Garden Focal Point Ideas From Old Items to add a lot of appeal and character to your garden. These ideas not only give your garden a unique look but also make the most of old items around instead of throwing them out.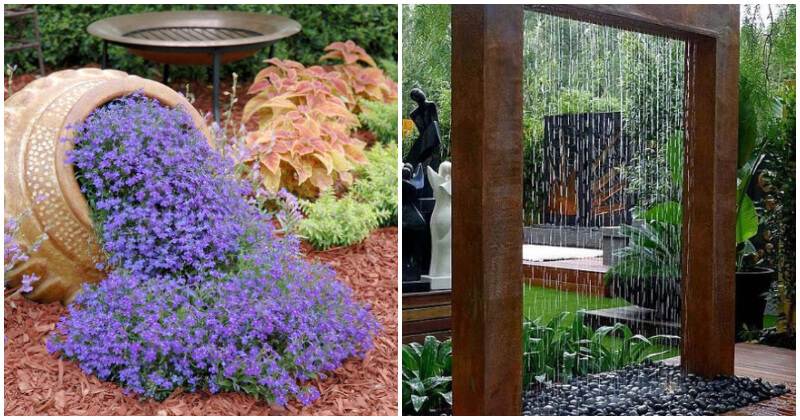 Scrolling through, you will see that there are a lot of things that you can reuse them such as old tires, teacups, wheels, glass wine bottles, and more. Some of them are easy to make with your creativity and your free time, others require more. No matter which idea you choose, they will give your garden a new life that you will love seeing every day. Check them out if you are interested in them!
#1. Flower Tower
Image source: The Pink Hammer Blog
#2. Big Red Mushroom
Image source: onelittleproject
#3. Hanging Old Tire Flower
Image source: Prettypurpledoor
#4. A Water Feature
Image source: Hometalk
#5. A Cup Bird Feeder
Image source: Blog Fatima Bird
#6. A Tea Pot!
Image source: Hometalk
#7. Old Wooden Chair Grows Beautiful Rose Flower
Image source: Flickr
#8. Ladle Succulent Planters
Image source: Servus
#9. Wagon Wheel as Trellis
Image source: Flickr
#10. Wind Chime Mades Out Of Kettle And Teaspoon
Image source: Pinterest
#11. Glass Wine Bottle Tree
Image source: Freshideen
#12. Mason Jar Chandeliers
Image source: Rusticweddingchic
#13. Old Window Fence
Image source: Simonton
#14. Small Bottle Cap Curtain
Image source: Tumblr
#15. A Flower Frame
Image source: Organizedclutter
#16. Hanging Flower Basket In Old Wheel
Image source: Astucesdefilles
#17. Spilled Flower Pot
Image source: Goodlifeofdesign
#18. Colorful  Clay Pot Rain Chain
Image source: Sheknows
#19. Unique String Light For Cluster of Flower
Image source: Easybalconygardening
#20. Log Planter
Image source: Balconygardenweb
#21. A Water Feature Raining
Image source: Architecturendesign
#22. Haning Seashells
Image source: Doyowesi
#23. Lovely Minion Flower Pots
Image source: Thewhoot
#24. Beautiful Artistic Stone
Image source: Twitter