Do you know that tires can be very useful both in your garden and around your homestead? Instead of throwing old tires away as you did, it's time to save them! Many useful items for everyday life such as tables, chairs, swings, home decorations, and more, all are waiting for you. So, if you are a creative lover, you should not miss our post today. This is a collection of 25 clever ways to reuse old tires that you will love trying!


There is a lot of research that indicates tires will slowly leach toxic chemicals into the surrounding environment, even long-term effects when exposed to the elements. And when recycling these old tires, means you are contributing to protecting the environment. With these ideas just a little color correction, a few accessories, and creativity, you can turn old tires into great, convenient, and unique products. These ideas are for you! Check them out with us right now.
#1 Old Tire Coffee Table
This coffee table version is a creative, eco-friendly furniture idea that repurposes discarded tires into functional and stylish interior decor.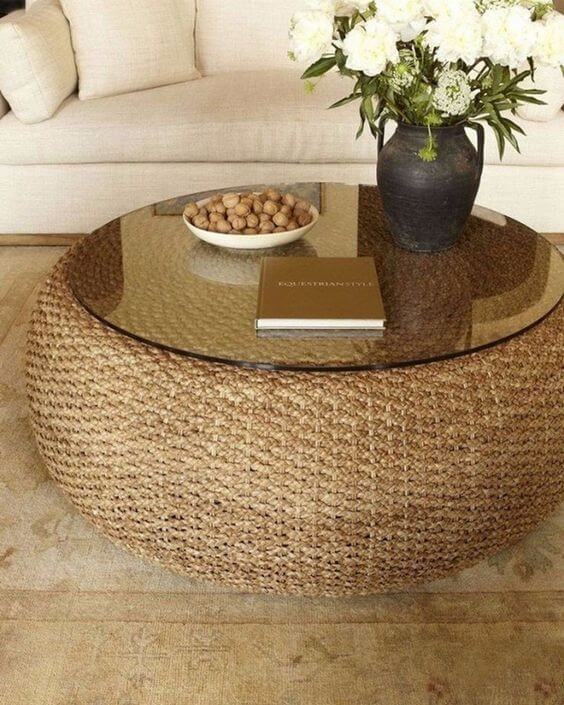 Source: Boredart
This unique DIY project uses discarded tires, cleaning and decorating them, then adding a glass or wooden tabletop to create a coffee table for indoor use. The result is a conversation-starting piece that adds a touch of industrial and rustic charm to your living space while simultaneously upcycling materials that might otherwise end up in a landfill.
#2 Upcycle Old Tyres Into A Cute Seat
Transform discarded tires into stylish and functional seating, try with the idea! This creative project starts with cleaning and decorating old tires, then adding a cushion or wooden top, to create a unique seating option for your garden or patio, even indoors.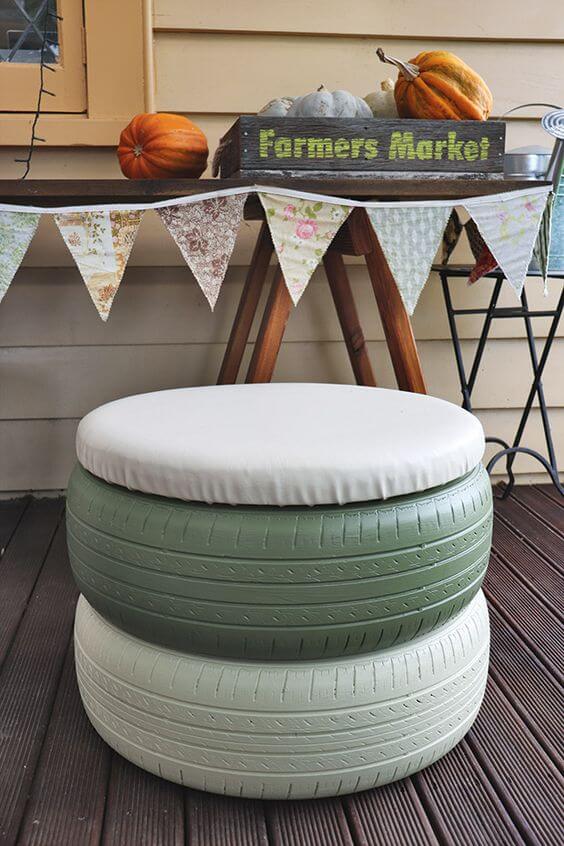 Source: Thisnzlife
Upcycling old tires helps to reduce waste while allowing you to add a touch of whimsy and sustainability to your outdoor space. The seat is not only eye-catching but also weather-resistant and durable, making it an excellent choice for eco-conscious those who appreciate protecting the environment.
#3 Wall Art Decor
In a world that increasingly values environmental mindfulness, there are many ideas for repurposing old tires. That is the reason why we effortlessly craft them into endearing indoor wall art planters. There's a serene elegance in how we repurpose weathered tires as loving homes for our beloved indoor greenery.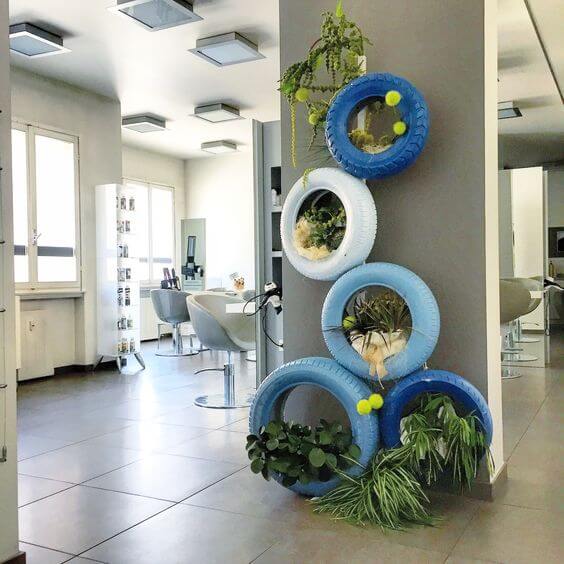 Source: Hair Spirit Acconciature

With a whisper of nature's grace, old tires transform into enchanting wall art planters, adding a tender touch to your indoor spaces. It's a journey that softly breathes new life into discarded tires, weaving them into soothing, plant-adorned wall decor.
#4 Room Divider Idea
An interior design concept that gracefully combines old tires as indoor planters inviting the serenity of the outdoors inside while providing an adaptable and uniquely crafted room divider solution.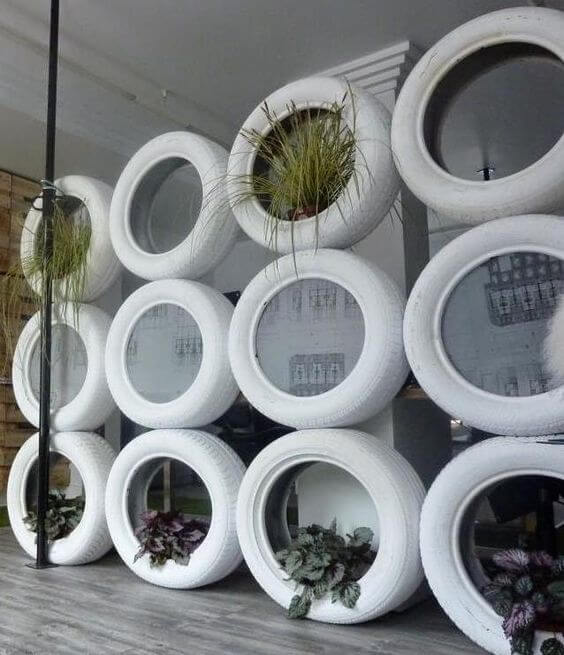 Source: Pinterest
By repurposing discarded tires into welcoming plant homes, it not only infuses your living space with the tranquility of nature but also functions as a nurturing room divider. With the inclusion of lush greenery and blossoming flowers, this idea presents a gentle, eco-friendly, and harmonious way to delineate living spaces, enveloping your home in a serene and visually soothing ambiance.
#5 Wall Lighting Idea
The wall decorating idea incorporates old tires as small flower gardens is a charming and sustainable approach to both interior and exterior illumination. It combines lighting and nature, infusing your surroundings with a soft, inviting glow and the serenity of a mini garden in an unexpected, upcycled form.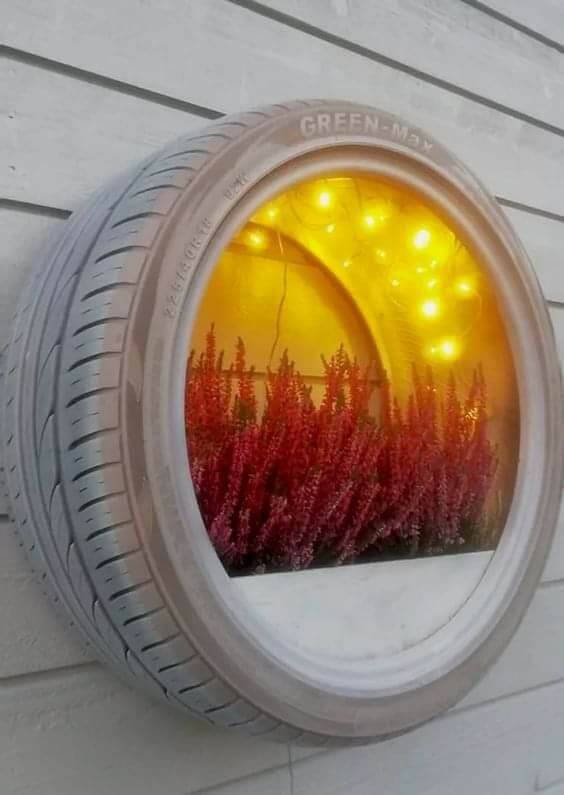 Source: Buzz Basnett

This clever idea repurposes old tires into delightful planters, which can be adorned with vibrant flowers and positioned on walls to create a soft and naturally illuminated ambiance. By softly blending the warmth of wall lighting with the beauty of blooming flowers, this idea adds a touch of eco-conscious elegance to your living space or outdoor area.
#6 Outdoor Seating Idea
The creative and eco-friendly idea ingeniously utilizes old tires and ropes and makes comfortable seating for your outdoor spaces. In addition, it brings comfort and sustainability, adding a touch of rustic charm to your outdoor area.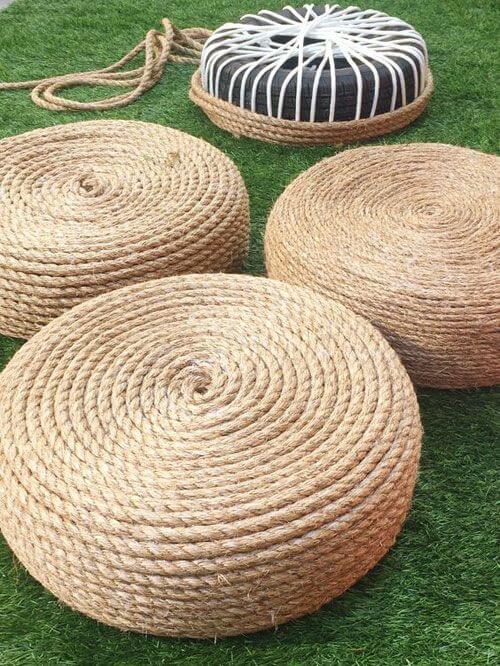 Source: Onelittleproject
Simply, you just use discarded tires as sturdy bases and combine them with soft, durable ropes to form a unique and cozy seating arrangement. With the natural curvature of the tires and the gentle, flexible support of the ropes, this seating idea offers a comfortable and inviting place to relax and unwind.
#7 Well-paved Road
The use of old tires in making a road is an eco-friendly solution that positively impacts the environment by reducing tire waste and also creating a durable road surface.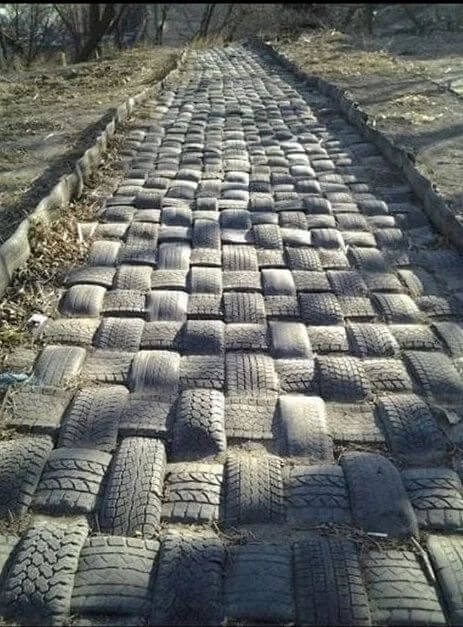 Source: Reddit
By cutting down tires into rubber chips or shreds and weaving them together, we can craft robust and long-lasting roadways that contribute to waste reduction and offer a smoother, quieter driving experience.
#8 Spring Decor Idea
To welcome the nice weather of the spring season, this decoration will help you get started. This creative idea transforms discarded tires into artistic and functional decor pieces that add a touch of whimsy and sustainability to your space, both indoors and outdoors.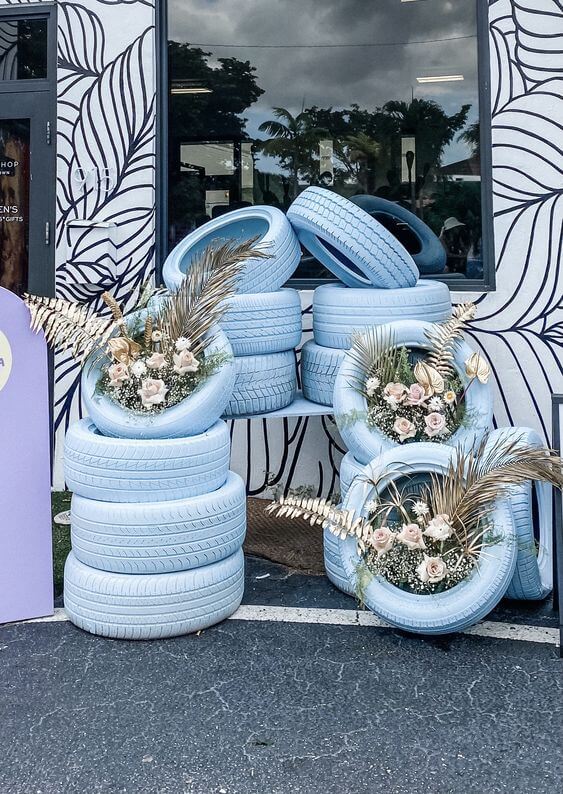 Source: Realm Rentals

Simply, painting, stacking, or creating old tires into various spring-themed objects, you can infuse your home with a soft and welcoming ambiance that celebrates the renewal of nature. With a gentle nod to recycling, let your love immerse a delightful springtime atmosphere in your living spaces.
#9 Old Tire Side Table For Bedroom
The distinctive and eco-sensitive side table is inspired by old tires and gracefully upcycles discarded tires into a beautiful and functional addition to your bedroom.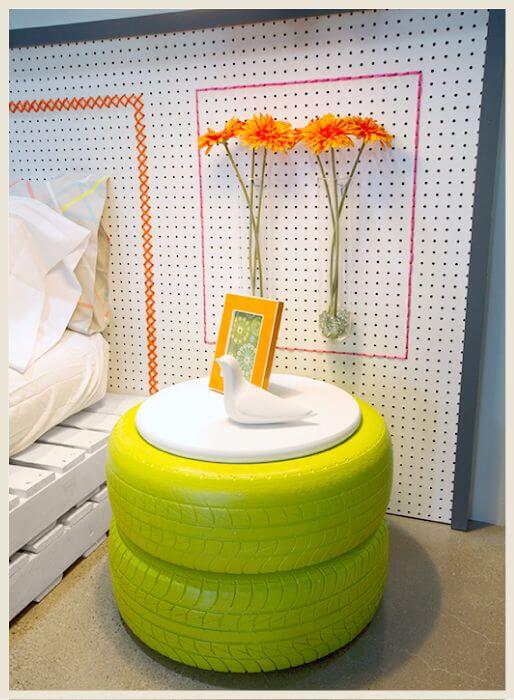 Source: Colorfullybehr
This artistic DIY project involves the gentle process of cleaning, painting, and adding a tabletop to an old tire, transforming it into a one-of-a-kind bedside table. The result is a piece that infuses your bedroom with a sense of character, sustainability, and a soothing connection to the environment, beautifully illustrating your dedication to repurposing materials and minimizing waste.
#10 Unique Hanging Shelf
The hanging shelf, lovingly handcrafted from repurposed old tires, is a gentle and eco-conscious home decor idea that invites the essence of nature into your living space. This artistic endeavor transforms discarded tires into visually captivating and purposeful hanging shelves.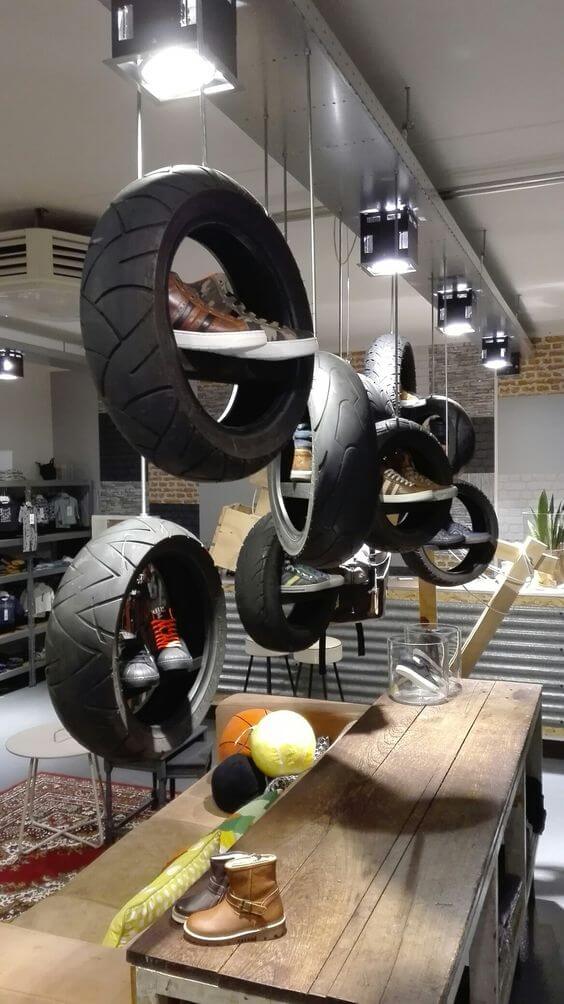 Source: Pinterest
These tire-based shelves infuse your living area with a distinctive to create a naturally soothing ambiance in your home, all while expressing your commitment to recycling and showcasing your artistic flair in interior design. This is a heartfelt and environment-friendly choice for those who cherish authenticity and a deep connection to the natural world in their home decor.
#11 Old Tire Sink
The bathroom sink idea is a rustic and eco-friendly design concept that ingeniously upcycles discarded tires into a useful and unique bathroom fixture.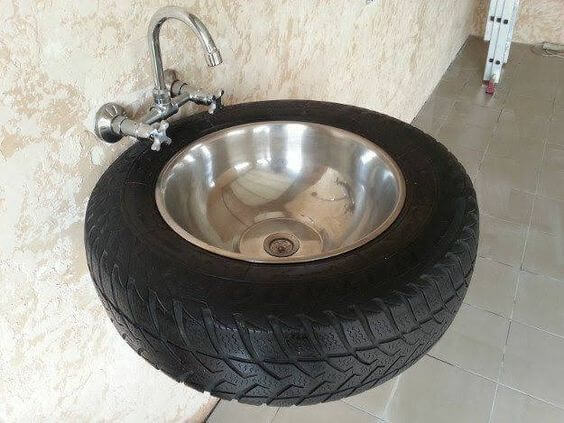 Source: Vicente de Paula da Silva
This creative and sustainable DIY project involves carefully shaping and transforming an old tire into a basin-like structure, which can then be fitted with a sink and plumbing. It promises to add a touch of character and environmental responsibility to your bathroom decor.
#12 Simple Yard Hanging Swing Idea
This simple yard swing repurposing old tires and rope is a delightful and eco-conscious way to create a fun and relaxing outdoor seating option. This creative project transforms discarded tires into comfortable swings that can be hung from sturdy tree branches or other supports.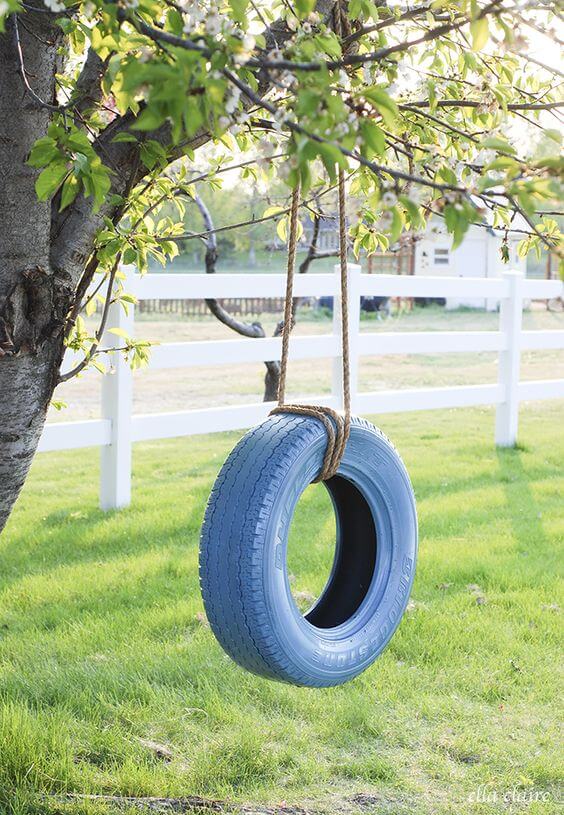 Source: Ellaclaireinspired
By softly swinging in a repurposed tire, you can enjoy the soothing and natural ambiance of your yard while reducing waste and showcasing your commitment to sustainability.
#13 A Recycled Tire Ottoman
This recycled ottoman inspiration can be made from old, discarded tires into stylish and functional home decor. This unique design needs cleaning, reshaping, and covering an old tire to create a unique and sustainable ottoman.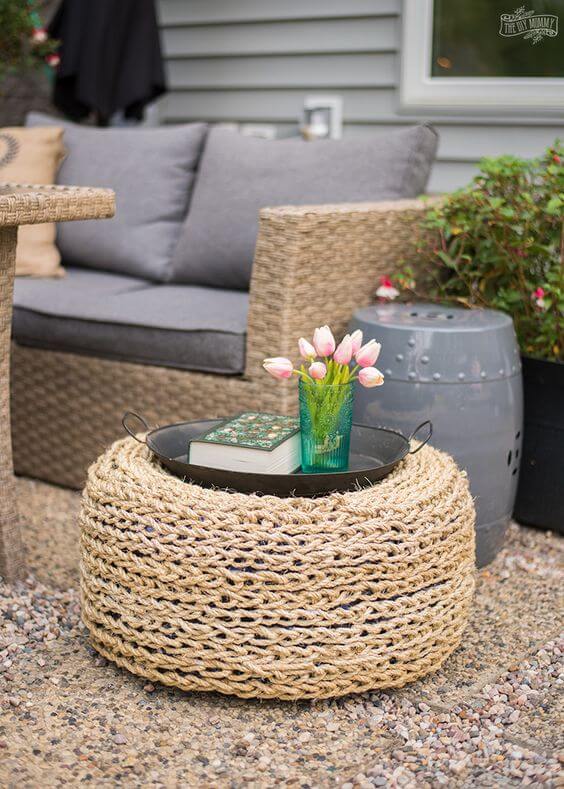 Source: Thediymommy
Adorning your living space by bringing this project will add a touch of character and environmental responsibility to your living space. The recycled tire ottoman is a natural and eco-friendly choice bringing a sense of authenticity and sustainability to their home decor.
#14 Indoor Succulent Planter
The mini garden is a charming and versatile addition to interior decor that allows you to effortlessly introduce the beauty of succulent plants into your living spaces. It offers a wonderful way to effortlessly infuse greenery and a sense of serenity into your indoor environment.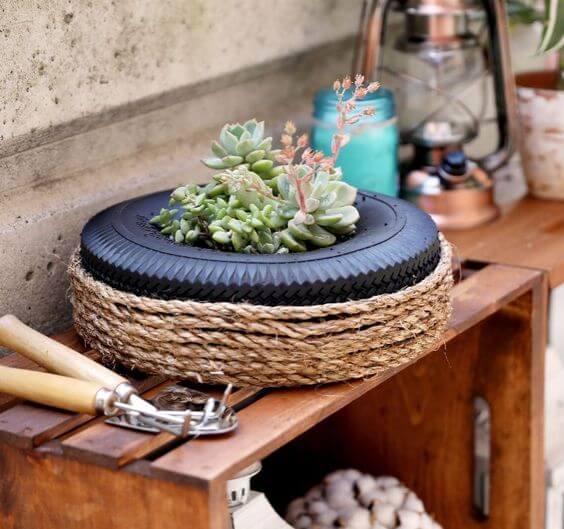 Source: Diyeverywhere
These planters are typically designed to accommodate a variety of succulent species, known for their low maintenance and unique aesthetic appeal. Whether as a centerpiece on a dining table, a decorative accent on a windowsill, or a green touch in a bathroom, indoor succulent planters provide a soft, natural, and visually soothing ambiance, transforming your home into a tranquil and inviting oasis.
#15 Colorful Flower Tower
Adding colorful flowers by turning ordinary containers into stunning vertical displays of blooming flowers is a vibrant and eye-catching gardening concept. By arranging a variety of colorful flowers in a tiered tower-like structure, you can create a stunning focal point in your garden or on your patio.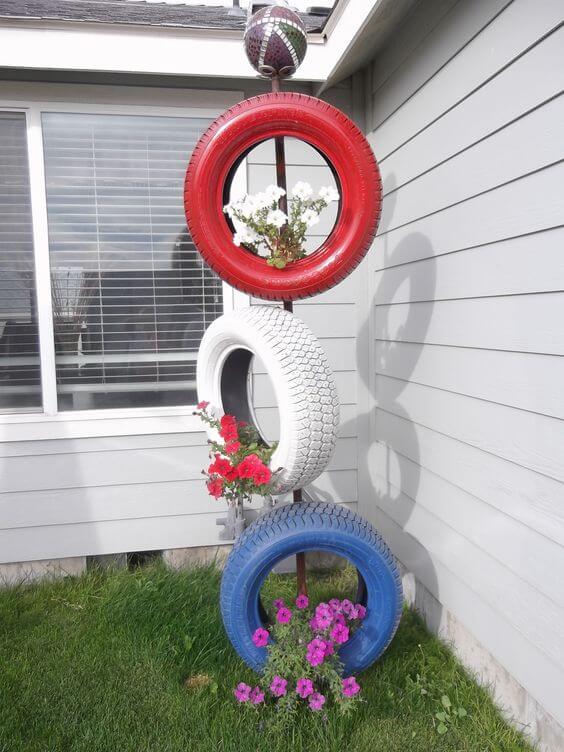 Source: Pinterest
The result is a soft and inviting atmosphere that adds a touch of natural beauty and vibrancy to your outdoor space. This flower display is a versatile and dynamic choice for gardeners who want to make a bold statement with their floral arrangements, adding a burst of color and charm to their landscape.
#16 Pretty Planter
Creating a pretty front yard planter is a charming and welcoming addition to the entrance of your home. This landscaping idea involves carefully selecting and arranging an assortment of plants and flowers in decorative planters or pots, creating an inviting and aesthetically pleasing display in your front yard.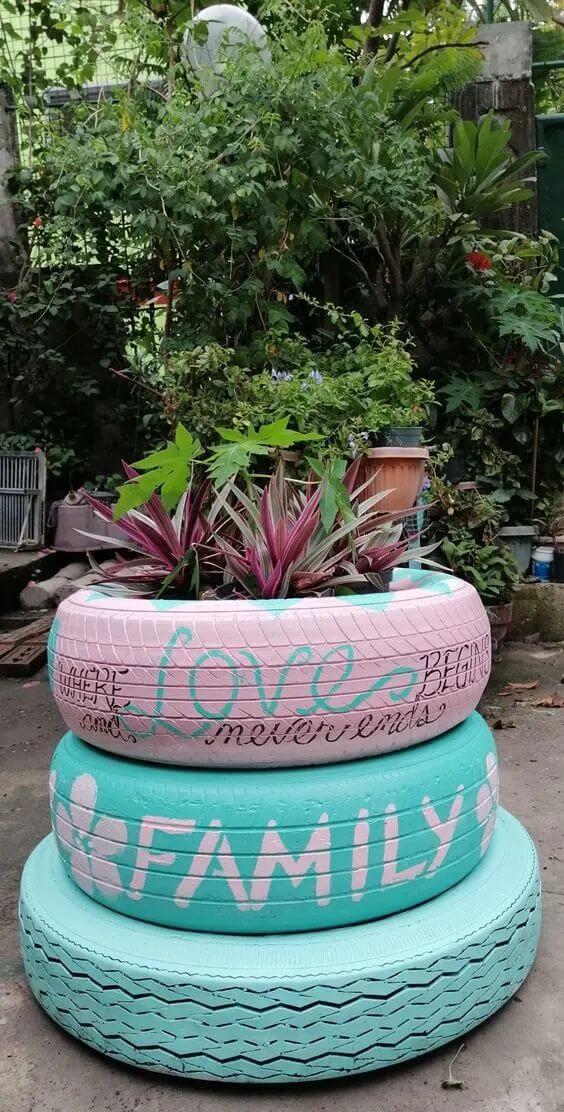 Source: Discover.hubpages
This planter not only enhances curb appeal but also allows you to express your style and creativity through the selection and arrangement of plants, making it a delightful and personal touch to your front yard. It promises to bring a natural, soft, and visually appealing ambiance that sets a warm and friendly tone for your home.
#17 Old Tire Garden Edging
There are many ways to create distinct borders around garden beds or pathways, repurposing unused tires is one of the best creative and eco-friendly landscaping techniques.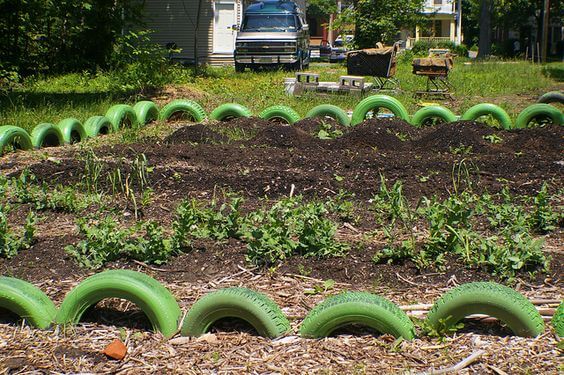 Source: Flickr
This idea offers a natural and sustainable solution to define and structure your garden, reducing waste and showcasing your commitment to recycling. By positioning old tires as garden edging, you bring a soft and earthy touch to your outdoor spaces, adding a unique, rustic charm to your garden's landscape.
#18 Garden Stair for Sloped Area
Looking for solutions for sloped areas in your garden, try making garden stairs crafted from old tires! This is a practical and environmentally friendly landscaping solution. This creative idea involves upcycling used tires to construct sturdy steps on steep or uneven terrain in your garden.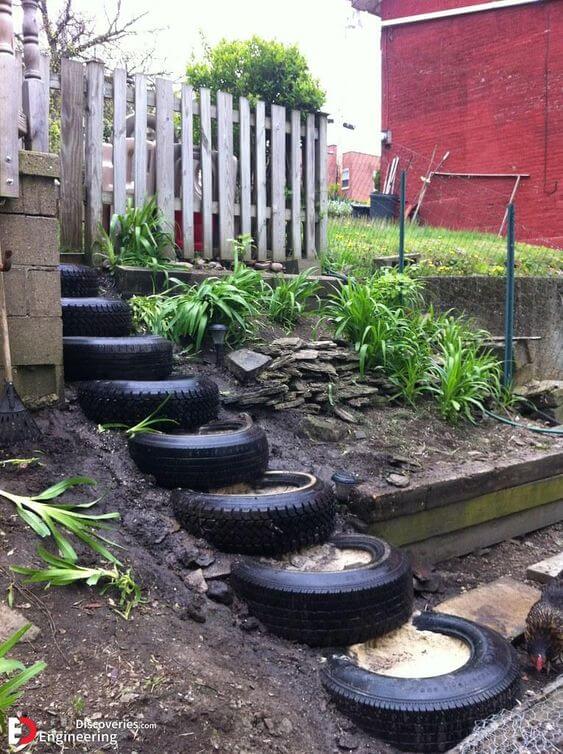 Source: Engineeringdiscoveries
You just use repurposing old tires, not only reduces waste and creates a soft, natural, but also enhances a visually appealing pathway that seamlessly blends with the landscape. It offers a unique and eco-conscious approach for navigating sloped areas in your garden, combining functionality with sustainability and adding a touch of rustic charm to your outdoor space.
#19 A Unique Garden Box DIY
Have you ever tried making a personalized and creative project that allows you to craft a distinctive and functional container for your garden? This idea offers a natural, soft, and artistic approach to gardening by involving the use of unique materials, designs, and shapes that reflect your personality and style.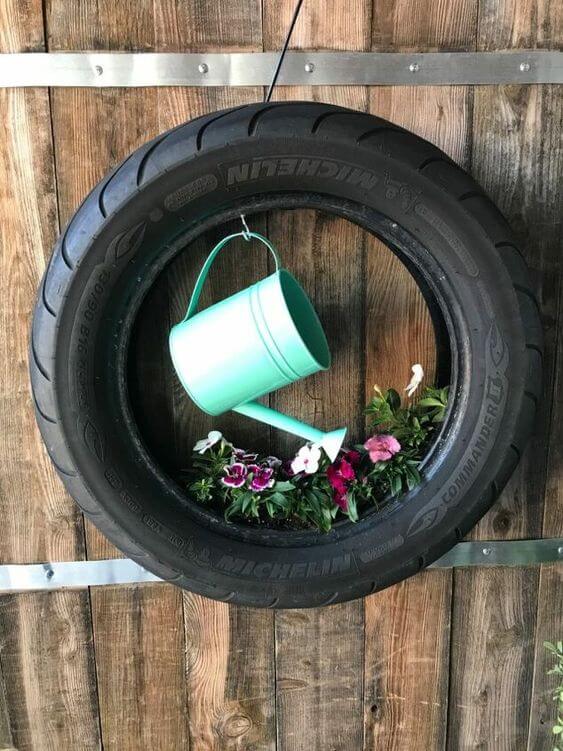 Source: Hometalk
Whether you opt for an unconventional shape, add artistic embellishments, or use recycled materials, this mini garden will add a touch of authenticity and creativity to your garden space while giving you the opportunity to showcase your gardening skills and individuality in an eco-friendly and harmonious manner.
#20 Garbage Can Idea
No need to buy garbage cans at stores, you also can make them at home by using old tires. It is a clever and eco-conscious project that repurposes discarded tires into sturdy and reliable garbage containers.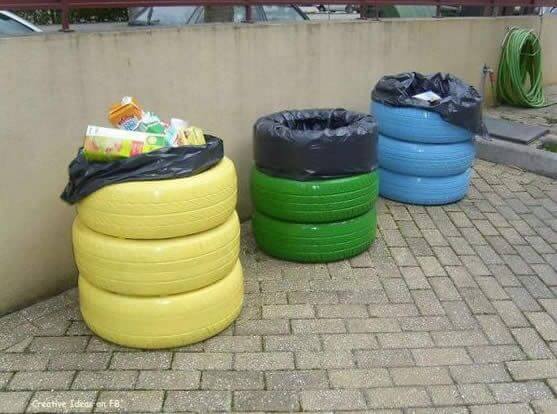 Source: Customizando
By creating garbage cans from old tires, you create a unique and eco-friendly solution for containing and disposing of household waste. The DIY Garbage Cans using old tires are not only functional but also add a touch of rustic charm to your outdoor or garage area in a tangible and useful way.
#21 Retaining Wall
This retaining wall is an innovative and eco-friendly landscaping solution that repurposes discarded tires to create a functional and sustainable wall. This unique idea provides a soft and environmentally-conscious way to control erosion and manage landscape contours while recycling old tires.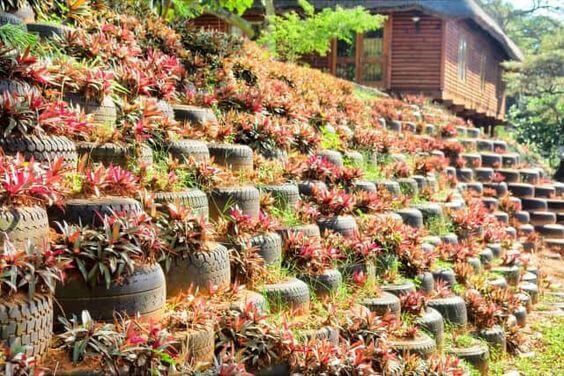 Source: Backyardboss
By stacking and arranging tires, you build a durable, naturally textured, and visually appealing retaining wall that seamlessly blends with the outdoor environment. The Retaining Wall using old tires combines functionality with sustainability, reducing waste and adding a touch of rustic charm to your landscape design.
#22 Raised Beds
Turning old tires into functional planting containers offers a natural, soft, and sustainable approach to cultivating vegetables, flowers, or herbs in your garden.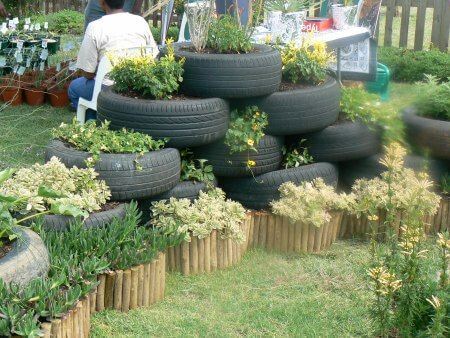 Source: Kitchengardening.wordpress
Simply, you just stack and fill old tires with soil, and you will create raised beds that provide excellent drainage and soil control. This eco-conscious gardening idea harmoniously combines aesthetics with responsible material reuse, making it an inventive and environmentally-aware choice for gardeners who appreciate both form and function.
#23 Old Tire Landscape
No longer old tires with dirty soil, now they can offer a serene, eco-conscious, and soft approach to revitalizing your outdoor space, all while contributing to recycling and waste reduction.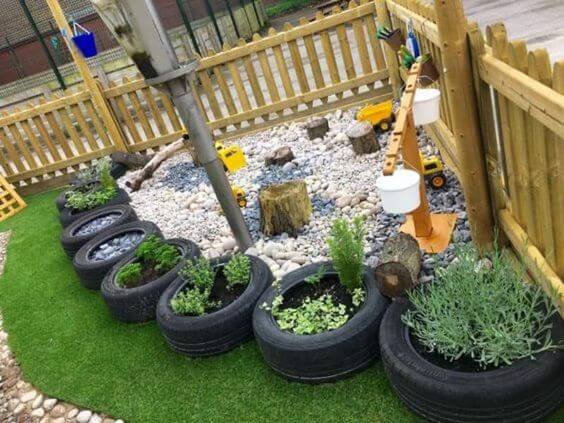 Source: Billyoh
The old tire landscape gently embraces the concept of repurposing used tires as organic and visually pleasing elements within your outdoor design. By thoughtfully converting old tires into planters, borders, or even art installations, you create a landscape that naturally and harmoniously integrates with the environment.
#24 Old Tire Stepping Stone
The old tire stepping stones, softly filled with empty plastic bottles, embrace a gentle and eco-conscious landscaping idea that artfully reimagines both old tires and discarded plastic bottles into functional and aesthetically pleasing garden pathways.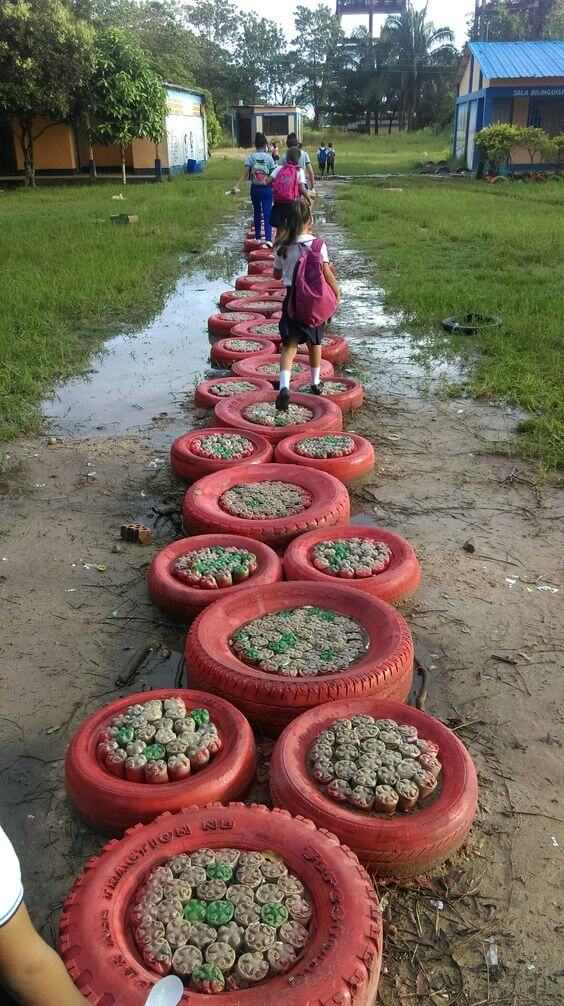 Source: Mimuu
This sustainable idea gently positions empty plastic bottles inside the tires, crafting resilient yet tender stepping stones that offer a unique and earth-friendly solution for gracefully traversing your outdoor space. It provides an imaginative and environment-sensitive method for landscaping and enhancing the natural appeal of your garden