Whatever the size of your outside area, there are many little garden ideas to make it a blessing. It has been repeatedly demonstrated how significantly having a garden improves our mental health. No matter how little yours is, it may offer a place for lounging on a sun lounger, gathering everyone to dine out in your own house, or just simply planting flowers. Having a large, flower-filled rural garden would be nice, but even a little green, balcony, or roof terrace also brings great comfort.
The only drawback to small spaces is that they can be more challenging to design, but don't let that discourage you. With the right small garden ideas and design tricks, you'll have what you need to turn it into a cozy retreat that you can enjoy throughout the warmer months, which, fingers crossed, are here to stay! No matter what kind of area you have—a balcony garden, a little patio patch, or a tiny front garden, just make it a place you can be proud of with the appropriate design and planting.
#1. Climbing Vines Surround The Benches And A Fire Pit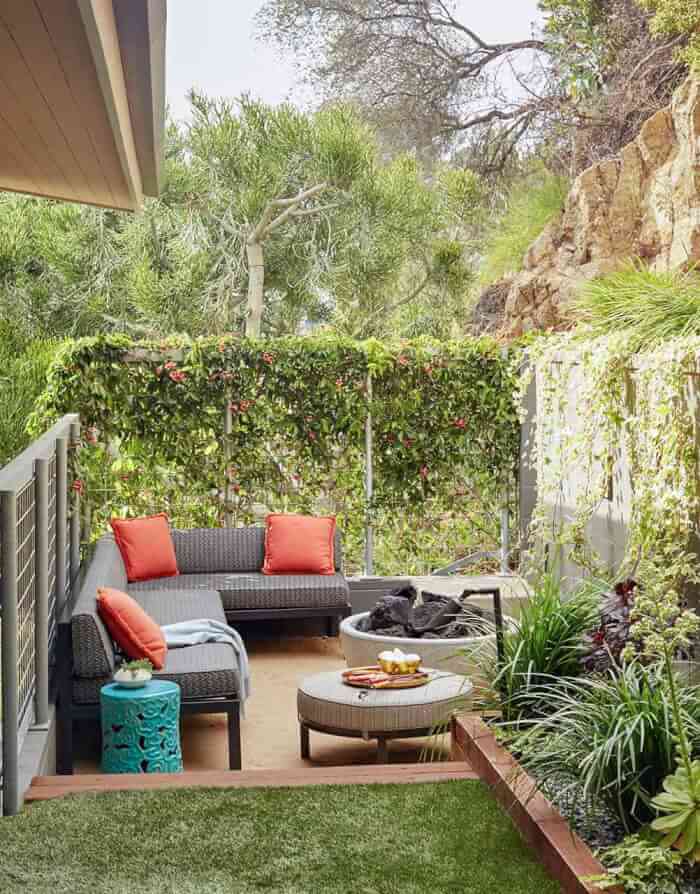 Source: Better Homes & Gardens
#2. Colorful Lanterns And Plant Pots
Source: Bob Vila
#3. Various Kinds Of Plants And A Simple Furniture Set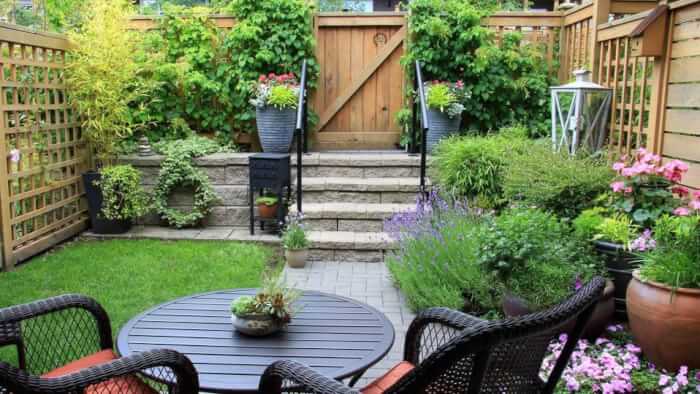 Source: Forbes
#4. Lovely Outdoor Chair Cushions With A Vintage Rug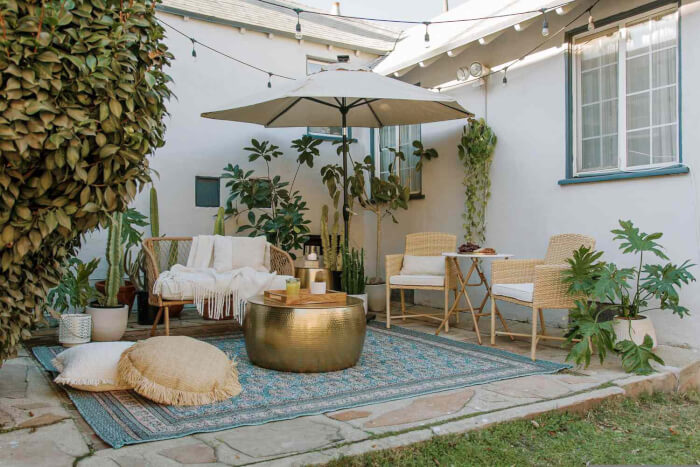 Source: Real Simple
#5. A Dining Space Outside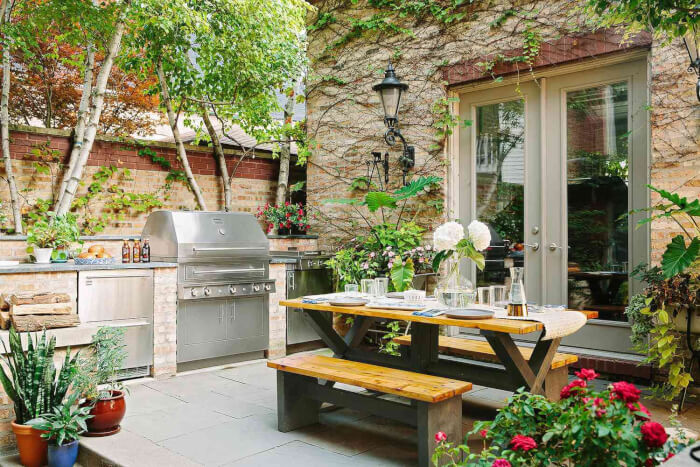 Source: Better Homes & Gardens
#6. A Simple Dinette Table Set With Patio Umbrella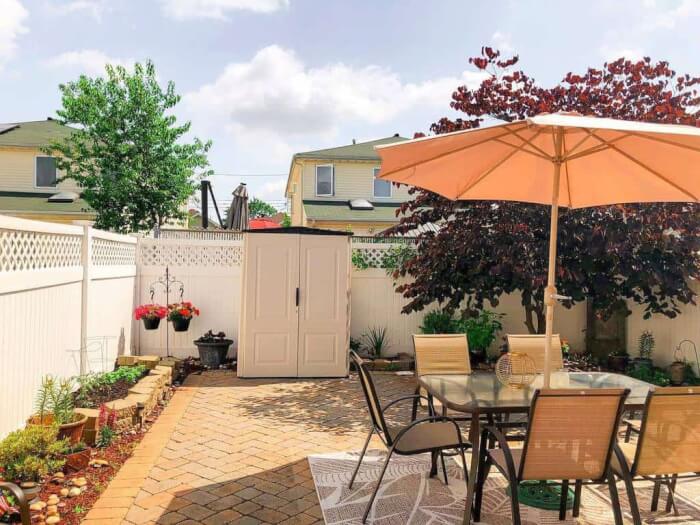 Source: Next Luxury
#7. Beautiful Cushioned Metal Benches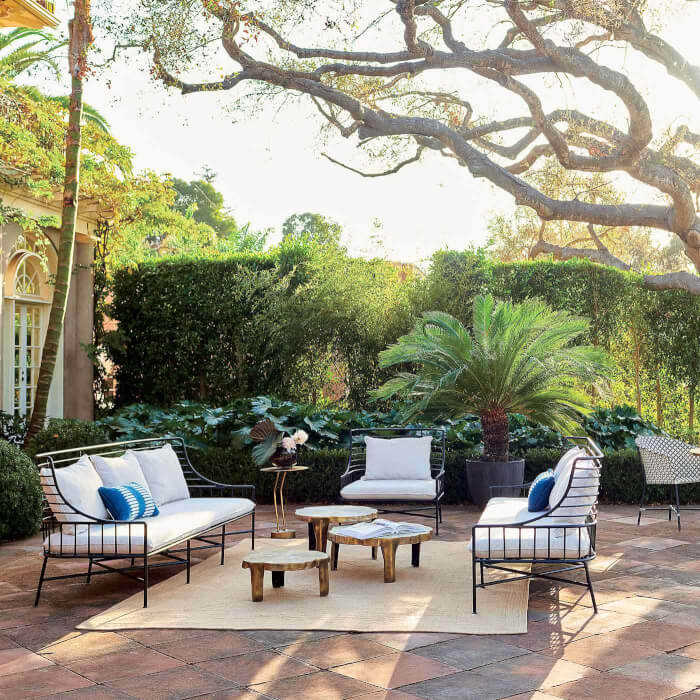 Source: Green Wedding Shoes
#8. Beautiful Architectural Stone Flooring With Two Lovely Garden Day Bed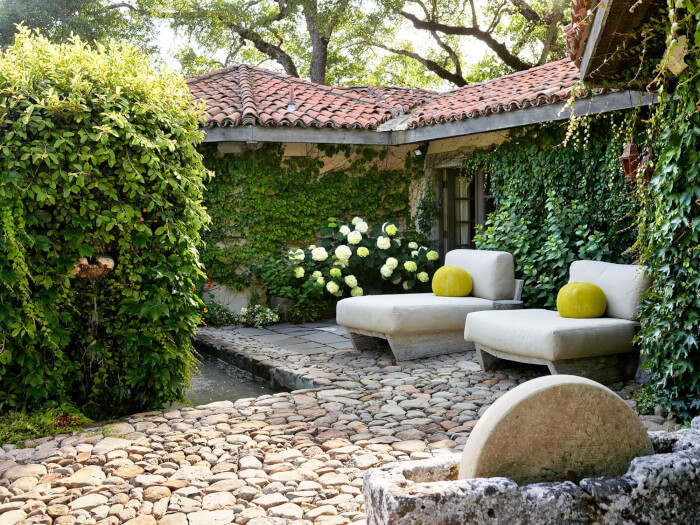 Source: House Beautiful
#9. Cushion Bushes Surrounding The Cute White Table Set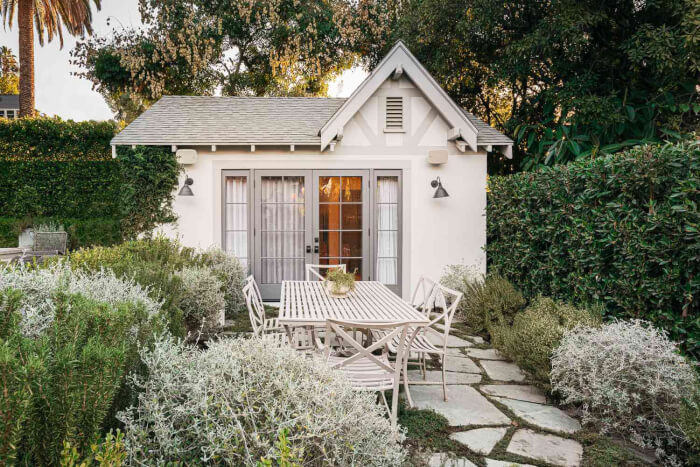 Source: The Spruce
#10. A Higher Ground For Coffee Time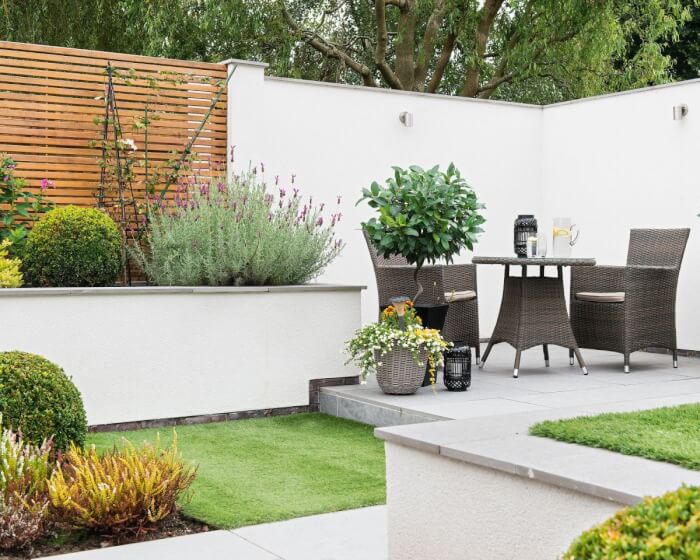 Source: Homes & Gardens
#11. White Pastel Short Bench Seats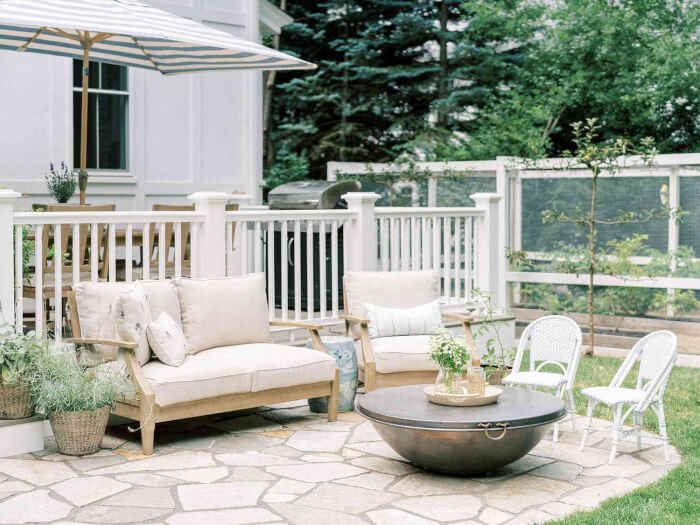 Source: MyDomaine
#12. Cushioned Rattan Sofa Viewing The Pond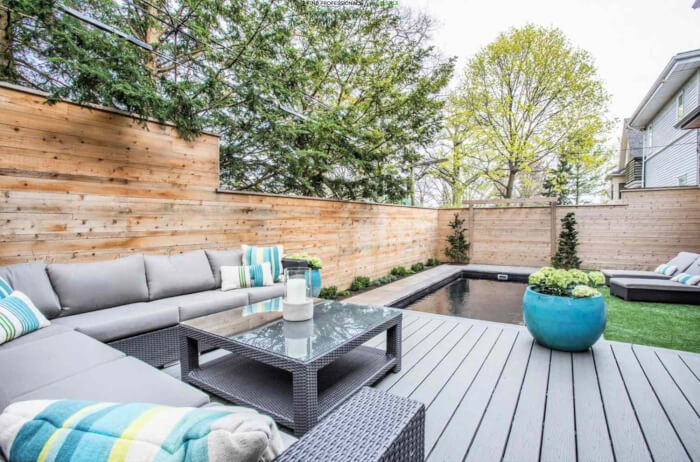 Source: The Spruce
#13. A Small Garden Alongside The House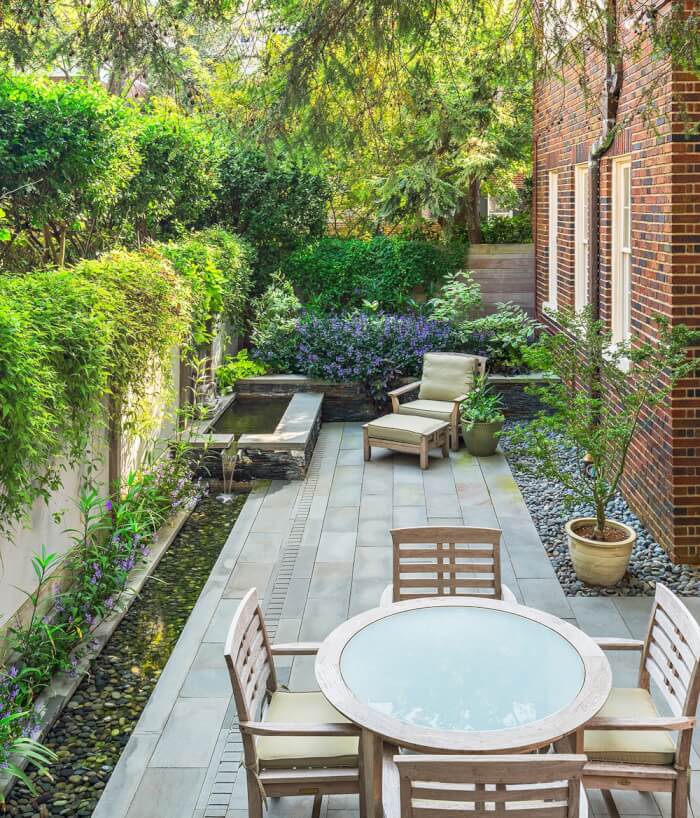 Source: Houzz
#14. A Long Rectangular Two Simple Pool Benches
Source: The Spruce
#15. A Small Pool Outside With The Green Gazebo Umbrella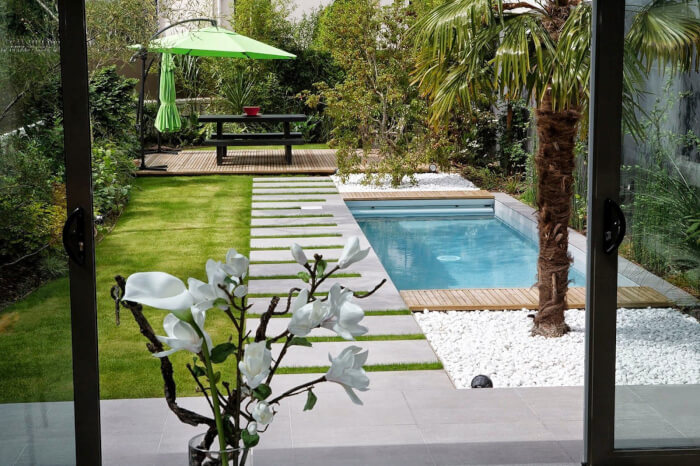 Source: Pinterest
#16. Beautiful Pergola With a Beautiful View Outside The Dining Space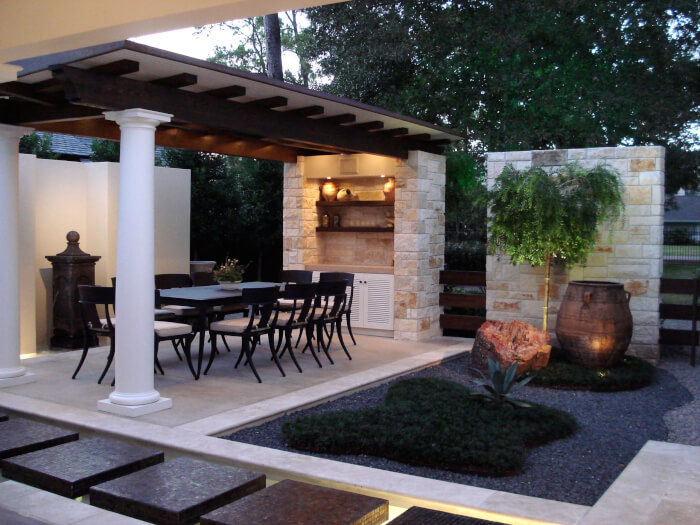 Source: Houzz
#17. Beautiful Brick Patterns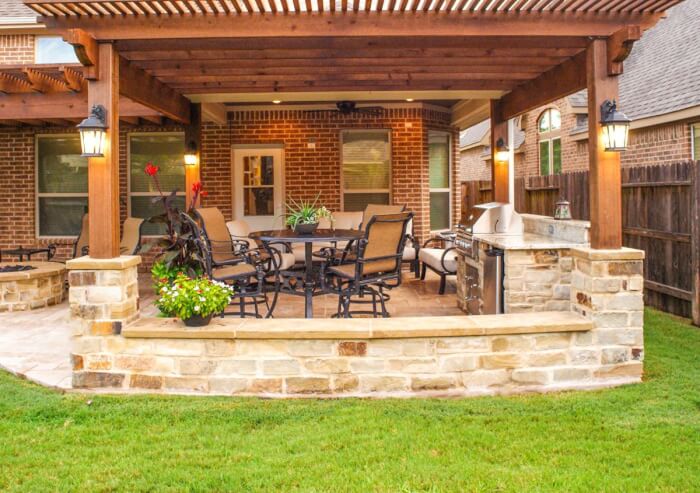 Source: Pinterest
#18. Climbing Vines On The Pergola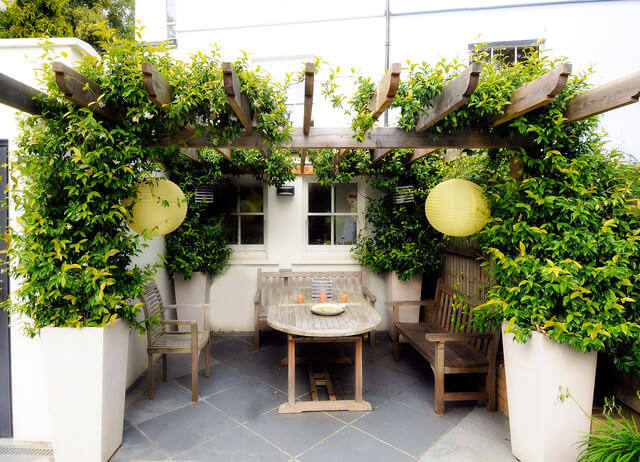 Source: Houzz
#19. Pergola With Lights And Curtains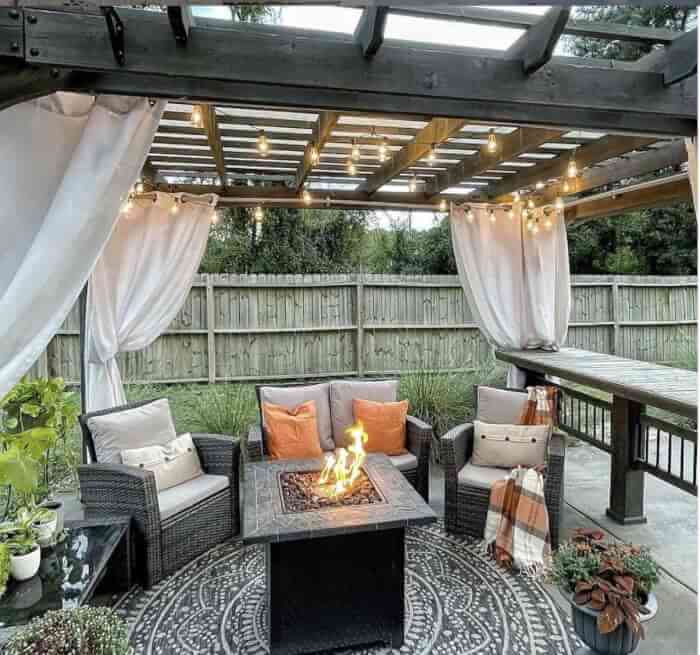 Source: The Spruce
#20. Bamboo Curtains Added To Knitted Hanging Planters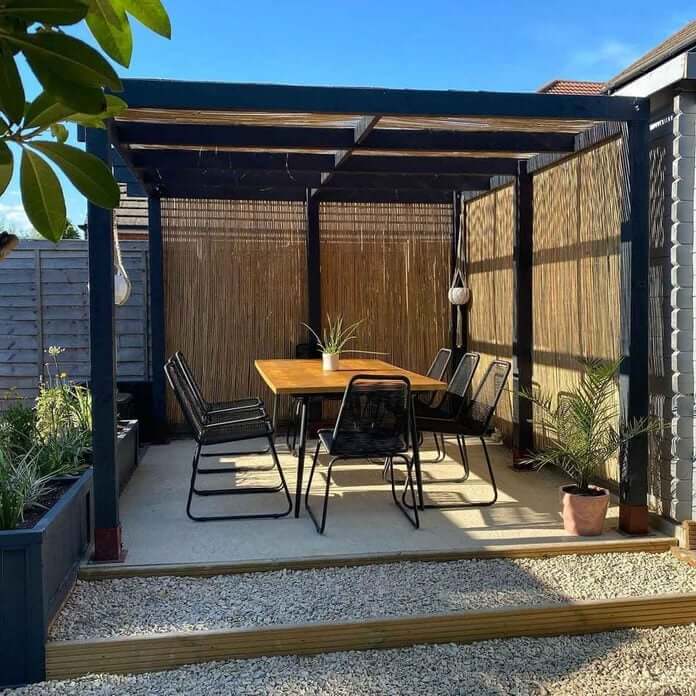 Source: The Family Handyman
#21. Cozy Atmosphere Around The Fire Pit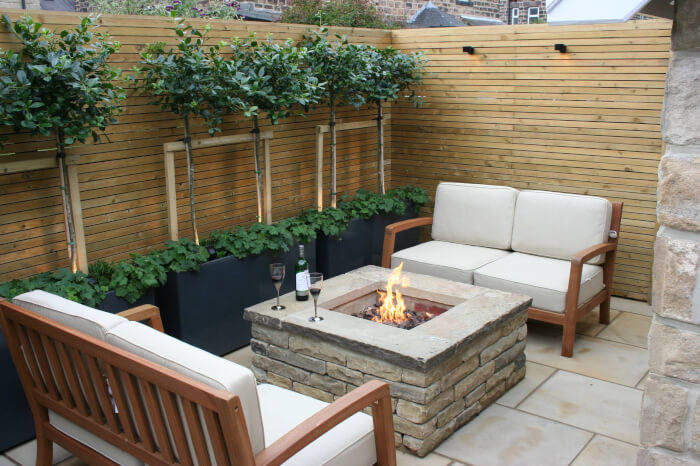 Source: Houzz
#22. A Lounge Bench Along With Armchairs On A Special Table Plant Pot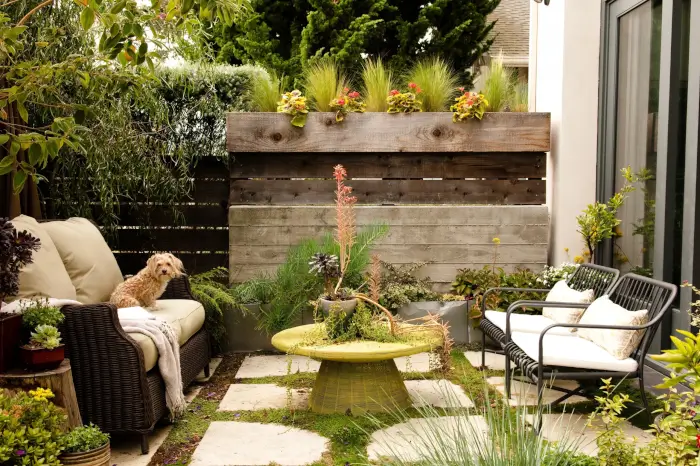 Source: HouseLogic
#23.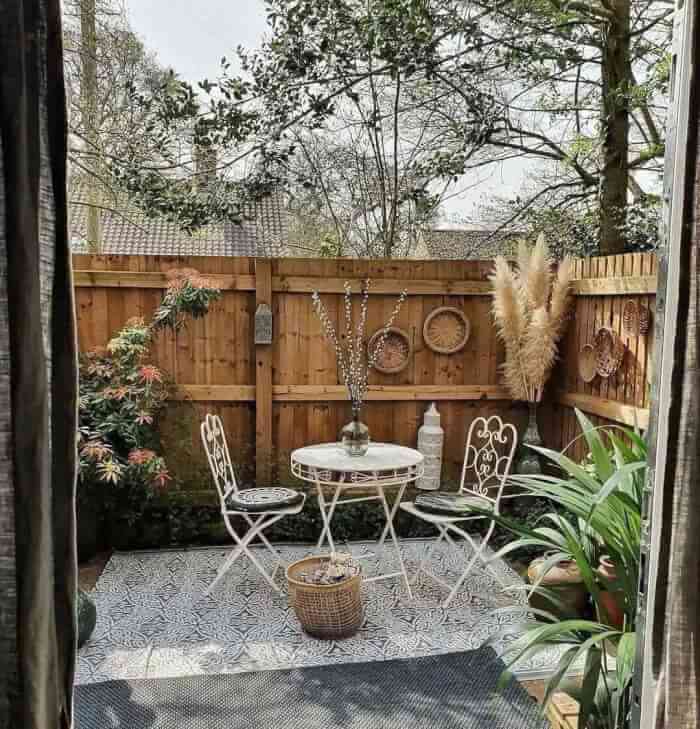 Source: MyDomaine
#24. Add Outdoor String Lights Outside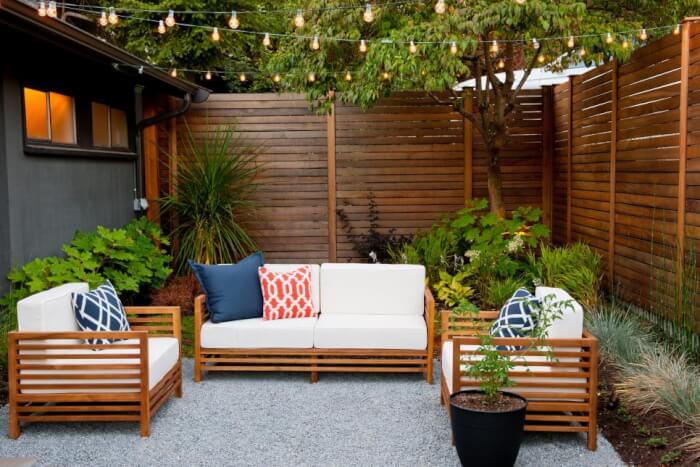 Source: HGTV
#25. Lanterns And Knit Wall Hangings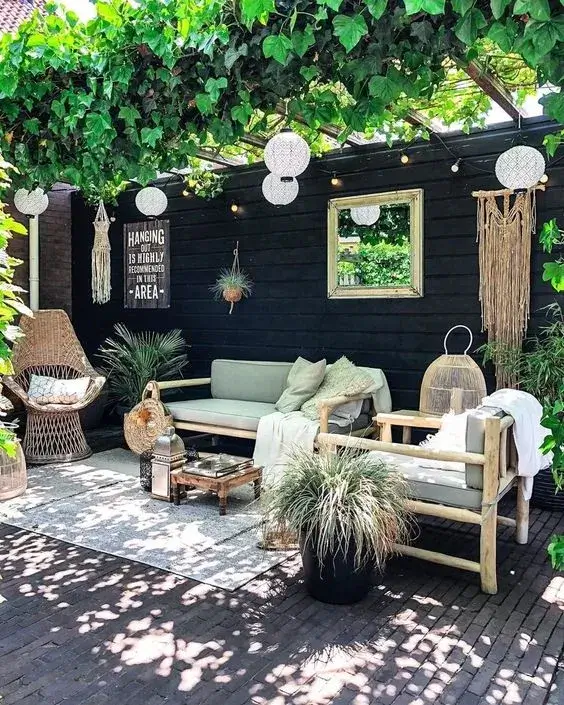 Source: Decor Lovin'
#26. A Private Pergola For Chill Time On The Cane Chairs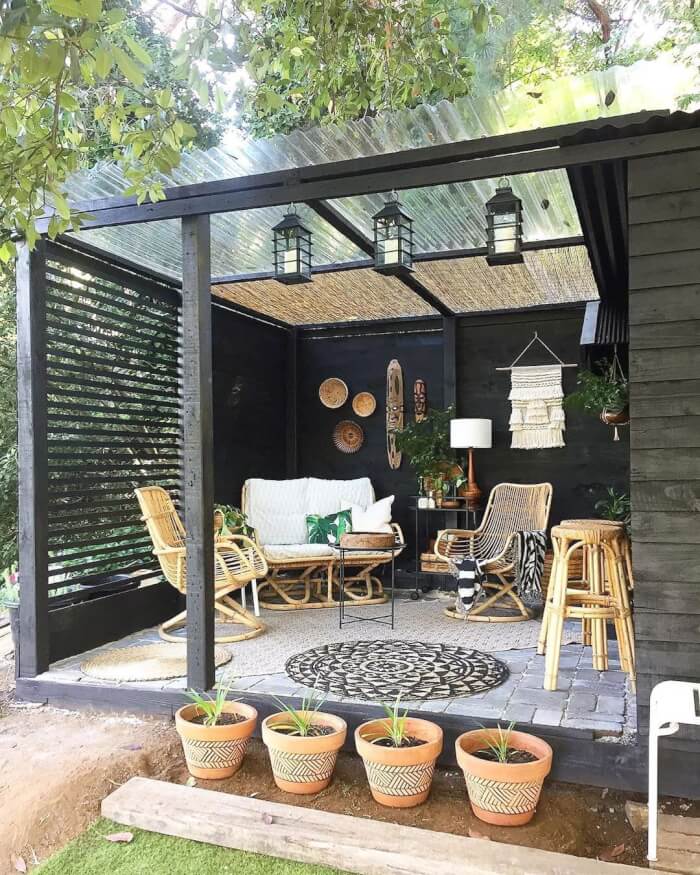 Source: Pinterest
#27. Classic Styles With Red Tones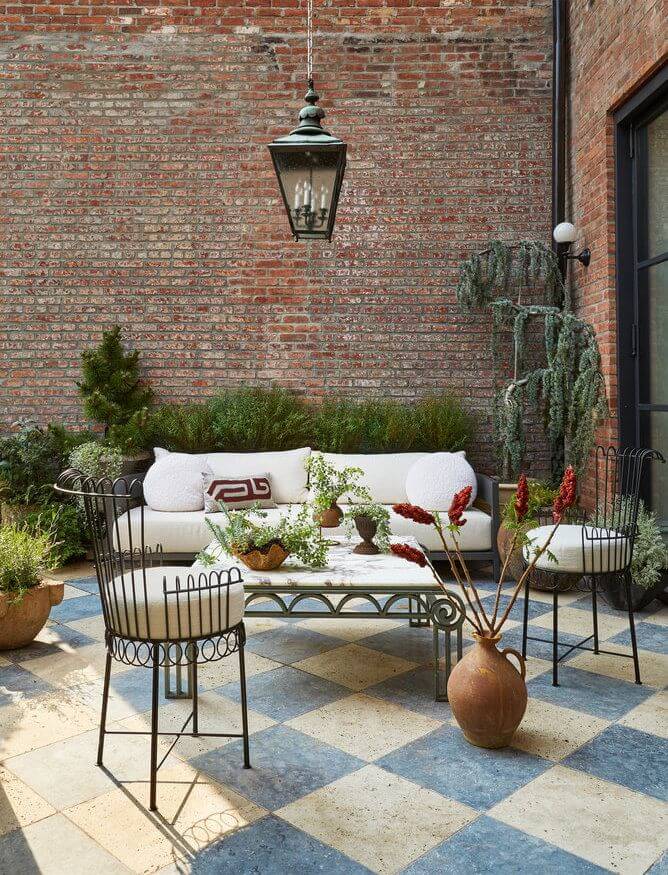 Source: House Beautiful
#28. Green Pergola For Tea Time Without Flooring The Garden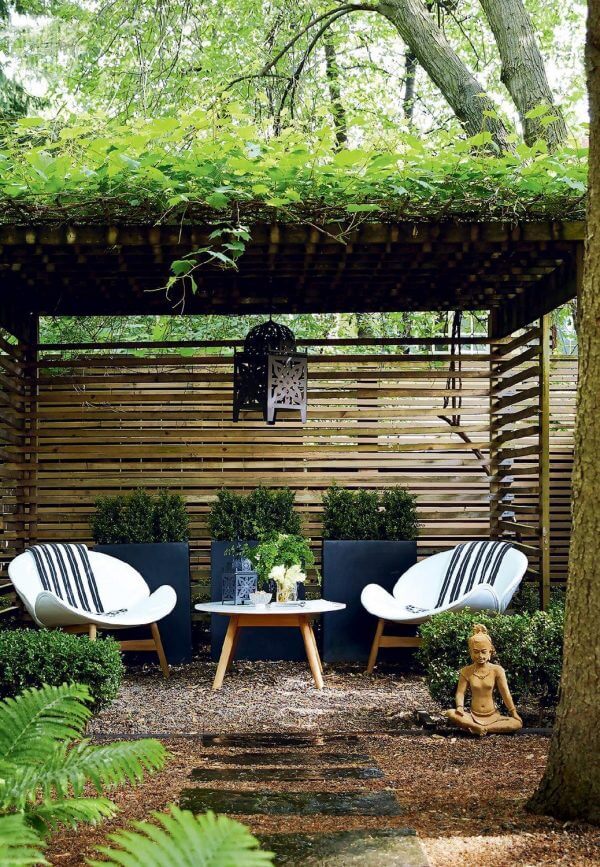 Source: Interior Design Ideas
#29. Grass Stones For Unique Armchairs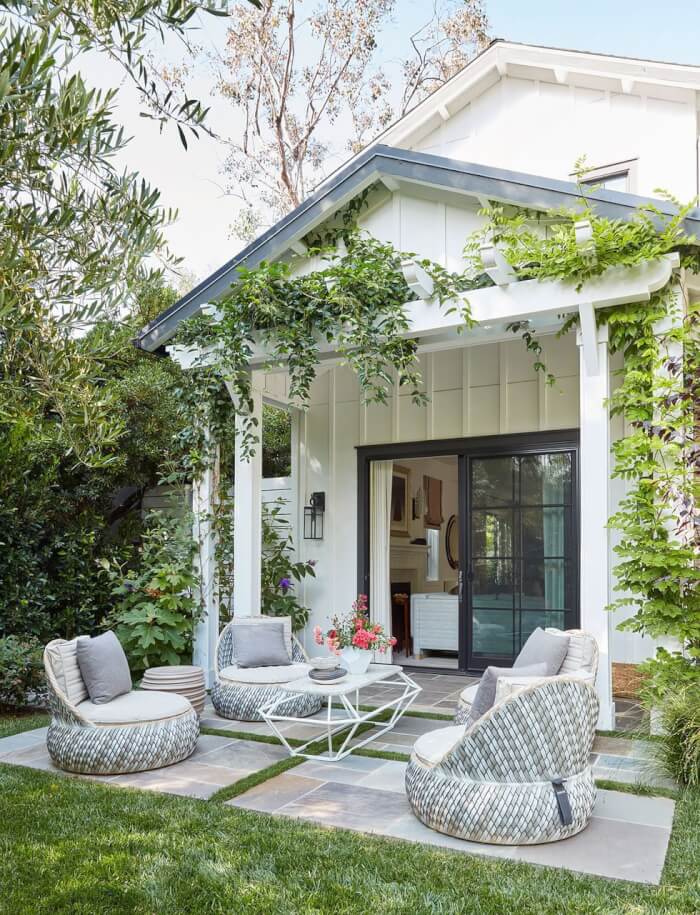 Source: Elle Decor
#30. Small Chill Out Corner With Small Mounted Wooden Bench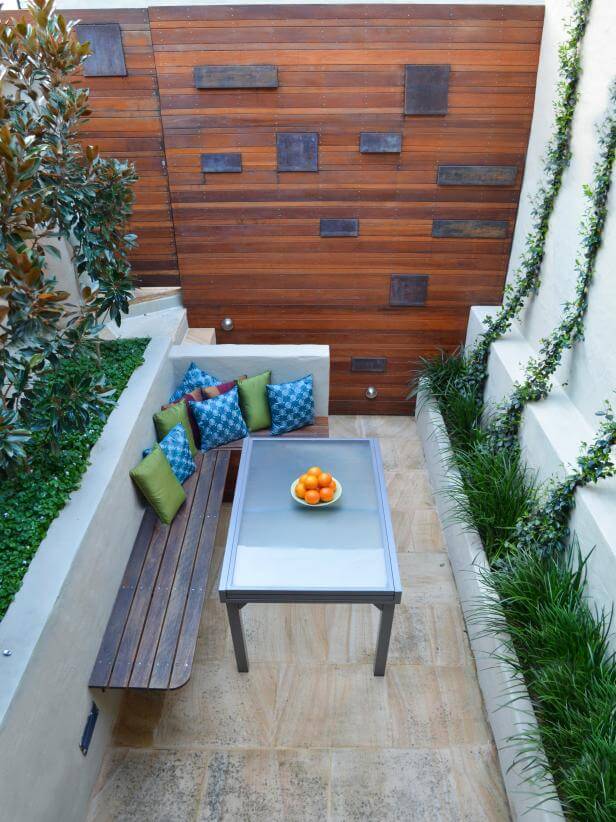 Source: HGTV
#31. A Small Square Space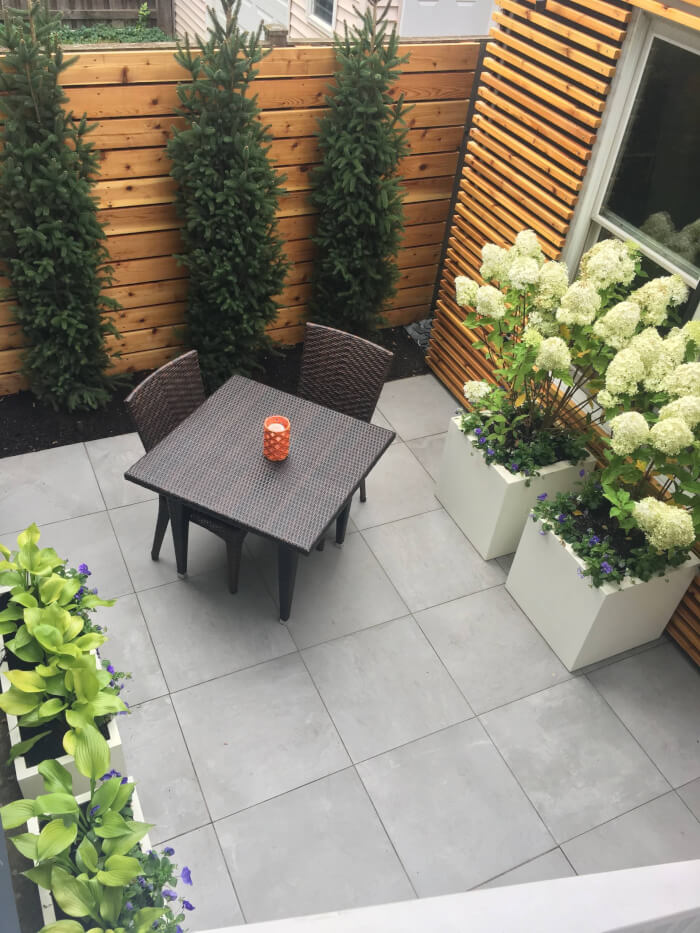 Source: Houzz
#32. A Mirror Outside Enlarge Space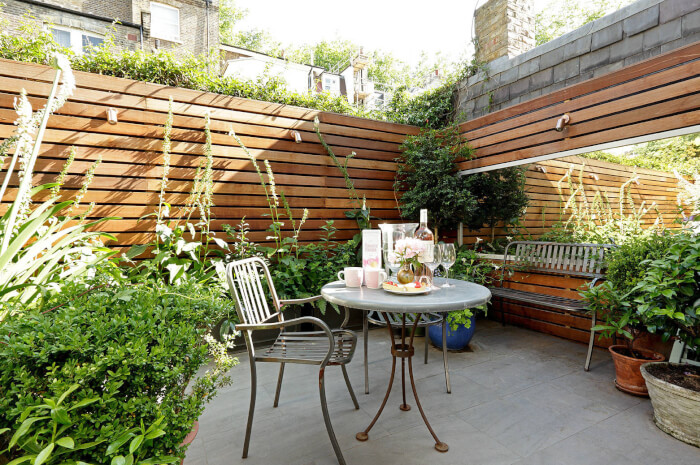 Source: Houzz
#33. Ivy Garden And Multiple Types Of Snake Plants And Blue Fox Tail Agave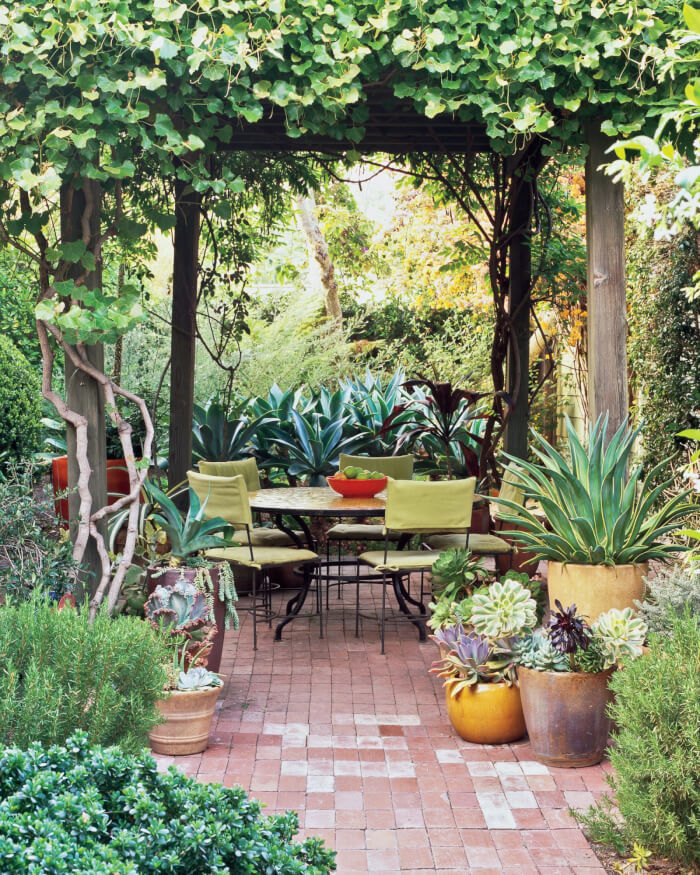 Source: Martha Stewart
#34. Beautiful Climbing Plant Wall Cover The Garden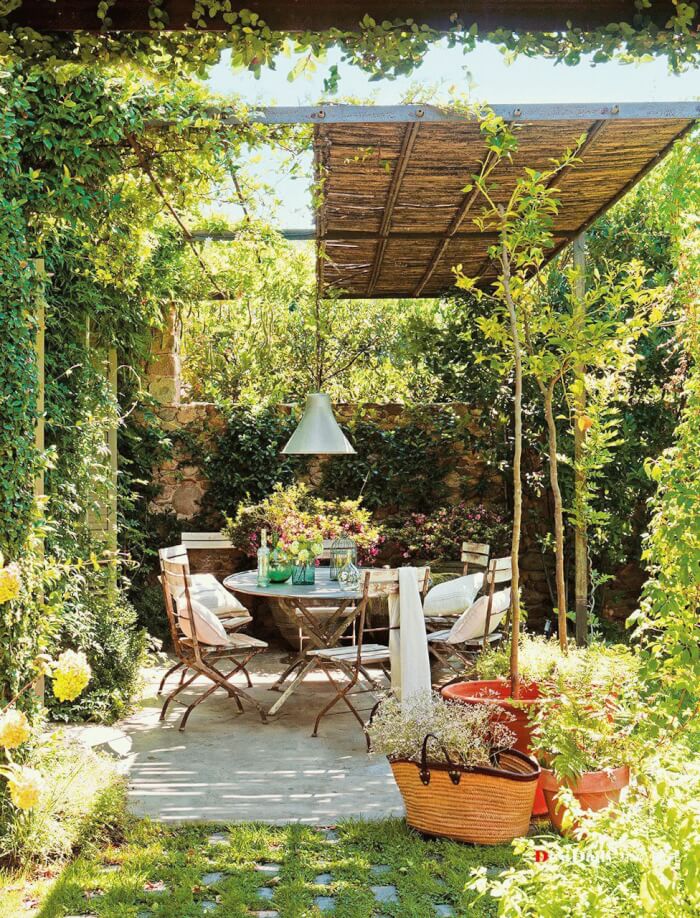 Source: Interior Design Ideas
#35. Tea Table Set With Vintage Table Cloth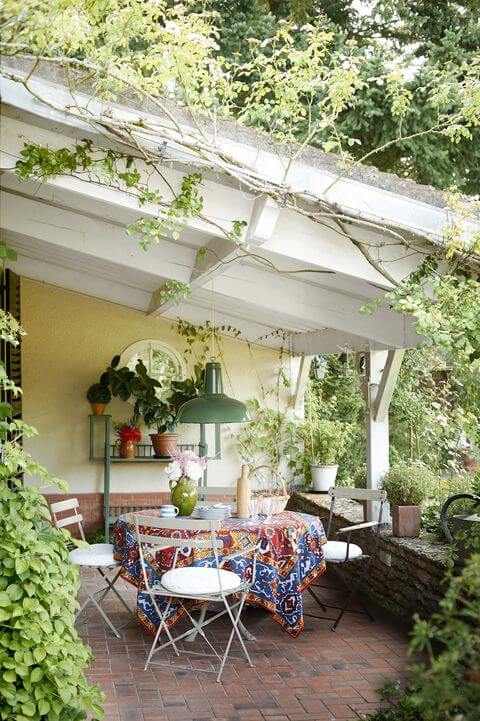 Source: Elle Decor
#36. Red Tones Sofa Adorned With Desert Rose Plants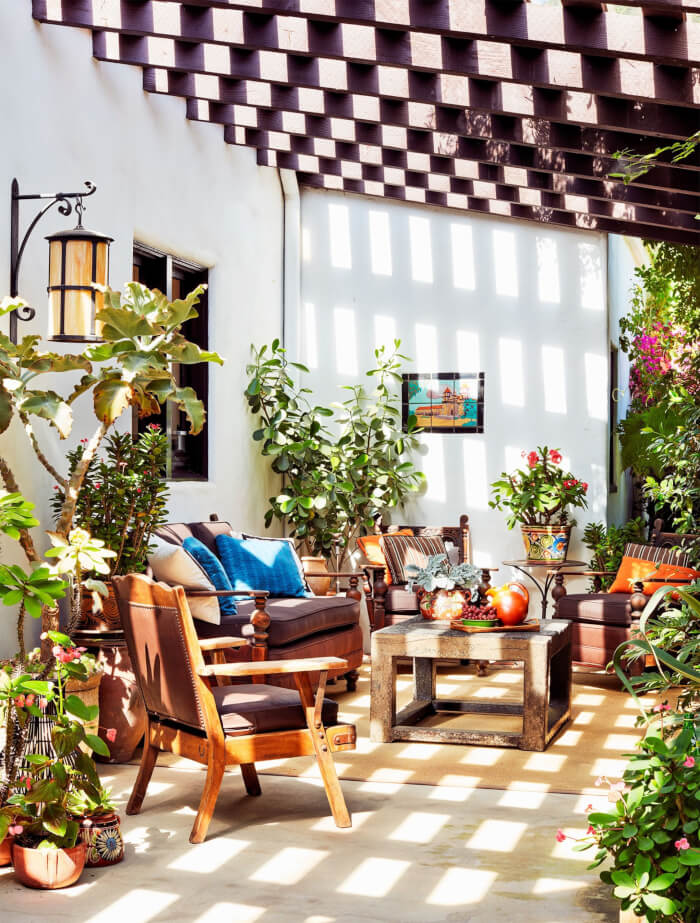 Source: House Beautiful