Hawaii is famous for its exotic and tropical flowers. Maybe, you have seen locals welcoming the visitors with a garland of orchid or plumeria. Hawaiian flowers have an aesthetic appeal with a pleasing fragrance and stunning colors make them stand out. If you love learning about Hawaii culture and this country's flowers, this list of today is for you. Spend your time opening their beauty and their growing habits.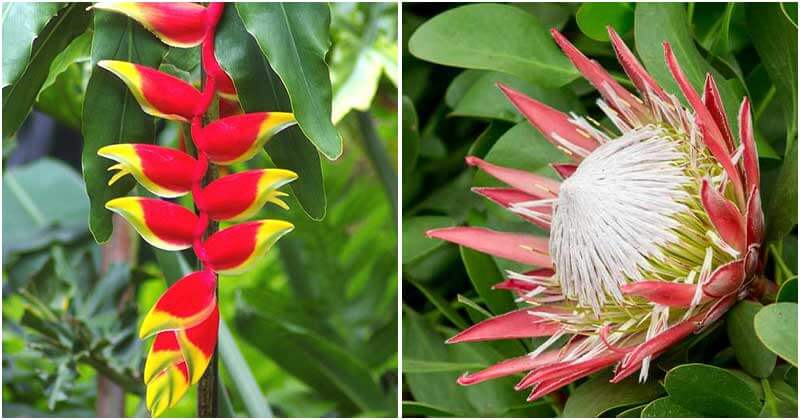 Taking them a look, they are so stunning, right? Each has its own beauty that can attract all looks but all iconic flowers capture the romance and tropical beauty of the Islands. Some of them not only grow well outdoors but also adapt indoors with basic care. Like other houseplants, birds of paradise, anthurium, passion fruit flowers, Hawaiian hibiscus also have the same growth condition when planted indoors. So, you can grow some in your home to enjoy the beauty of this country right in your home by buying them on the internet easily.
#1 Birds of Paradise
Source: Gardenerspath
Birds of Paradise does well in zones from 10 to 12 and grow up to 4-5 feet in height and 2-3 feet wide. It showcases blue-green leaves with a red midrib while the orange-colored petals complement the thick evergreen foliage.
#2 Ohia Lehua
Source: Civilbeat
Ohia Lehua grows in planting zones from 9 to 11. In spring, this plant puts out flowers abundantly that come in salmon pink, white, yellow, red, and orange shades. It prefers boggy or basalt soil, high humidity, and full sun.
#3 Anthurium
Source: Gardeningknowhow
Anthurium grows well in zones from 10 to 11. The plant has leaf exhibits glossy and waxy that may even look artificial. Its flowers comes in vibrant shades of red, purple, green, white, and pink.
#4 Ilima
Source: Davesgarden
Ilima grows in zones from 10 to 11. It prefers full sun and well-drainage. It displays a five-petal flower in yellow to orange shade.
#5 Naupaka
Source: Privatetourshawaii
Naupaka does well in zones from 10 to 12. The plant is native to Hawaii, its flower is prized with unique shape and fragrance.
#6 Plumeria
Source: Gardeningknowhow
Plumeria does well in zones from 9 to 11. Its flowers come in different colors ranging from pink, purple to salmon pink and are highly fragrant.
#7 Kahili Ginger
Source: Amazon
Kahili Ginger grows well in zones 8-13 and can reach 6-8 feet tall. Its flowers are adorned with feathers and flowing long branches. The plant prefers to grow in fertile, moist, well-draining soil. Mix potting soil with sand and peat moss.
#8 Passion Fruit Flower
Source: Gardeningknowhow
Passion Fruit Flower does well in zones from 9 to 12. Its flowers come in red, pink, white, purple, and blue color. Also, it produces sweet fruits. The plant favors in well-drained, moist soil under full to partial shade.
#9 Pikake
Source: Westhawaiitoday
Pikake grows in zones from 8 to 11. It flowers throughout the year with cream or chalks white shades. The plant needs full sunlight for to optimum growth.
#10 Protea
Source: Gardenersworld
Protea grows well in planting zones from 9 to 12. Its flower arrangement is surrounded by colorful bracts that range from deep crimson to creamy white.
#11 Red Ginger
Source: Thespruce
Red Ginger does well in zones from 8 to 11. The flower is available in different colors of pink, red, and white. It grows well in a moist, warm location in full sun or partial shade.
#12 Heliconia
Source: Greenparadiselive
Heliconia grows in planting zones from 10 to 13. It flowers throughout the year and can grow up to 12-16 feet tall in many shapes, sizes, and colors, including yellow, scarlet-red edged with yellow-green. The plant favors full to partial shade and well-drained soil.
#13 Hawaiian Hibiscus
Source: Floraqueen
Hawaiian Hibiscus grows well in zones from 9 to 10. The flower comes in a variety of shades from white, pink, red to yellow.