If you want to add a little interest to your boring stairs, you are reading the right post. Try growing plants! Today, we will share 18 Inspiring Green Indoor Gardens On The Staircase to add green space to help you have a chance to connect with nature and feel a fresh atmosphere right in your houses. You can recreate any one of the below gardens if your stairs space receives some light.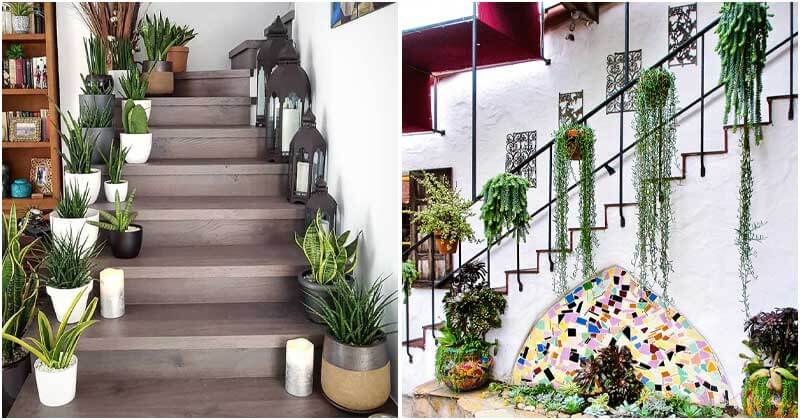 Indoor stair gardens are very beautiful and appealing, so if you make a fresh and beautiful mini garden, it promises to be a great idea that all members of your family would fall in love with. If your space is limited, you can choose small designs that combined climbing plants and hang them. Other ideas are suitable for places where have more space. Thus, no matter how your space is, they promise to liven up your house than ever.
#1 Plant Pots with Book Shelves
Source: Dorisleslieblau
#2 Clay Pot Planter Display
Source: Reddit
#3 Houseplants In White Pots
Source: Balconygardenweb
#4 Succulent Planters
Source: Lightandladder
#5 Houseplants In Different Pots
Source: Haarkon
#6 Plants For The Two Sides
Source: Amazon
#7 Hanging Plant Pots
Source: Wallygro
#8 Plant Pots on Both Sides of the Stairs
Source: Tumblr
#9 Mini Cactus Gardens
Source: Diydecorcrafts
#10 Green Space!
Source: Leroymerlin
#11 Hanging Basket Plant Garden
Source: Apartmenttherapy
#12 A Green Corner
Source: Balconygardenweb
#13 Climbing Plants For Railing Stair
Source: Zara
#14 Potted Plants With Hanging Basket
Source: HathKala
#15 Plants Over The Stair
Source: Archoskar
#16 Hanging Succulents On Stairs
Source: Joyusgarden
#17 Snake Plants With Other Plants
Source: Instagram
#18 Stands with Big Plant Bowls
Source: Emirdekoratif